In That Direction
Filmmaker Joanna Arong's latest project is her home, where she brings together contradictory concepts to create a space that embodies her personality, provides striking visuals, and welcomes like-minded personalities for a creatives' collective that sees no shortage of inspiration and fellowship.
Filmmaker Joanna Arong's latest project is her home, where she brings together contradictory concepts to create a space that embodies her personality, provides striking visuals, and welcomes like-minded personalities for a creatives' collective that sees no shortage of inspiration and fellowship.
With a career directing films that tackle cultural nuances and colorful personalities, Joanna Vasquez Arong is used to paying attention to detailed visuals. It's no surprise then that when it came to designing and constructing her two-storey home tucked into a sloping lot below her parents' house, she found herself constantly delivering input on how the finished project should look like.
"Rene must have so many complaints about me," she laughs, referring to her architect Rene Ybanez. "It was so funny with Rene because once we finally got the idea of what I more or less wanted, I was traveling a lot and everywhere I went, I'd be like, 'can we try this?' and he'd say 'oh no, not again.'" Joanna had contacted Rene after visiting Mesa at Ayala Center Cebu. "The minute I walked into the restaurant, I knew it was the look I wanted: a modern and industrial open feel but with a Cebuano or Philippine touch," she says. She'd then been living in her family's Mediterranean home when she decided to take advantage of the unused space below the house. Rene looks back on the process with amusement. "She gets ideas really easily. She goes abroad and sees something, and asks if that would work here. She gets inspiration from a lot of things, but then she also really knows what she wants."
Traveling a lot was a challenge during the first year of construction, but it also allowed her to see other places that contributed to how the house finally came to be. One such destination was in Chiang Mai, Thailand, where she stayed at the Rachamanka Hotel. "It was an amazing place and I said my house has to look like this. It was very low-key, very clean—modern and traditional at the same time."
It's a contradiction that might seem odd on paper, but comes together nicely in Joanna's home. Imposing wooden double doors, which were salvaged from an old chapel, leads into the slightly elevated receiving area that already affords sweeping views of the entire living space. The floor is covered in dark gray and white Machuca tiles, reminiscent of her grandmother's old house in Capitol where she grew up. Tucked into nooks are trinkets and artwork from local artists, while a large writing desk from Beijing sits in the middle of the space, framed by the hanging staircase that angles behind it. "People ask me if this is where my receptionist stays," Joanna jokes.
Two steps down are the kitchen and living rooms, which merit from the stunning vista of the valley below through the floor-to-ceiling windows. "I feel the kitchen plays a central role in the heart of the space," says Joanna. It was a realization that came while she was spending time in France with a French producer in his home to edit a film, and while visiting friends in the Hautes Alpes and Marseille. "We would all cook and eat together, and a lot of ideas flowed from those times. So I emailed Rene saying that we absolutely needed to make the kitchen bigger. Now it's a sharing experience. Everyone who's invited at my place must cook a dish at some point."
An open interaction of ideas is exactly what Joanna envisioned in her home, wanting to build a commune where creative types can come together to find inspiration in their surroundings and each other. "I decided to build an informal Old Fool Films studio here, which is the film company I founded with a former Thai banking colleague of mine," she says. The open layout and large informal sitting spaces allow a group of personalities to come in and exchange ideas or just find a quiet corner to work. There is, of course, a more practical side to it. "I'm now working on raising financing for my first fiction film The Sigbin Chronicles, and making films is such a collaborative process. I work with people from different backgrounds and nationalities, and during production, they will be spending a lot of time at my space."
While the movie is in the works, though, Joanna's friends are happy to enjoy the space for themselves. "Most of the time my friends come and we sit outside on the lanai and relax." The lanai proves to be an ideal spot to enjoy the sunset, with Joanna laying out woven straw mats on the wooden floorboards that were made from old electric posts. "Sometimes I have friends over, and they end up sleeping here."
Upstairs, a mini-library is composed of wooden shelves and a large daybed that enjoys a towering view over the space below. A metal bridgeway that leads into Joanna's bedroom curls around the rounded wall, a facet that might be one of the most interesting in the house. "It's actually a swimming pool from upstairs," Rene explains. "We had to develop around it, and I used it as a feature of the house."
The rounded structure makes for a seamless flow into Joanna's bedroom, which is done in a muted shade of blue that mimics the T'boli shades that cover up the bathroom, which she got from Francis Dravigny. "I love that detail. I got to visit the tribes, and it was very cool," Joanna shares. "I even used T'boli fabrics for some of the throw pillows." The wooden flooring was obtained from an old house, which has weathered charmingly and is featured in the library and viewing room as well.
Throughout the residence, items Joanna has amassed throughout her years of travel have found their own resting spot. A pair of puppets from Burma hangs from the staircase, while delicate Chinese lanterns in rich jewel tones are set against the weathered wood of the tables on the balcony. Throughout the space are art hung or propped up against the walls, a casual way to curate a collection that is primarily from local artists, like Brenda Fajardo and Imelda Cajipe-Endaya. "I was drawn to start searching for art that spoke to me, perhaps about the country or Philippine identity. I've acquired many of the paintings at my space during the journey of coming back home."
Perhaps the room that properly embodies Joanna's personality is the viewing room, which also doubles as her editing suite. Equipped with a large screen and proper acoustics, the technology is softened up with two rows of plush oversized seating and subdued colors. "People never believe me when I say it, but part of my job is really to watch as many films as possible. At the moment, I'm collaborating with a local scriptwriter, and we now spend time watching reference films for the horror film we are scripting," she says, emphasizing the room's importance to her work. "I was very particular with some of the details," Joanna admits. "Someone asked me if this was my dream place, and I never thought of it that way. This was the space I had, and it just happened." The dynamic approach to the design could have been what gave the space its welcoming air of being sophisticated yet unfussy, a clear creative outlet that has all the elements to make the artistic types feel right at home. But then again, maybe Joanna's hat as a director benefitted the construction. "The creative and executing process is so very similar to making a film. You somehow have a general idea of what you want at the start—and the final piece shifts and transforms along with the different experiences and collaborators you have at that period of time," she shares. "So in a way, I feel like this studio is the fourth film I've made." True enough, Joanna's home mimics her creations, bringing in culture and character into something visually stunning indeed.
by Shari Quimbo
photography Dan Douglas Ong
creative direction Doro Barandino
St. Patrick's Day Celebration at Marco Polo Plaza
Marco Polo Plaza will be celebrating St. Patrick's Festival with the rest of the Irish community! It's not only a feast of greens and four-leaf clovers but of good food too! From March 17 to 19, dig in and enjoy traditional Irish dishes and delights such as Irish Stew, Potato Nachos, Cheesy Reuben Loaf, Guinness Beef Stew Pot Pie, Beer Mac N' Cheese and many more. These on top of the international lunch and dinner buffet at Cafe Marco. Complete the experience in true Irish fashion with an ice-cold mug of Irish Beer, also available at Cafe Marco.
Gastronomic adventures await at Café Marco! For inquiries and reservations, you can call (032) 253-1111. For real time updates, like the Facebook page at facebook.com/marcopolocebu or follow on Twitter at @5StarInCebu. Visit the website at www.marcopolohotels.com.
For inquiries and reservations, call 253-1111 or email hospitality.ceb@marcopolohotels.com.
La Liga Henerales: Shaping History Awareness Back Again in Cebu
La Liga Henerales is a community of young talents passionately promotes historical awareness through periodic costumes carefully researched for its authenticity and accuracy and promoted as well in events and schools.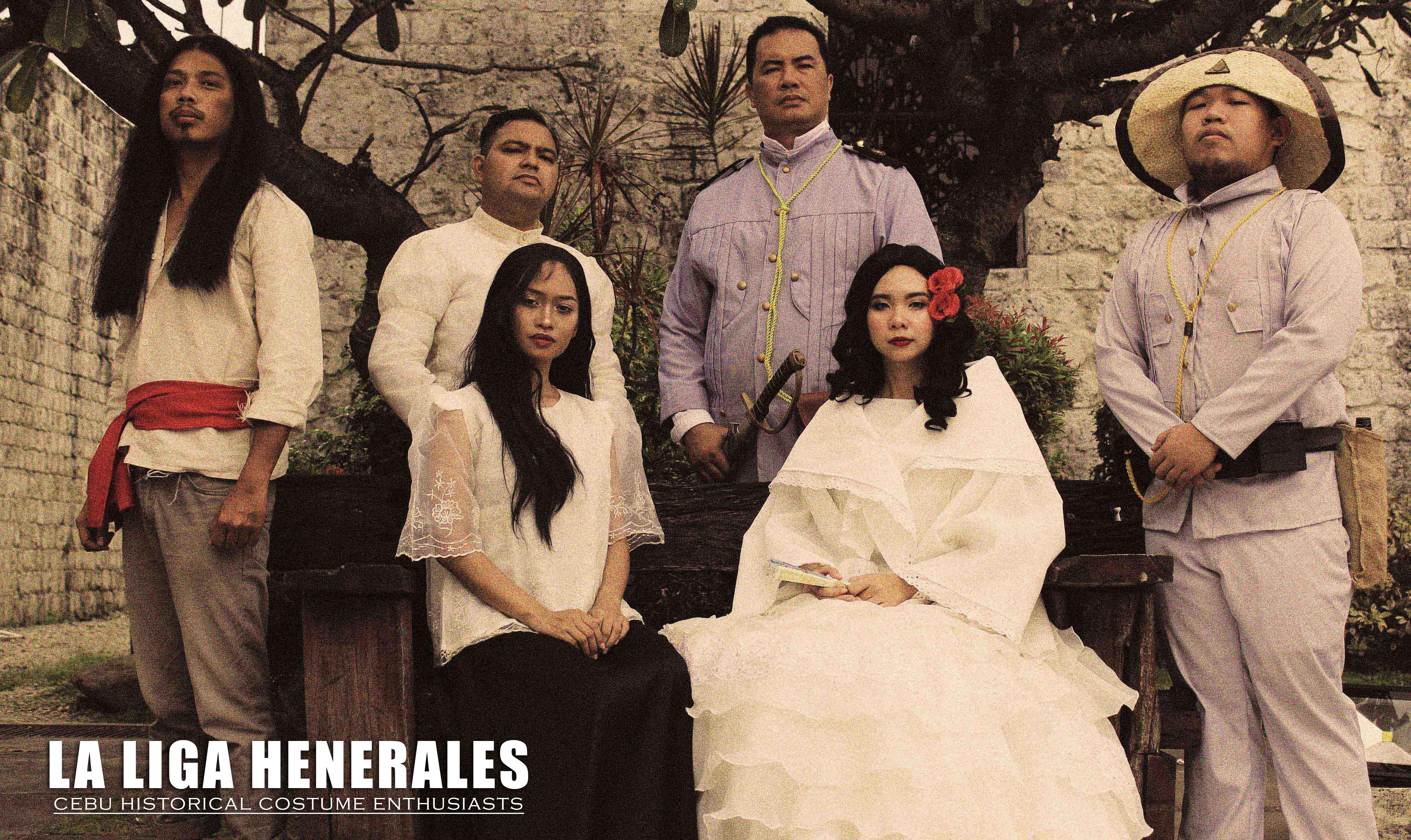 Only few individuals before were into pursuit in this historical awareness project until the age of communication where internet is convenient in the palm of our hands through our gadgets. New information travel fast and data is retrievable, yet also possess a disadvantage with the plethora of different social media platforms carried by various makers as well. In a daily basis, historical backgrounds are unearthed making its trend until now as new discoveries are released, but the idea of these information being shown and shared is as close as not valuing or commemorating to its sources leaving this information just a trend.
There is a certain community of Cebuanos that are taking a quest to rewrite and restructure what was in the past, filling the gaps in facts with further research of variable sources that are made debatable but sticks to it true cause, to unveil the truths of our heritage and our origins, as Cebuanos and as Filipinos as well.


La Liga Henerales is a Cebu-based, non-profit organization composed of a group of talented, committed and respectable individuals from different walks of life, schools and profession whose primary aim is to promote both, Cebuano and filipino culture and heritage that was depicted before in pre-colonial and colonial eras via re-enactment with costumes vested in proper research and investigation to achieve authenticity. They also push their cause on schools and other social gatherings promoting and spreading awareness about our local, and national heroes that we look up to. With these said, they also portray a closer look of the lifestyle of the past to where they perform stories, perform forgotten dances and rituals and portray their individual roles, vital in the fight of our country's future during those challenging times, and in honor to spread awareness of the lost practices we had in those times.
The Founder
Louis Kenneth Villaflor, an entrepreneur and an avid history enthusiast and costumer, founded the group on the purpose of re-educating the youth about real local and national history, he saw the opportunity to combine his favourite hobbies which is costuming and story role-playing and the process to instill the historical awareness and value among the youth and in schools, along with a group of fellow enthusiasts who shares his passion about research and history, they took it among themselves to be purposeful in the advocacy in spreading historical awareness in schools or events by wearing periodically correct costumes and sharing the stories and its value to the youth.
Behind the Garments
Meet Rodney "Pee-Wee" Senining, who has been in the fashion industry since the late 90's, strives  in concepts of avant-garde, innovation and cutting edge-fashion forward design. And also a teacher of Architecture, Fine Arts and Design of University of San Carlos, he had grown into research of books like the holy grail in the Library Resource Center and is always fascinated of the periodical times and how to preserve it; Hence, his interest had grown for the affinity of Periodical Costumes and Sustainable Fashion.
 Being part of the group La Liga Henerales, he was tasked to instantly be their mentor for the young talents and as the organization is still new and developing with limited funds, resourcefulness and research were done to come up with a good output of photo shoot and was quite proud of it and still promise on the next editions of pieces to be more historically accurate. Even as teacher for Fashion Design in SAFAD, his expertise comes hand in hand with the members as he helps them do research as well. His passion and interest somehow led him with enough knowledge to key the insights of the significant periods and historical backgrounds of it.
Historical Awareness in Cebu
The strength and progress of a country is anchored on how well they know and honor its history. The means of historical awareness in Cebu is almost non-existent among the Cebuanos, although we push forward in tourism and promote beauty through sceneries and other aspects of culture yet never commemorate deeply on historical icons such as our other local heroes, and ancient cultures as well that is almost been forgotten in an urban Cebu. Nevertheless, as long as communities' like La Liga Henerales are now evolving in a learning state by real discovery by multiple resources, this will always reflect of how we appreciate love, patriotism and honor to our country and would look forward to progress.
Christmas in Colonial Cebu: A Themed Exhibit by Teresin Mendezona and Eva Gullas for Stylescapes 2019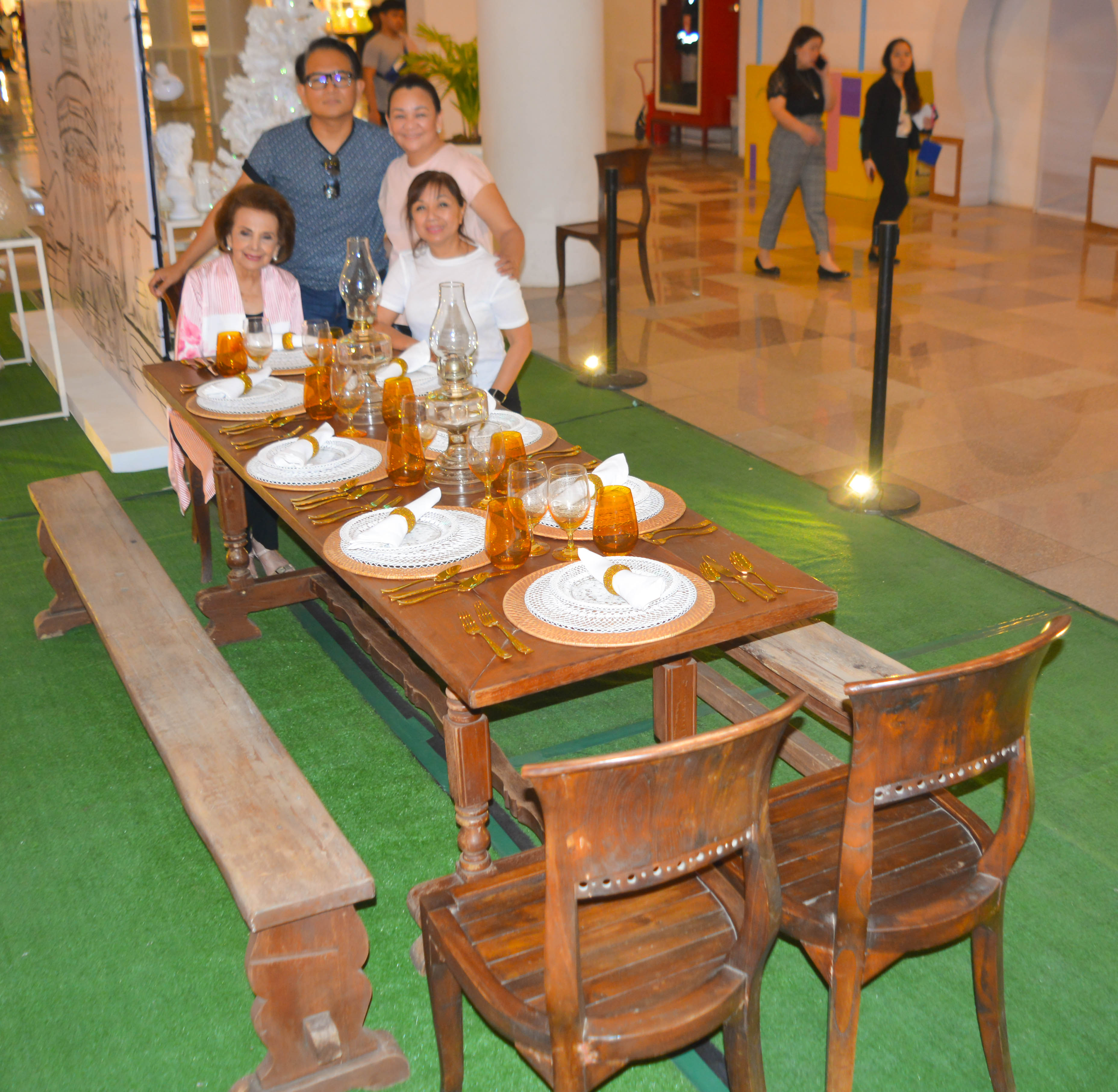 Ever wonder how the yuletide season is celebrated in colonial times? This year at Stylescapes 2019, Teresin Mendezona and Eva Gullas collaborated to showcase the elegance of Christmas during the colonial period, specifically most of the Spanish regime.
This pop-up radiated the ambience of Christmas in the colonial times through the various details used within the setting. Specific pieces like the gansilyo table cloth, oil lamp, and the sketches were from Ms. Mendezona and Gullas themselves.
Aside from that, various table and living room pieces were sourced from Rustans and Metro Ayala, and was curated by Doro Barandino.