House Tour: A Modern Luxury Villa by the River
The COVET House Douro juxtaposes history and contemporary with modern luxury furniture brands in a traditionally built Portuguese villa.
Perhaps it's a true sign of the times that most of the world—and the industries that thrive in it—have gone digital. There is an influx of information that now keep people constantly aware of what's new, whether it's the front row coverage from fashion weeks or real-time updates of the goings-on in the stock markets.
The design industry is one that has certainly benefitted from this digital dissemination. Designers, artists and craftsmen can now showcase their creations to the world with a few clicks and uploads online. There is, however, a caveat—for all the admiration that a photographed item can get, truly appreciating design requires a more sensory, holistic experience.
A curated design website, COVET Lounge is all about bringing relationships and connections back into the industry. Putting together brands, personalities and field experts, COVET Lounge presents the likes of Boca do Lobo, Circu, Koket and Maison Valentina—names that are associated with a luxurious design experience.


In order to properly showcase their roster of fine brands, COVET Lounge has showrooms around the world that allow their patrons to experience the product, but their recent venture brings that encounter to a whole new level.


"Our mission is to give a unique experience to visitors," says Ricardo Magalhães, COVET Lounge's co-founder and head of interior design. "More than a common showroom, we want our exclusive guests—which consist of a VIP list including the world's top designers—not only to see our products live, but also to enter the unique world of each one of those brands and experience them through all the five senses. What we really want to celebrate is design."


This unique world was created in the COVET House Douro, a new standard for luxury villas. The COVET House sits on the bank of the Douro River in Portugal, about 15 minutes from Porto's historical center. The traditionally built manor evokes nostalgia for its noble past, while the terrace and swimming pool offer sweeping views of the river and the town beyond it.


Bringing together the old world charm of the structure with the modern elegance of its brands is what makes the COVET House such an incredible residence. There is a contrast to the various styles present in the house—feminine and masculine, soft and strong, vintage and contemporary. An example of such a setup can be found in one of the living areas, where a stone fireplace (covered up with a solid slab of wood) and clay tile floors are elevated with a pair of velvet sofas with gold accents and a stunning chandelier that holds it all together.
The effect is far from over-the-top, however—the house has a sort of insouciance that makes the tableaus feel effortlessly chic, while large floor-to-ceiling windows flood the rooms with natural light for an airy feel. The ornamented high ceilings further enhance its breeziness, which then serves to frame the various rooms.


The four bedrooms are done in different themes, and furnished to showcase certain brands. The master bedroom, for one, highlights Boca do Lobo, a Portuguese luxury furniture brand that specializes in uniquely designed and well-handcrafted pieces. Their room in the COVET House is punctuated by black lacquer and gold leaf for a decadent and seductive atmosphere. With its retro influences, the next room is a collaboration between Essential Home and DelightFULL, the former showcasing furniture with Mod-inspired elements and the latter offering artisanal mid-century lighting designs. The glamorous metallic pieces are grounded by white walls accents, and further enhanced by black details.
Its tagline being "Design Forces," BRABBU is a brand that takes inspiration from nature, creating pieces that are as much a showcase of its materials as it is a functional piece of furniture.
Known for their empowering and dramatic statement pieces, Koket created a bedroom suite that encapsulates an opulent lifestyle. In shades of black and blue, a private living room creates an air of privacy and relaxation, which is complemented by the large windows and a Buddha statue. The bedroom itself features an indulgent rabbit throw on the Kelly bed, and a pair of pink Gem table lamps for a soft glow.
Maison Valentina created the bathrooms with almost whimsical design pieces and marble fittings. The result is refined spaces for a singular bath time experience.


Offering a complete design experience, the COVET House successfully brings together the historic and the contemporary by gathering today's artisanal brands into a villa with a heritage. And although it may be well and good to admire its charms on your computer screen, COVET Lounge reassures you this space is something you'd have to see with your own eyes to truly appreciate.
Trendy Renovation Ideas for your Home or Condo.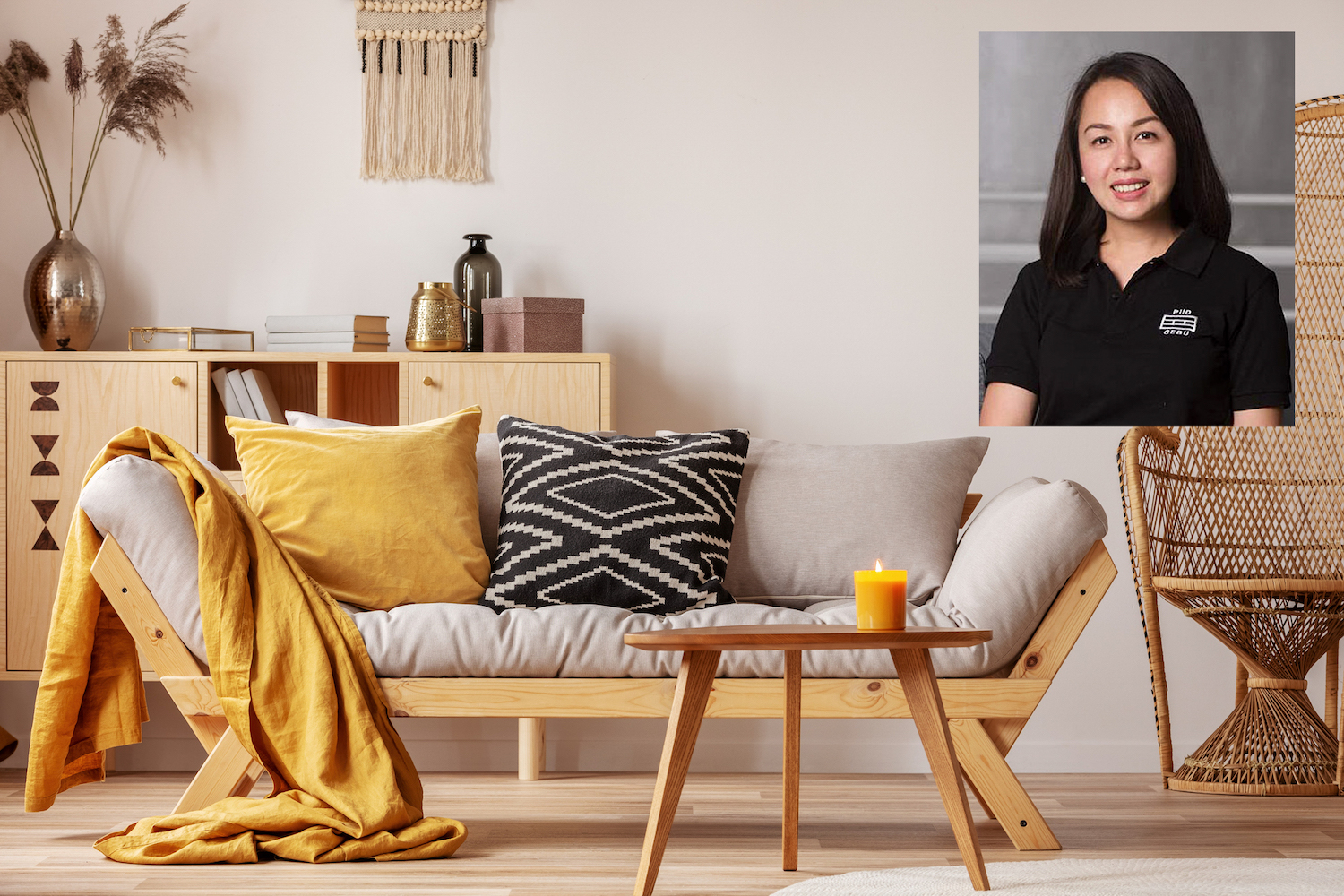 by Christa M. Cañizares IDr.
Part 1: Plan the Space to Suit your Needs.
A.)  Decide on a theme that reflects your personality. You can start by browsing through the internet and make a mood board on the colors, patterns, furniture and accessories that you love.
B.)  Work on your budget. This is essential to any renovation project. You can start with window shopping and scout for the key pieces and compare prices. You can also browse home products and purchase them online.
C.)  Invest in good and durable pieces.  Start with the big items that you often use. Your mattress tops the list as this is where you rest and recharge. Big items such as sofas and dining sets should be durable enough to withstand the everyday wear and tear. Choose a design that can easily go well with your space when you redecorate.
THROWBACK THURSDAY. Discover Why This Airy, Modern Structure in Busay is Called the Sky House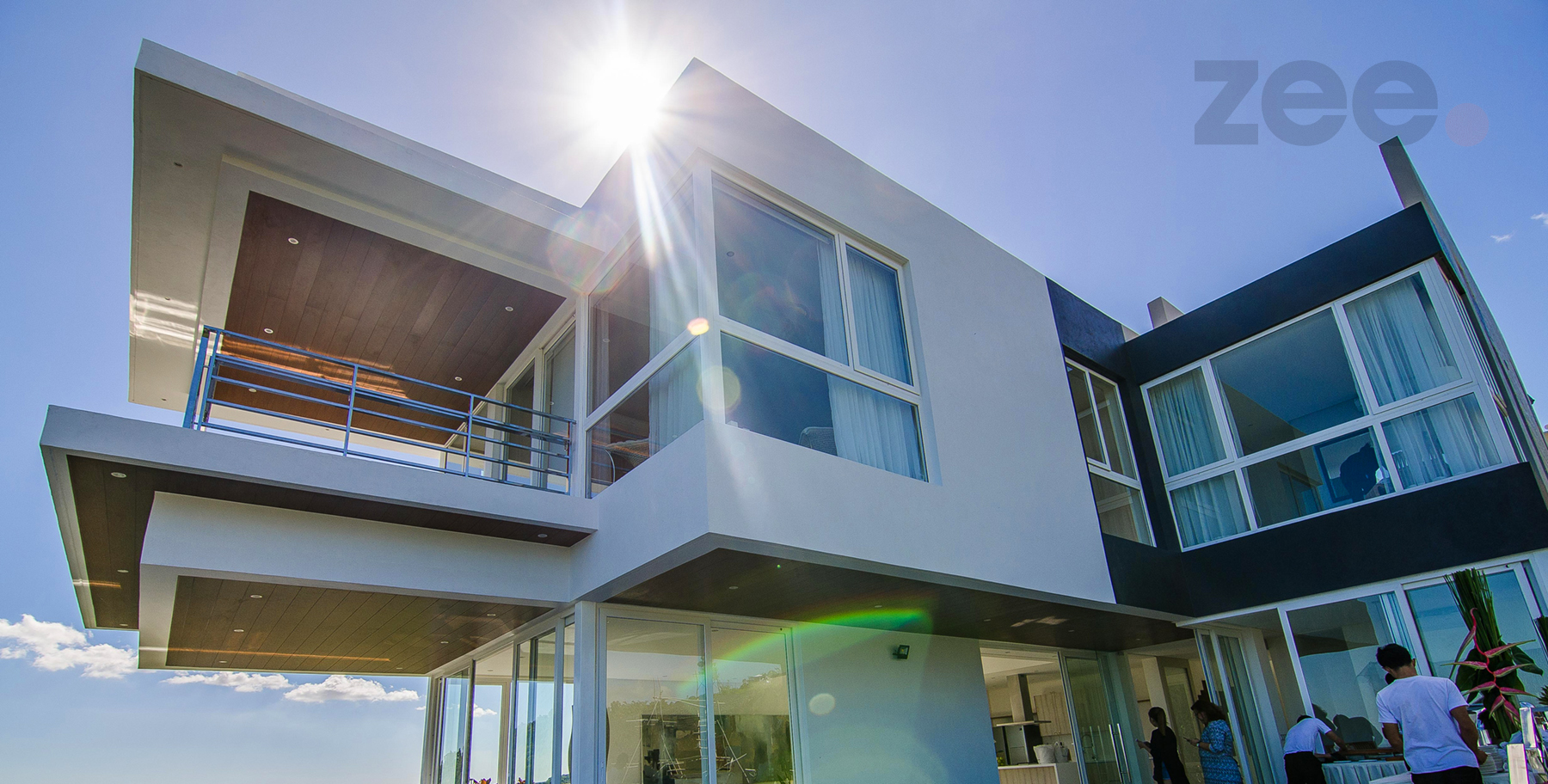 Defying Gravity
YKC Premier's first venture in Busay floats over a cliff and introduces a new brand of living in Cebu.
by Shari Quimbo photography Ezekiel Sullano
YKC Premier's first venture couldn't be more aptly named—Sky House was spot on—the airy, modern structure that juts out of a ridge in the Busay Highlands couldn't be called anything else. The drive up the hill levels to a short plateau right before the entrance of the village, allowing ample time for everyone to look up and admire a house that seems to be in defiance of gravity.
"When I saw the property, it was everything you could ask for, and it's in limited quantities so we wanted to maximize all its assets," says Victor Consunji, one-third of the group behind the project. "The problem was the land is narrow. Since we have the experience and capability, we thought, why waste all the good things about this property by just building on the ridge? Why not build over the ridge?"
Slater Young and Stephen Ku complete YKC Premier, a group of men who have come together to redefine the art of living with a view in Cebu. "Slater and I have been friends for a while, and I bumped into him at a wedding here in Cebu," Stephen recalls. "And then we were talking about businesses that we could do together, and he mentioned that he had a nice piece of land that he wanted to fix up. He showed me the place, and I thought it was beautiful. On the way back to Manila, I thought about Vic because I'm also working with him on his project in Manila called Mahogany Tree."
Once the three sat down to discuss the venture, Victor was immediately interested and, in fact, already had a vision for the house's design in his mind. The partnership played up each one's individual strengths and backgrounds—Victor comes from the family behind DMCI Holdings Incorporated, which have constructed Philippine landmarks such as the Manila Hotel and Shangri-La's Mactan Island Resort; Slater has a background in engineering and his family is also in construction; while Stephen is at the helm of Eventscape Manila and is behind some of the hottest restaurants and nightspots in the Philippines. "Victor would be the CEO, the visionary. His expertise is what we brought in here," explains Slater. "And since I'm also in construction, I was sort of his eyes here in Cebu. I'd be the CTO, Chief Technical Officer, and Stephen would be the CMO, marketing."
Although YKC Premier already has three strong personalities behind it, the guys decided to bring in another design visionary to help them complete the look of the Sky House. "The Sky House is unlike any other home in Cebu, and it was a designer's dream to be part of it," says Vito Selma, who brought in his iconic pieces, along with some custom-made furniture to complete the look of the Sky House. "Given its location and the abundance of windows, I wanted the home to feel just as light and airy—to simulate the feeling of flight. And to stay true to my brand, we just wanted to bring nature into the home, which can be seen in the materials, textures and colors in the space."
The look is relaxed but sophisticated, with many art pieces that Vito had commissioned especially for this project. "The installation in the entry is by me," he says of the large textured slab with pieces of wood in different finishes scattered on it. "I made it in a way that when someone walks in the house, they see a reflection of that piece and its materials in other areas of the home." Other notable pieces are in the living room: a large rattan sculpture of interlocking loops by Vito's sister Selina Romualdez, and a long painting with strokes in various shades of gray by Tzaddi Esguerra. "I love working with her for all our projects," Vito admits. "We tell her what colours to work with, and she makes the magic happen."
With the house finished in just over a year, the guys are looking forward to constructing seven more houses to complete the project, offering a lifestyle that is incredibly appealing. "Young, hip urbanites. Young families. If they're young, they at least feel young," says Stephen of who they see living in the space. "People who want to balance work and play, because this place is like a residence and a resort at the same time."
"Nowadays, with the way things are going in the Philippines, there is a focus on taking vacations, but not everybody has that chance. Not everybody can just take off whenever they want," Victor adds. "I really don't believe that a home is just your home, your vacation spot is just your vacation spot and your work place is just for work. I think you can have the best of all three, and this design incorporates that."
"It'll feel like you're going home to a vacation every day," Slater adds.
Although these gents are focused on the Sky Houses for now, they look forward to bringing more of this brand of living to other locations. "We're just looking for the right project, but I think the boys are in agreement that we really want to explore Cebu, particularly because this is the emerging market we want to be in. We just need to look for the right spot, and the right design," Stephen says.
More than just creating modern and luxurious properties, YKC Premier hopes to change the perception of what living in Cebu can be. "That's what we want to bring to Cebu," Stephen shares. "I haven't seen a development like this in Cebu, and a lot of the times I'd ask Slater, and he goes, oh no, the Cebuanos wouldn't want to spend for something like this. I kept telling him that if we build it, they will come. Cebuanos are ready for something edgy and daring, and I think this project will be a testament to that." With the first house already sold, that's certainly been proven true. After all, with just one visit to the Sky House, it's hard to imagine a better place to live.
(This article has already been published in Zee Lifestyle's February 2016 Real Estate Issue, "Defying Gravity" on pages 68-73.)
LOCKDOWN FUN: Whose Crib is This?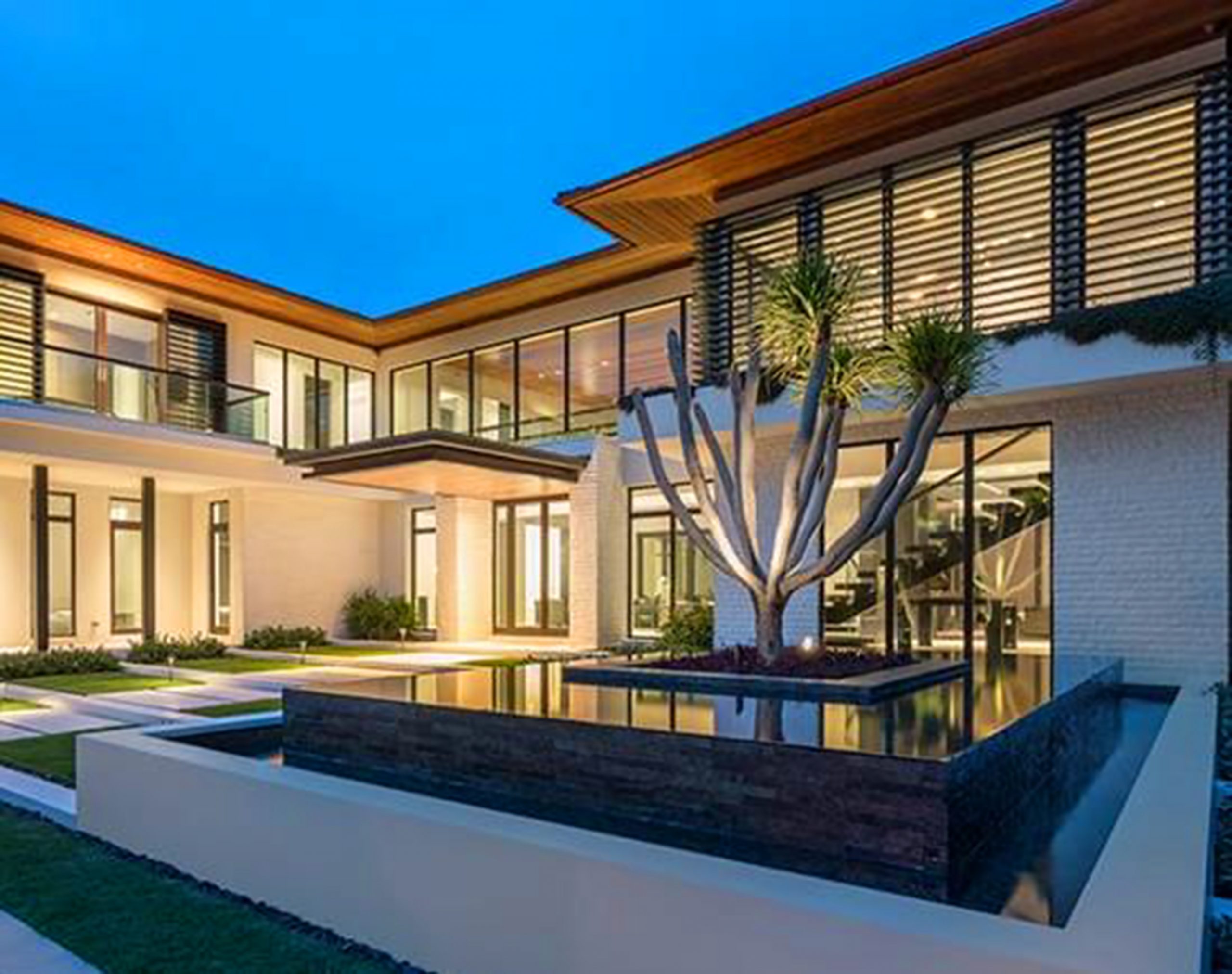 Here's one way residents of Cebu's exclusive villages created their own fun during zoom parties — guessing each other's home! Of course, you need a smart mastermind to curate the photos to make sure the homes of each of the amigas are not easy to guess.
So, here's a short tour of homes that was paraded during this very fun game. Homes are located in Maria Luisa, Northtown Homes, Beverly Hills and a beach house too.  Oh, and one came all the way from Scotland.
We hope your zoom parties are just as fun!