House Tour: A Modern Luxury Villa by the River
The COVET House Douro juxtaposes history and contemporary with modern luxury furniture brands in a traditionally built Portuguese villa.
Perhaps it's a true sign of the times that most of the world—and the industries that thrive in it—have gone digital. There is an influx of information that now keep people constantly aware of what's new, whether it's the front row coverage from fashion weeks or real-time updates of the goings-on in the stock markets.
The design industry is one that has certainly benefitted from this digital dissemination. Designers, artists and craftsmen can now showcase their creations to the world with a few clicks and uploads online. There is, however, a caveat—for all the admiration that a photographed item can get, truly appreciating design requires a more sensory, holistic experience.
A curated design website, COVET Lounge is all about bringing relationships and connections back into the industry. Putting together brands, personalities and field experts, COVET Lounge presents the likes of Boca do Lobo, Circu, Koket and Maison Valentina—names that are associated with a luxurious design experience.


In order to properly showcase their roster of fine brands, COVET Lounge has showrooms around the world that allow their patrons to experience the product, but their recent venture brings that encounter to a whole new level.


"Our mission is to give a unique experience to visitors," says Ricardo Magalhães, COVET Lounge's co-founder and head of interior design. "More than a common showroom, we want our exclusive guests—which consist of a VIP list including the world's top designers—not only to see our products live, but also to enter the unique world of each one of those brands and experience them through all the five senses. What we really want to celebrate is design."


This unique world was created in the COVET House Douro, a new standard for luxury villas. The COVET House sits on the bank of the Douro River in Portugal, about 15 minutes from Porto's historical center. The traditionally built manor evokes nostalgia for its noble past, while the terrace and swimming pool offer sweeping views of the river and the town beyond it.


Bringing together the old world charm of the structure with the modern elegance of its brands is what makes the COVET House such an incredible residence. There is a contrast to the various styles present in the house—feminine and masculine, soft and strong, vintage and contemporary. An example of such a setup can be found in one of the living areas, where a stone fireplace (covered up with a solid slab of wood) and clay tile floors are elevated with a pair of velvet sofas with gold accents and a stunning chandelier that holds it all together.
The effect is far from over-the-top, however—the house has a sort of insouciance that makes the tableaus feel effortlessly chic, while large floor-to-ceiling windows flood the rooms with natural light for an airy feel. The ornamented high ceilings further enhance its breeziness, which then serves to frame the various rooms.


The four bedrooms are done in different themes, and furnished to showcase certain brands. The master bedroom, for one, highlights Boca do Lobo, a Portuguese luxury furniture brand that specializes in uniquely designed and well-handcrafted pieces. Their room in the COVET House is punctuated by black lacquer and gold leaf for a decadent and seductive atmosphere. With its retro influences, the next room is a collaboration between Essential Home and DelightFULL, the former showcasing furniture with Mod-inspired elements and the latter offering artisanal mid-century lighting designs. The glamorous metallic pieces are grounded by white walls accents, and further enhanced by black details.
Its tagline being "Design Forces," BRABBU is a brand that takes inspiration from nature, creating pieces that are as much a showcase of its materials as it is a functional piece of furniture.
Known for their empowering and dramatic statement pieces, Koket created a bedroom suite that encapsulates an opulent lifestyle. In shades of black and blue, a private living room creates an air of privacy and relaxation, which is complemented by the large windows and a Buddha statue. The bedroom itself features an indulgent rabbit throw on the Kelly bed, and a pair of pink Gem table lamps for a soft glow.
Maison Valentina created the bathrooms with almost whimsical design pieces and marble fittings. The result is refined spaces for a singular bath time experience.


Offering a complete design experience, the COVET House successfully brings together the historic and the contemporary by gathering today's artisanal brands into a villa with a heritage. And although it may be well and good to admire its charms on your computer screen, COVET Lounge reassures you this space is something you'd have to see with your own eyes to truly appreciate.
An Exclusive Look at 856 G Gallery Founder Annie Chen's Artsy, Indochine-Inspired Home
In designing her home in Cebu, 856 G Gallery Founder Annie Chen wanted to create something that would give her comfort with a bit of pared-down luxury.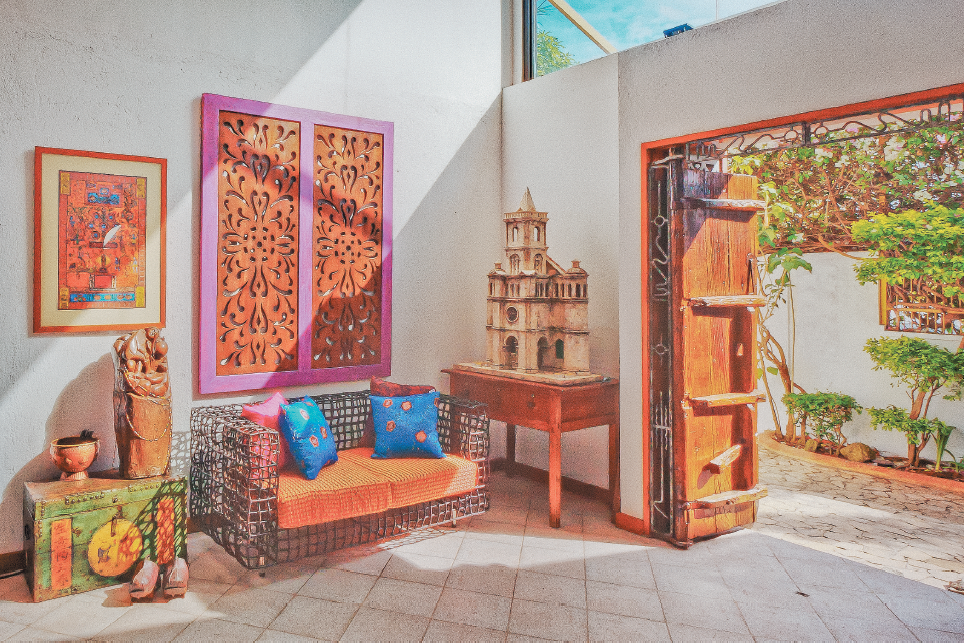 This story is taken from our archives. Originally published in Inside Cebu.
By profession Annie Chen is a jewelry designer as well as an art gallery owner in Cebu. She divides her time between her home in Singapore where she lives with her three children, and this home in her native city of Cebu. In designing her home here, Annie, wanted to create something that would give her comfort with a bit of pared-down luxury.
When the owner of this house decided to renovate the interiors, she specified to the architect that she wanted to bring the Indochine theme, which captivated her during a trip to Hanoi; there that cultural hybrid is quite evident. The entrance to the house is a barely perceptible gate in a cul-de-sac dominated by tall fences and breathtaking views of the Alta Vista Estate. Inside, however, the house speaks loudly of its owner's artistic sense. She has had her house built as nothing more than walls to display art, thus, the interiors are pointedly stark, with bursts of color coming mainly from framed paintings, wall décors, vibrant-color fabrics, and rare antique pieces displayed quite imaginatively.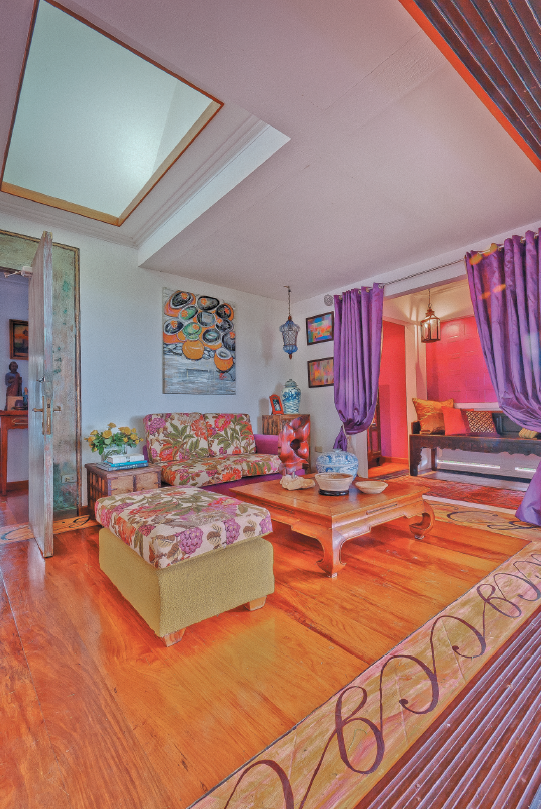 An avid collector of what could only be described as art exotique, Annie Chen has taken advantage of her many trips abroad to amass a wonderfully unique and diverse art collection. A pair of eclectic montages flanks the entrance door, radiating texture and immediately capturing the visitor's interest. There are unglazed terra cotta jars and wood sculptures by Jet Florendo.
Many of the paintings are by Nepalese and Filipino artists. Complementing the gallery feel of the house, designer furniture is used in functional precision, as revealed by interior windows and thick-lattice wood-screens. A massive wooden table dominates the dining room as well as a Kenneth Cobonpue two-seater upholstered in bright silk. Most passages are discreet and set in playful floor patterns, but a wrought-iron spiral staircase with solid wooden steps leads down to the more private spaces— three bedrooms, particularly—all furnished and accessorized with natural vibrancy.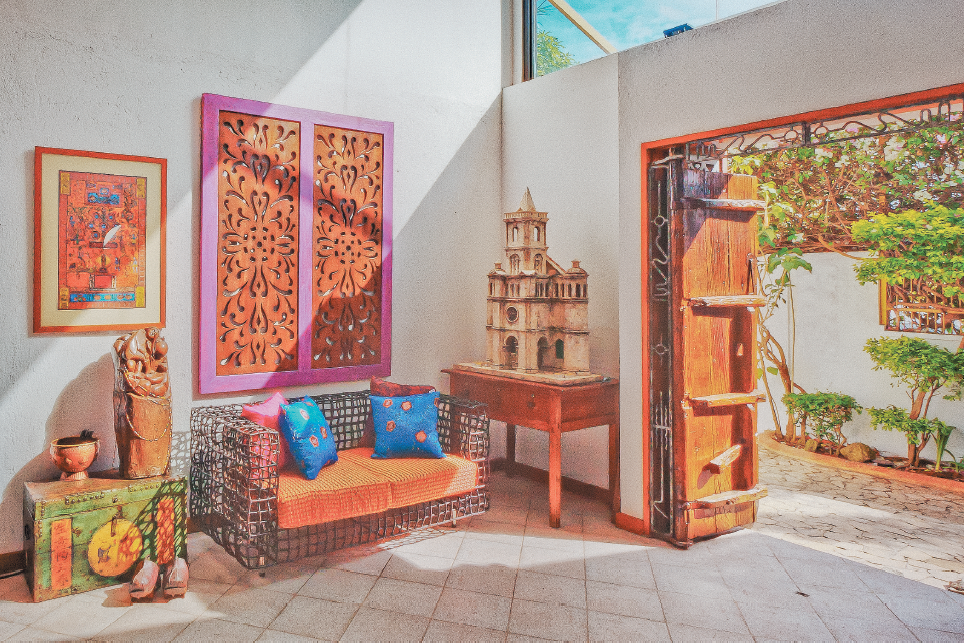 "I required romance in the interiors, but I was not also afraid of simplicity," says Annie. The classic modernist architecture was designed to maximize open space. Says Architect Arsenio D. Abella, "A renovation is an update on an existing building. The architect's duty is to link his discipline with the client's dream, passion, and love of life." And this he has done with remarkable results.
Quick and Healthy Back-to-School Lunch Ideas Your Kids Will Love
Going back-to-school means excitement for kids but can be stressful for busy moms. Make life easier with these quick and healthy school lunch ideas.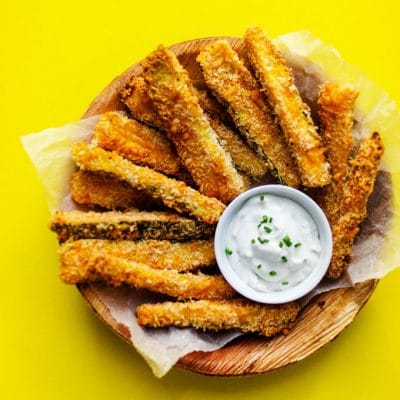 School season is here! Going back-to-school means excitement for kids but can be stressful for busy moms as meal planning comes into play. Preparing baon for your kids can be a struggle considering both their picky tastes and the nutritional content they need to grow strong and healthy.
Check out these recipes from the Electrolux Life App to help spark ideas for healthy and delicious baon for your kids.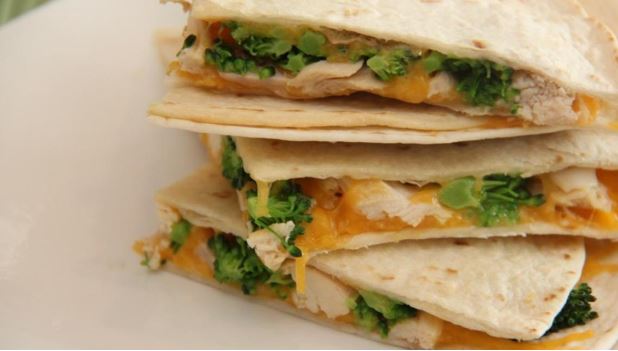 Cheese it up!
Since a lot of kids are not fond of eating vegetables, this Kid-Friendly Chicken & Broccoli Quesadilla recipe is a great way to add veggies in a way kids will enjoy. Start by placing Flour Tortillas on a plate, top it with cheddar cheese, add chicken and broccoli florets. Top it with another layer of Flour Tortillas then place it in a toaster oven at 350ºF and cook for 8-10 minutes or until golden brown. Cut the quesadilla using a pizza cutter, wait for it to cool and it's ready to be packed!
Potatoes are usually a crowd pleaser so why not make the most of your leftover mashed potatoes by making Spinach and Cheddar Potato Cakes.
Simply mix together the egg, frozen spinach, seasoned salt, onion powder and ground black pepper in a medium bowl. Add the mashed potatoes, cheddar cheese, breadcrumbs, and fresh chives. Mix it well until breadcrumbs have been absorbed. Form a scoop of the potato mixture into patties and fry the patties in a non-stick frying pan until golden brown. For the sauce, stir together sour cream and fresh dill and season with salt and pepper to taste. Serve the dip alongside the cakes!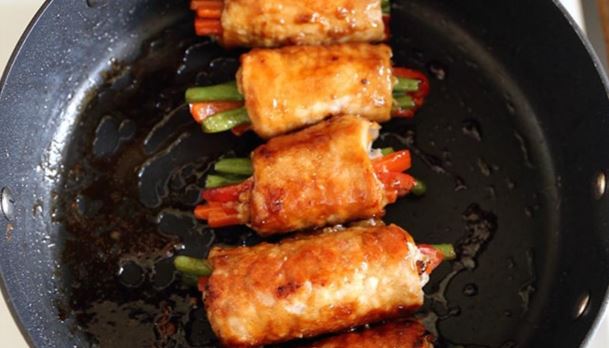 Turning Japanese
Bring a Japanese flavor to your kid's lunch with Teriyaki Pork Rolls with strips of green beans and carrots. In a pot of salted water, bring to a boil the thin strips of green beans, sliced carrot, and bell pepper for 2 mins. Once cooked, strain and dry with paper towel then set aside.
To make the sauce, mix soy sauce, white granulated sugar, and water in a small bowl and set aside. Take one of the thin pork cutlets and dust it with all-purpose flour on both sides. Add three of each of the green beans, carrot slices, and red bell pepper slices on the cutlet, season it with salt and pepper to taste. Then roll the pork and close it with toothpicks. Fry the pork until golden brown and remove toothpicks. Add the sauce, continue cooking for another 1-2 minutes until sauce thickened and all sides of the pork are coated.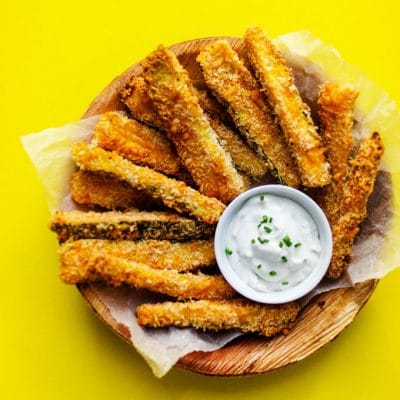 Healthy Sides
Put a new and healthier spin on your kid's snack time with this recipe of Baked Zucchini Fries!
First, preheat the oven to 425 degrees F. Cut zucchini into fries-like size, no need to peel them. In a medium bowl, combine panko, parmesan, salt, paprika, and pepper. Place whisked eggs in a separate medium bowl, and the flour in a third medium bowl. Dip zucchini pieces into the flour, then the egg, then the panko. Dip zucchini pieces into the flour, then egg, then the panko. Once all zucchini are breaded, bake it for 15 to 20 minutes, or until golden and crispy. For the sauce, just combine the yogurt, cheese, mayonnaise, and chives to a food processor and blitz until smooth.
Preparing your kids' healthy and tasty baon is easy with Electrolux kitchen appliances, like the Electrolux NutriFresh™ Inverter Refrigerators, which come with new features to keep produce fresh for longer. The new Electrolux NutriFresh™ Inverter French Door Refrigerator (EHE6879A-BPH) allows you to go from chilling the food to cooking them in minutes. With its special UltraChill -2ºC feature, it preserves the texture and nutrients of meat and fish for longer without having to defrost it.
Different food types require unique storage conditions to stay fresh and the new NutriFresh™ refrigerator comes with a FlexFresh drawer, an optimal storage compartment with five temperature settings (-23°C to +7°C). This enables you to store all types of food – from cheese and wine, meat and seafood, to cold drinks and frozen items – at the temperature they need to remain fresh.
To help retain the juiciness of produce, the NutriFresh™  Inverter French Door Refrigerator also comes with a TasteLock Crisper with AutoHumidity Control which automatically adjusts humidity levels depending on the contents of the drawer. The AutoHumidity Control releases excess moisture from the compartment to help keep fruits and vegetables fresh for up to 7 days. It also has a TwinTech Cooling System that cools the fridge and freezer compartments separately, so food stays fresher and odors don't mix.
If you are looking for a cooking range, check out the Electrolux Cooking Range with Induction Cooktop & Electric Oven (EKI64500OX). It not only comes with a spacious layout to help you prepare multiple dishes at once, but also has powerful induction zones for speedy cooking and precision heat control that allows you to accurately set your desired flame for perfectly cooked dishes.
To get the full recipes of these dishes, download the Electrolux Life app on the App Store or Google Play store and click the 'Recipe Finder Powered by SideChef' within the app to access thousands of global recipes from SideChef's database.
For more information on Electrolux and its products, please visit www.electrolux.com.ph and follow @ElectroluxPhilippines on Facebook and Instagram.
Seasoned Interior Designer Rosebud Sala's Elegant Style
In her fifty years of interior decorating, Rosebud Sala's elegant taste and fine eye have strongly influenced the design of some of the best homes in the city.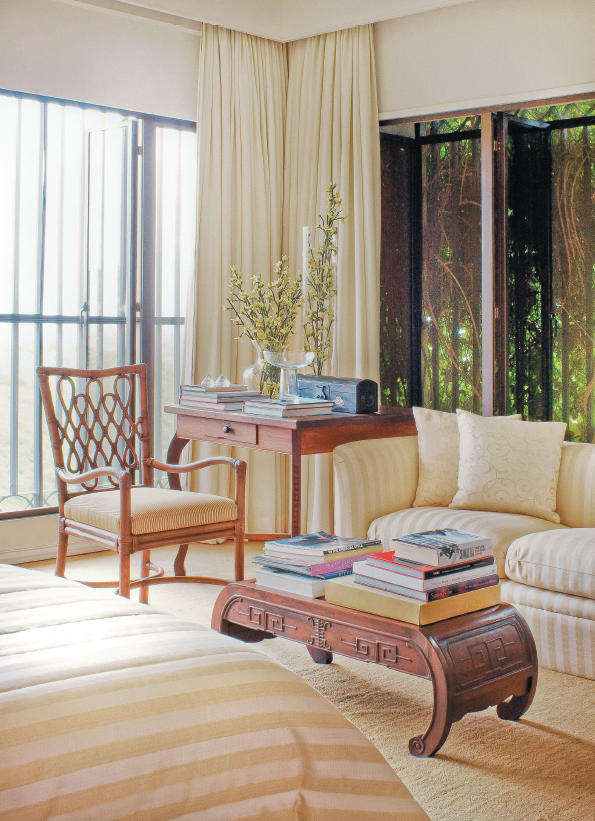 This story is taken from our archives. Originally published in Inside Cebu.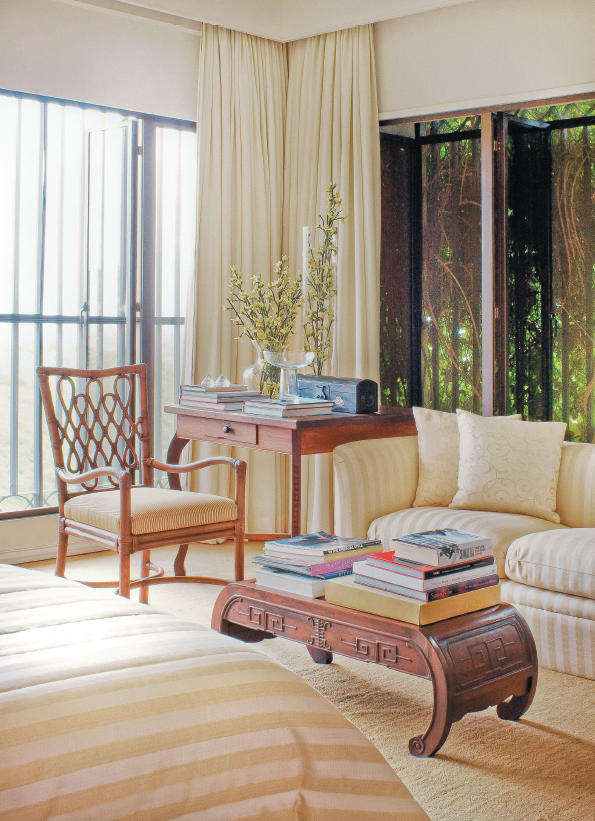 In her fifty years of interior decorating, Rosebud Sala's elegant taste and fine eye have strongly influenced the design of some of the best homes in the city. As a matter of fact, Rosebud Sala puts her stamp on everything she does, whether decorating a house or pursuing a charitable cause. Her second house, located on the crest of one of the many hills comprising Maria Luisa Estate Park, embodies the Rosebud style. The simple layout was achieved in association with the architectural firm of Jacinto and Unson, a long-time collaboration that started in the early '70s.
The main level is divided into three parts. The principal living room leads to the formal dining area that opens onto the wide trellised verandah. Amidst the orchids and flowering vines, it is in this verandah that the lady of the house does most of her entertaining, giving everyone an expansive view of the city below. On the other end of the house, next to a quiet library, is the master's bedroom.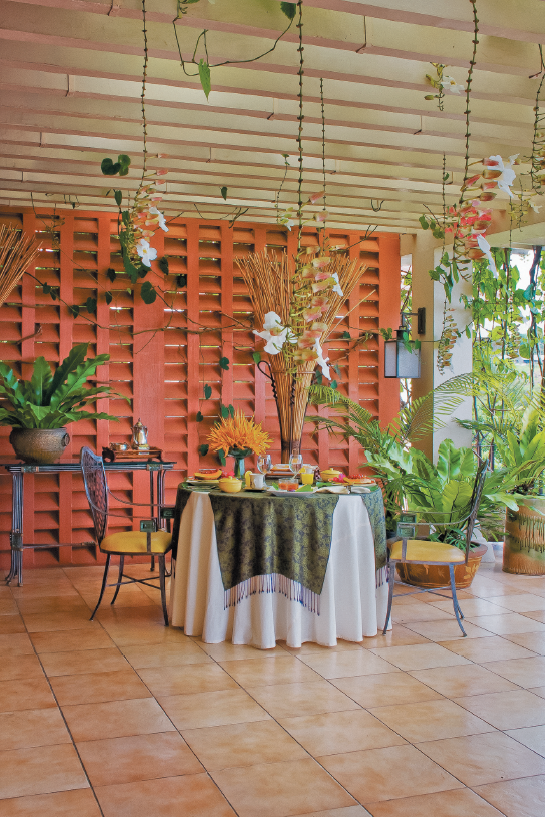 The rooms are distinct from one another; each has its own special feel. They almost give the impression of a collection of unrelated nooks rather a singular home. But pulling all the various rooms together into a unifying whole are the neutral palette of textured fabrics and the layered wood surfaces where the art and furniture inside also follow a coordinated pattern dictated by tastefulness and practicality.
The Sala house is full of surfaces which invite you to touch and feel: a smooth waxed antique table, a Persian carpet and a profusion of silk pillows. There is also a sensuousness in the atmosphere that Rosebud very subtly evokes, by "mixing objects and making associations between different periods, between cultural references, between colors and materials," as she herself puts it. Above it all, there's an element of harmony.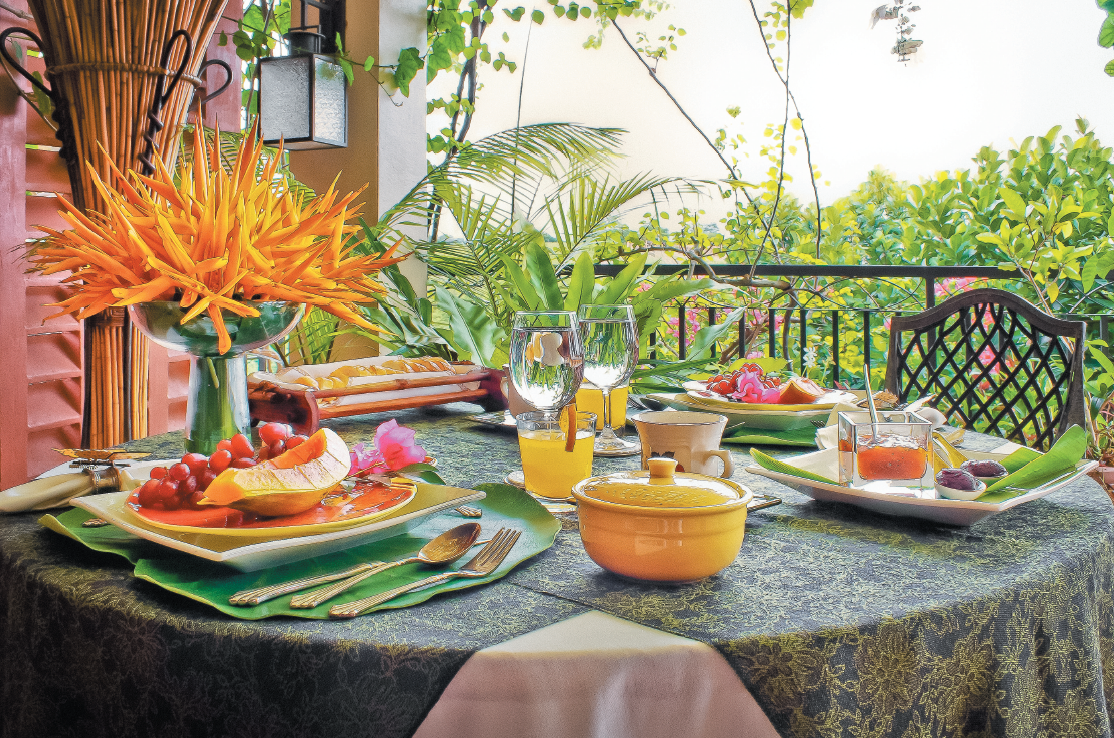 For a breakfast setting, Rosebud Sala arranges fresh tropical blossoms and fruits around a typical Cebuano offering of rice cakes and fruit compote. The exquisite china service is a touch whimsical, but it works with the vivid organic colors of the cultural fare. The table is set alfresco and offers a panoramic view of the island.