Here's Why You Should Listen to Juanita Romualdez's Latest Single, "Inday"
This charming Cebuana singer-songwriter just released her first Binisaya song and we're loving it.
Viva Records recently launched the first Binisaya song interpreted and written by homegrown artist Juanita Romualdez. "Inday" has a distinct pop reggae vibe that matches Juanita's personality. The song is about a girl who tries too hard to be noticed by her crush who happens to have his eyes set on another girl. However, Juanita says that she had no particular person in mind when she composed the song's lyrics.

The song is available on Spotify and iTunes while the lyric video is up on Viva Records' YouTube channel.


Juanita is also a host and spoken word artist. She's a familiar face at the Cebu Literary Festival, performing her songs and spoken word poetry. Spoken word is a performance art that "focuses on the aesthetics of
word
play and intonation and voice inflection". She's an advocate of the art, often found introducing it by hopping from one campus to another.
Her very first single, "We'll Never Know," is also published by Viva Records.
Jinah Oh Tells Us What It's Like to Be a K-Beauty Expert in Cebu
As the woman behind Time For Myself Beauty Salon, Jinah Oh shares how K-Beauty has made it into the lives of Cebuanos.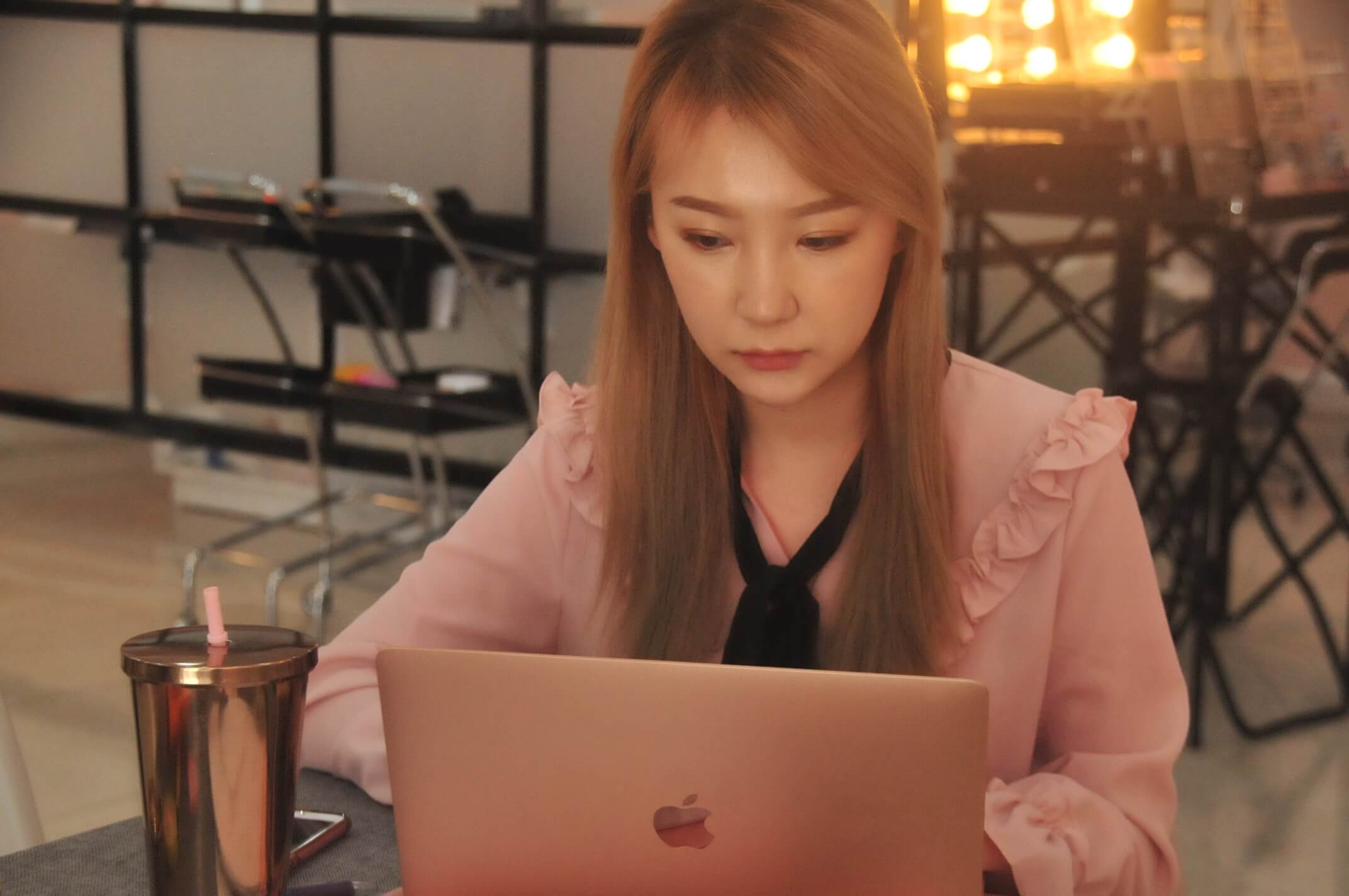 Beauty has always been an important part of Korean culture. Beginning from the early dynasties of the country, Koreans have always been very particular on how they take care and present themselves. Today, Korea's beauty industry is as big as ever, and the rest of the world are now venturing into experience pampering in the hands of Korean beauty experts.
Just last year, Time For Myself Beauty Salon opened in Banilad. The woman behind it is Jinah Oh, a Korean beauty expert. Time For Myself is a beauty salon where you can get a total beauty service. They offer a variety of services from your head down to your toes—including hair, makeup, eyebrow microblading, piercing, and nails.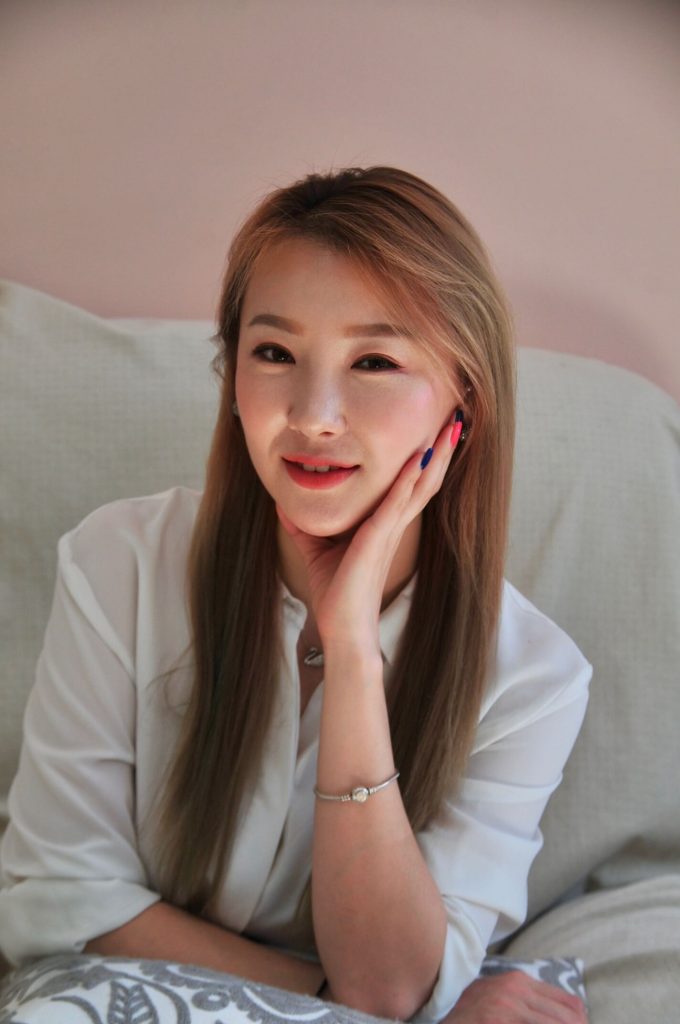 While living in Korea, Jinah worked as a makeup artist for K-dramas. Although her salon here in Cebu is fairly new, she has been in the industry for 8 years now, and she's happy to share her expertise in Cebu.
"I want my customers to experience more about the Korean beauty skills and techniques and be satisfied," says Jinah. She spent most of her education—high school and university, in particular—in Cebu, so it's not hard to see why she wants to share a part of her culture to the Cebuanos.
Unlike many beauty shops in the city, Jinah is hands-on when it comes to working at Time For Myself. Particular with providing good service for her customers' satisfaction, she goes to work regularly to tend to her customers as much as she can.
"I come to the salon at around 9 in the morning. I usually prepare myself first, arrange the schedules for the customers and then wear my apron and work," says Jinah when asked what a typical work day is like for her. "Since I handle the salon's social media, I reply to all the messages and comments one by one in between my breaks. Sometimes, I would do my nails," she adds.
During her days off, she's still running errands for the salon. "I have to go to many places to buy what we need in the salon and I do the groceries as well," Jinah says. "I also reply to the salon's social media messages but sometimes, I hangout with my friends and grab some beer."
A perfect day for her is when she can do what she wants to do, and eat what she wants to eat. "Just spending a simple life without any worries would make a perfect day," she adds. Although salon work really keeps her occupied, she is quite happy with what she is doing now. "This is what I have always wanted for in my life. I've worked in different beauty events in Korea under other people's names but now, I can do what I love most in a place that is my own," she explains.
Jinah recounts her experience as a makeup artist in Korea, and shares that she barely got sleep or rest days, which put a lot of stress on her body. "Having worked as a staff in a Korean drama, I wouldn't say that my job right now is challenging," she says, and goes to describe what she finds challenging in her current job. "When you work so much, you don't really get stressed," she adds.
With everything that she has achieved for her dream, Jinah also wishes that she can share her knowledge on beauty to Filipinos.
"I've been wishing for beauty to become one of the university courses so that they can have the basic knowledge about the beauty industry since the beauty market in the Philippines is growing fast. In Korea, it's standard for us to learn about it," she divulges.
This begs the question: is beauty not that big of a thing in the Philippines yet? Considering the many brands and products popping up in the market, it does make you think if this holds any truth. Nevertheless, whatever the beauty industry's status is here, it seems to be leagues away from Korea's beauty industry, and it's evidenced in how many Filipinos follow their skincare routines and makeup styles.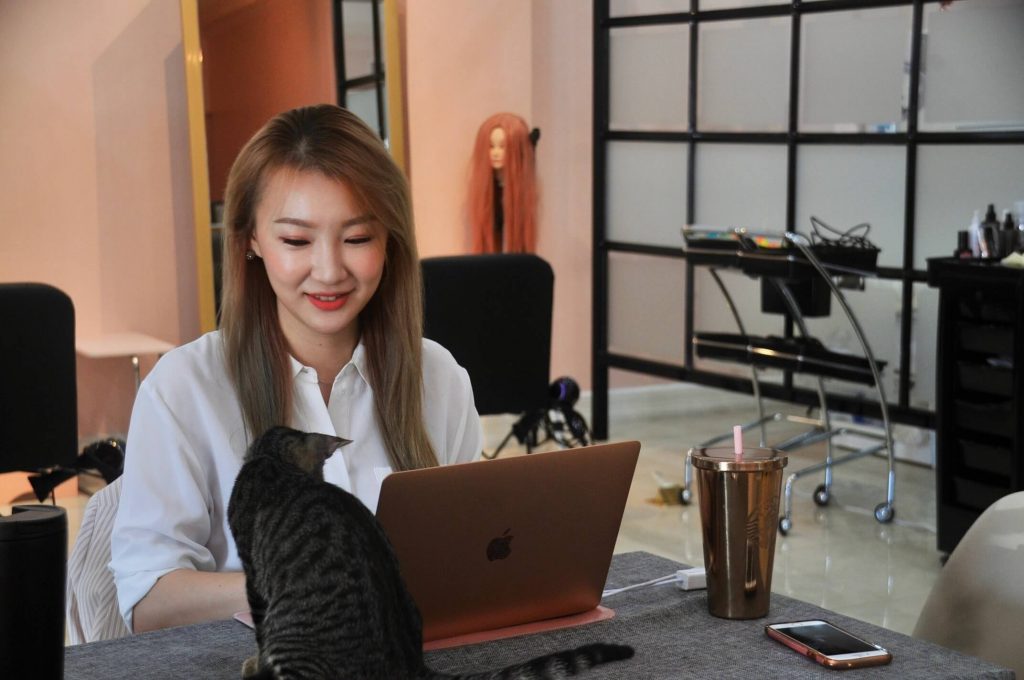 This beauty expert's life is quite interesting, but just like any other person, she dreams of doing the little things that every one of us might have thought about at some point of our lives. Like most people, Jinah also loves pets. She even has a cat that she brings with her when working in the salon.
"If there was one thing I could do for the rest of my life, I would build a huge house where all the homeless dogs and cats live together," she shares. Her cat was a stray that she plucked off the streets, and is now living a life where she's well taken cared of.
Of course, getting a makeup or skincare tip from Jinah would be a must and that's exactly what we asked from her. "I always moisturize my skin right after I take a bath so that I do not give time for my skin to dry. I do not use too much products for skin care because it might block my pore and irritate my skin," she replies. "As for makeup, I wear anything but remember, proper cleansing is more important than wearing makeup."
Check out Time For Myself Beauty Salon at Banilad, Cebu City. While you're there, get a chance to meet Jinah. Who knows, you might get a chance to ask her more tips on skincare and makeup. With the quality services she provides, your time there would really be worth it.
You Can't Miss the Benefit Performance of The Vagina Monologues for V-Day Cebu's 17th Year Anniversary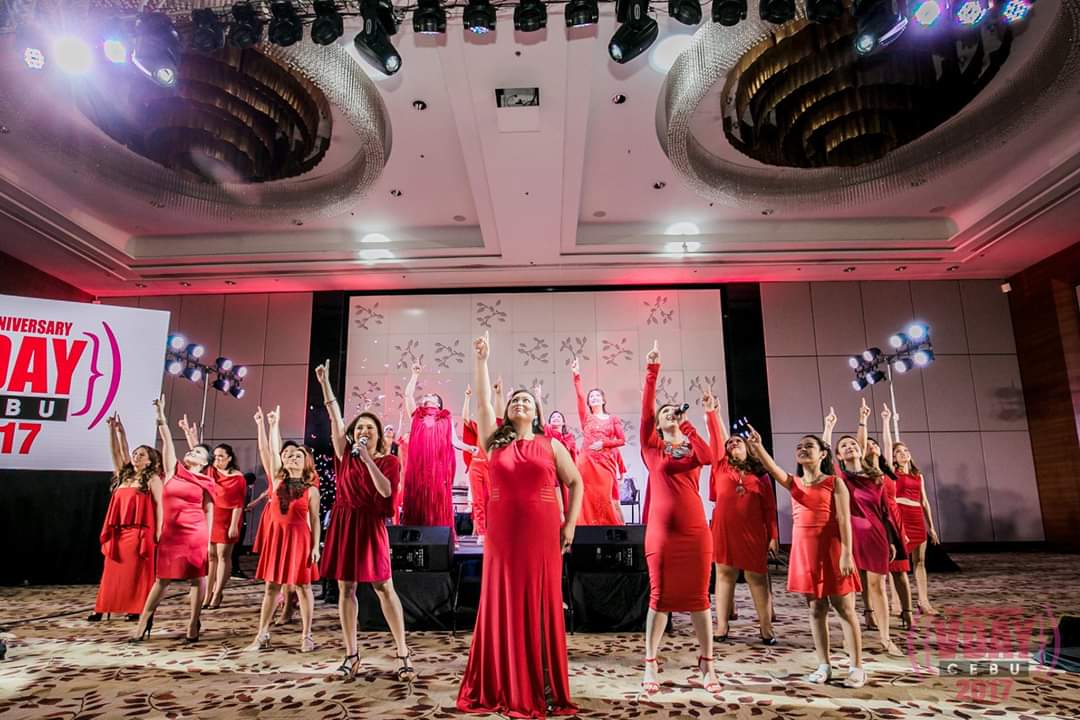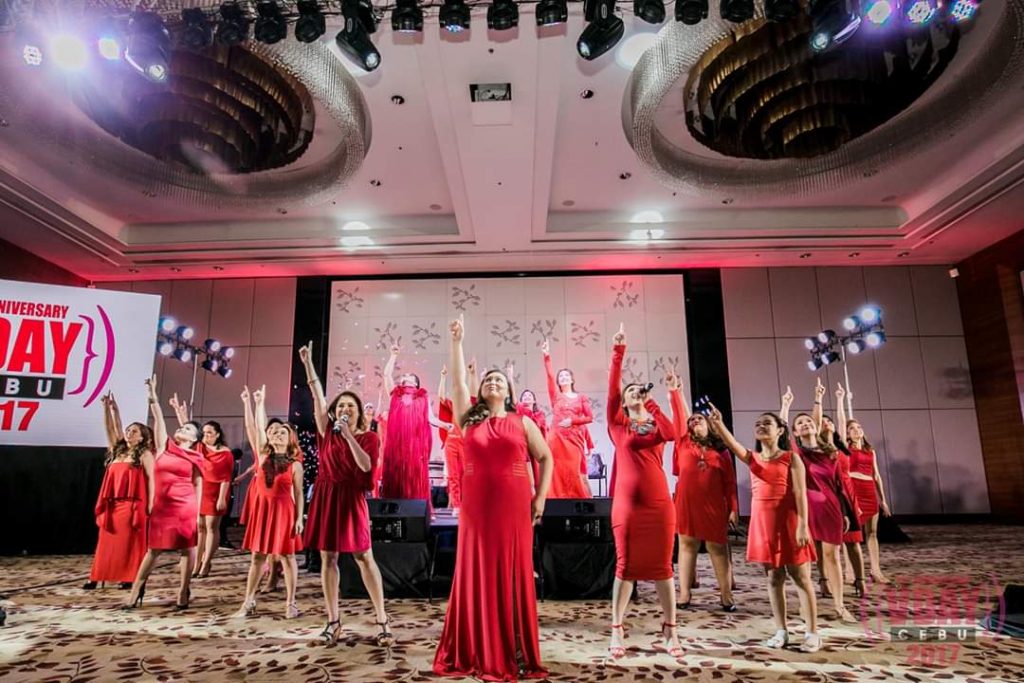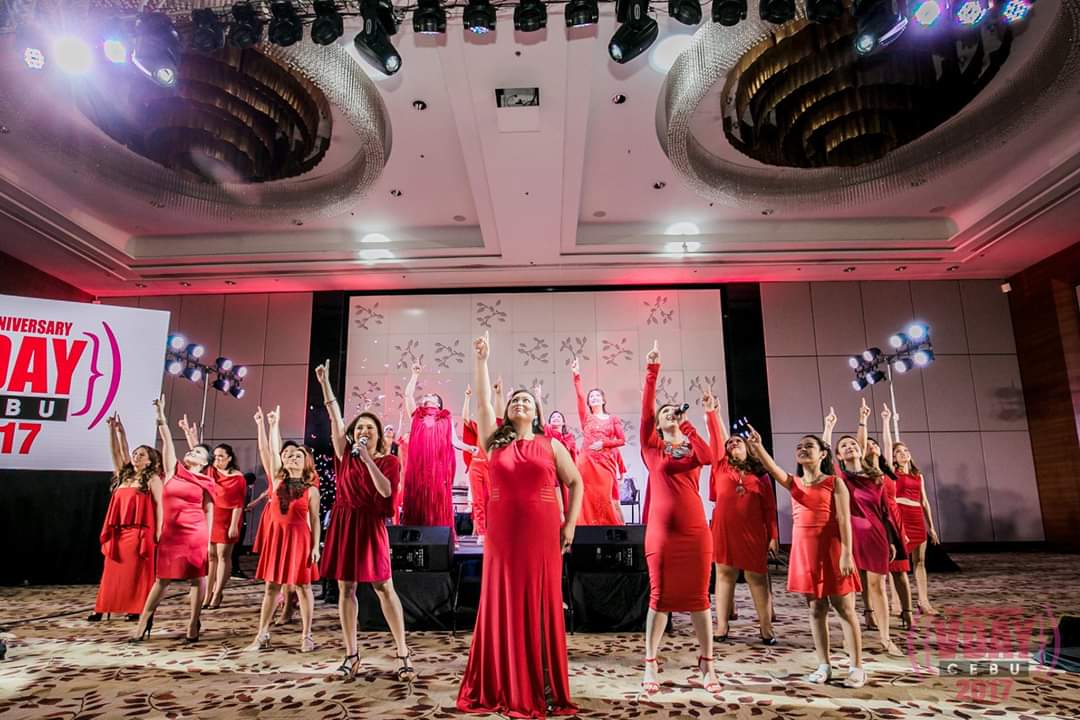 This year, join the Vagina Warriors as they celebrate V-Day yet again with a benefit performance of Eve Ensler's award-winning play, The Vagina Monologues on March 7 & 8, 2019 at 8PM at Asmara Urban Resort & Lifestyle Village.
V-Day Cebu and its current campaign ONE BILLION RISING: REVOLUTION is just one of the thousands of benefits held around the globe to raise funds and awareness toward the empowerment of women. Through the performances of The Vagina Monologues , these events help spread the message of equality, dignity, and freedom for all.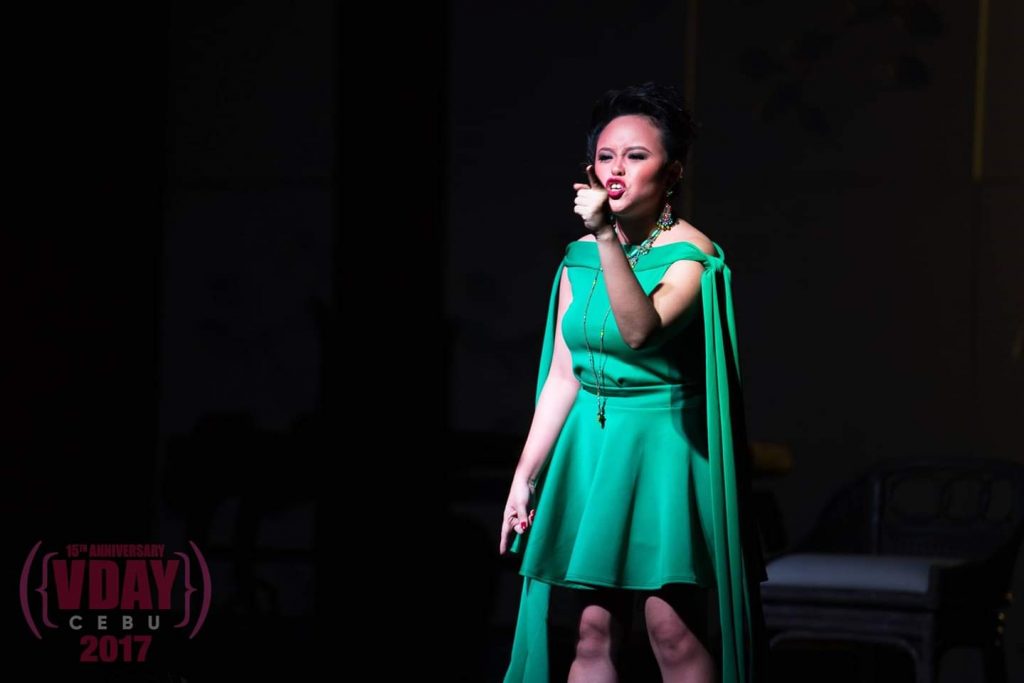 Marking the seventeenth year of V-Day Cebu, this special benefit of The Vagina Monologues will be performed by influential and affluent ladies. Featuring Alem Garcia, Andrea Pateña-Matheu, Anya Lim, Bea Algar Evardone, Brazzy Valdez, Charlene Virlouvet, Christine Tan, Gembelyne Icamen, Jo-ann Abesames Zalumbide, Kim Covert, Liana San Diego, Lourdes May Maglinte, Shiella Pestaño-Gemperoa, Shifrah Bouchikhi-Enclona, Stephanie Sitoy, and Tiffany Neri, and directed by Sarah Mae Enclona-Henderson, this two-night performance will surely touch the hearts of those privileged to see them on stage.
The Vagina Monologues will be performed at the Asmara Urban Resort & Lifestyle Village on March 7 & 8, 2019. Tickets are at priced at ₱500, which also offers all ticket buyers 50% off on all hair-related services at Mira Beauty by Design, located at Basement 1, Robinson's Galleria Cebu. For tickets and reservations, please call 2TinCans at +63 917 896 2181. You can also email plays@2tincans.ph or visit V-Day Cebu and 2TinCans Philippines Inc. on Facebook.
This event is produced by 2TinCans Philippines Inc. and co-presented by Asmara Urban Resort and Lifestyle Village, Atelier-a, Mira Beauty by Design, and Your House Doctors.
Advanced Audio Mixing Master Class with Jad Bantug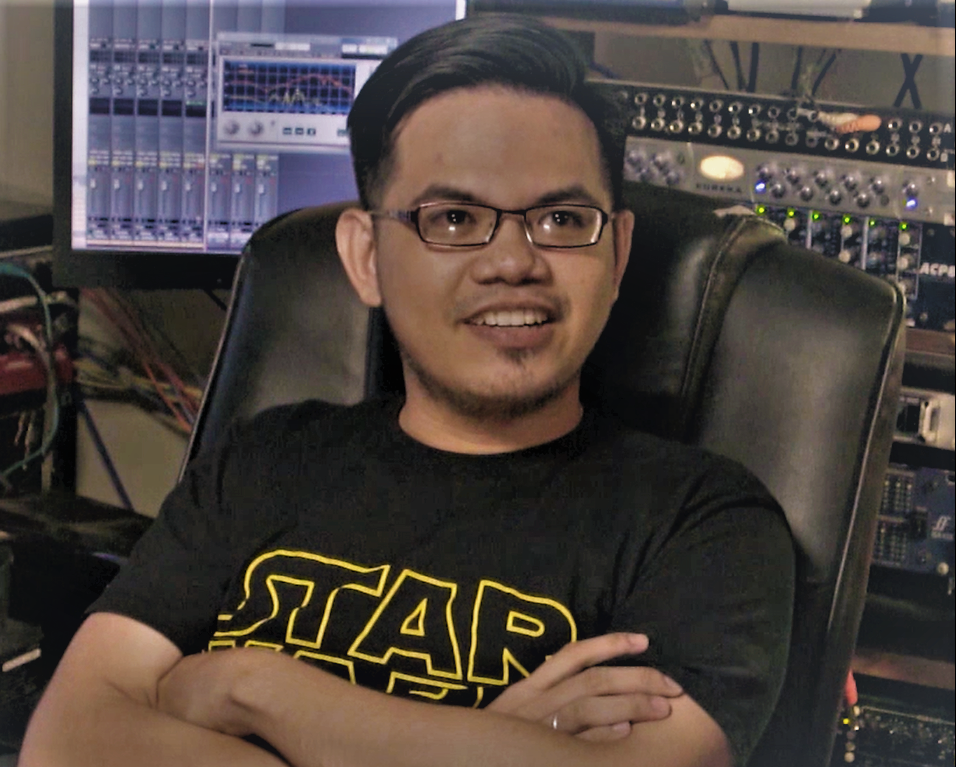 Learn advanced tips, tricks and techniques for getting a great mix!
On February 16, 2019, join the Advanced Audio Mixing Master Class with Jad Bantug at the Room Eleven Recording Studio.
Jad Bantug is a music producer, composer, multi-instrumentalist and recording/mixing engineer. He owns and operates 1032 studios in Cebu City, Philippines, and mixes at Private Ear Recording in Canada where he is currently based.
His works are diverse – ranging from pop, folk, indie and electronic to alternative, blues, rock and heavy metal. He also works on musicals both local and international and does a lot of composition and music production work for radio and TV commercials, films and game audio. In Visayas, he is known for his "sound" and production work on the VISPOP catalog, which sparked a music movement and a renaissance of Bisaya music.
This workshop will teach you how to achieve release-quality mixes on a budget within a typical small-studio environment by applying advanced techniques. The information here is "platform-neutral" and you can make use of it whether you're on ProTools, Sonar, LogicPro, Reaper or Reason.
The early bird participation fee is Php 1,800 per person and will be valid until February 5, regular rate of Php 2,000 will apply afterwards. Early bookings are recommended as there are limited slots available. You may also do online registration, simply message Room Eleven Recording Studio on Facebook to get the online form. Payments can be accepted through online bank transactions or direct payment at Room Eleven Studio.
This workshop is brought to you by 22 Tango Records and Room Eleven Recording Studio as part of our continuing music education efforts. For bookings and inquiries, call (032) 3832916 or 09055622137.
Room Eleven Recording Studio is located at the Mango Square Annex Building, Gen. Maxilom Ave., Cebu City.