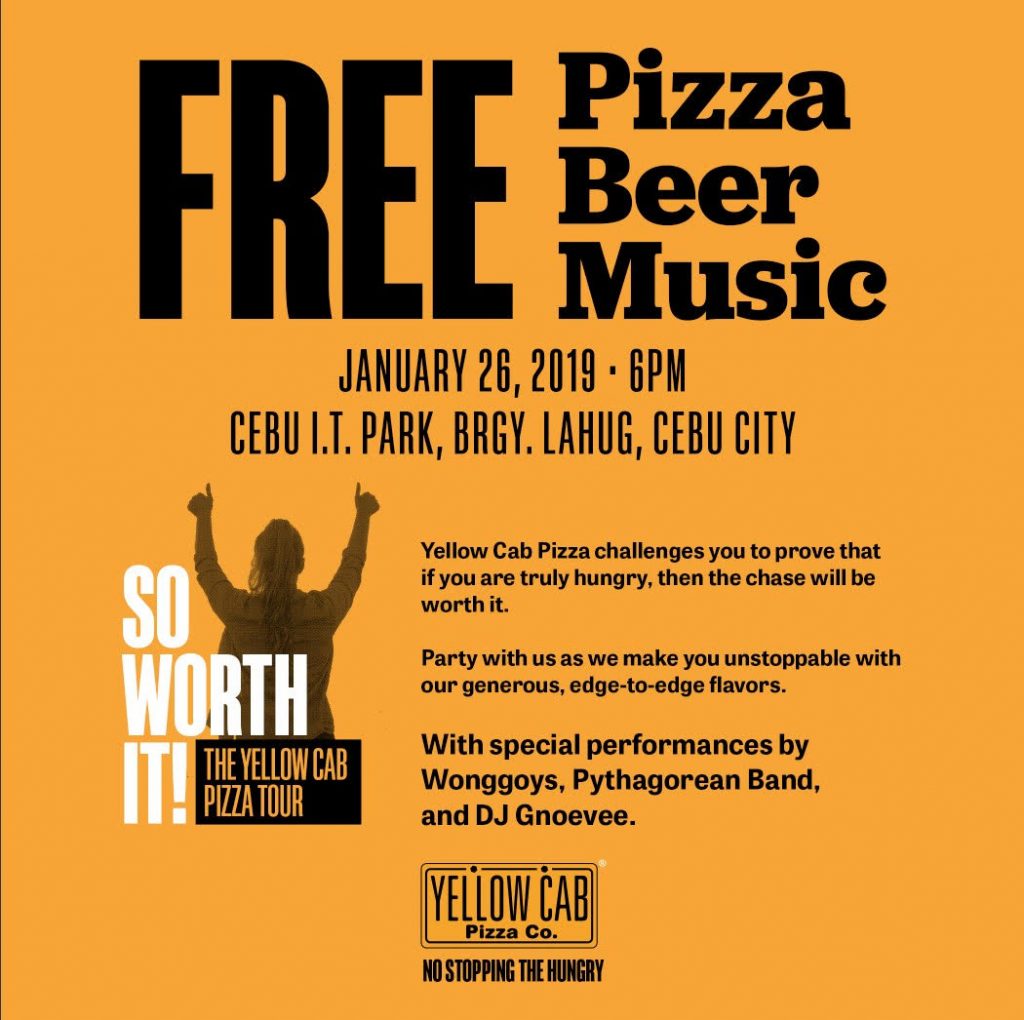 After a successful run in Manila, Baguio, and Davao, the So Worth It! The Yellow Cab Pizza Tour is making its final stop at Cebu I.T. Park in Cebu City on January 26, giving hustlers down south what they need to have a head start in 2019: awesome music and delicious food—all for free!
The Pizza Tour will gather music fans, pizza lovers, and hardworking hustlers from across the Queen City of the South, making them unstoppable with Yellow Cab's edge-to-edge flavors and performances from their own set of homegrown talents. DJ Gnoevee is set to charge up the crowd with the best of club mixes, while the Pythagorean Band will rock the stage with their versions of today's hits. Cebu's much-loved band of brothers, Wonggoys, will also be joining the stage to perform their feel-good tunes that combine folk music, rhythm, and blues.
It won't be Yellow Cab without the iconic pizza joint's all-time bestseller, so guests can expect a free slice of New York's Finest pizza and a complimentary cup of Heineken Beer when they enter and answer this one simple question, "What is your 2019 goal and what makes it so worth it?".
Participants of the tour's Cebu leg will also receive limited edition Pizza Passes, which they can use to redeem discounts for dine-in purchases made at Yellow Cab stores.
"At Yellow Cab, we don't just make food, we deliver generous, edge-to-edge flavors that fill you up and keep you going," says Mark De Joya, Brand Development Director for Yellow Cab Pizza Co. "We do what we do because we want to support those who hustle the hardest for what they believe is so worth it with our edge-to-edge pizzas, and legendary chicken and pasta, which anyone would agree are also so worth it."
Make sure to catch the So Worth It! The Yellow Cab Pizza Tour in Cebu and make every hustle, every chase so worth it with Yellow Cab. For more information about the tour, please visit https://www.yellowcabpizza.com/soworthit/.