Experience Luxurious Romance at Kandaya Resort
Offering a luxurious resort experience, an idyllic place to unwind amidst the northern tropical landscape in the island of Cebu, Kandaya Resort is a dream place to be. Nested in the coastal heart of the historic Daanbantayan, this piece of a paradise is perfect for you and your partner's intimate moments.
As the sunsets along the costal shores and the waves echo in the background so does the romance blooms into being with two or more partners engage in an intimate moment.
They offer Romantic set-up and wedding packages such as:
Private moments: A romantic dinner set up and wine on the beach. Also for couple already married they also give renewal of vows with complimentary overnight stay in a Deluxe Room.
For the unmarried couples they have a Romantic Dinner with a romantic setup in ether the Beachfront, Datu Lounge or Hardin ni Milagros.
You can now also have your wedding in Kandaya.
PLATINUM WEDDING PACKAGE – PHP 285,000 which includes a two nights stay in Ocean View Suite or Garden Pool Villa and including a complimentary breakfast for the wedding couple.
DELUXE WEDDING PACKAGE- PHP 175,500 which includes an overnight stay in a Premier Room, including complimentary breakfast for the wedding couple.
INTIMATE WEDDING PACKAGE with complimentary overnight stay in a Deluxe Room for the couple prices depends on which menu you choose and number of guests.
Inside Cebu: The Velavana
In the 22 years that Zee has been around, countless homes have made it to our glossy pages, and as we turned digital, on our screen—but there's nothing quite like the Velavana, a whimsical bahay kubo crafted from bamboo. 
In the 22 years that Zee has been around, countless homes have made it to our glossy pages, and as we turned digital, on our screen—but there's nothing quite like the Velavana, a whimsical bahay kubo crafted from bamboo.
Literally translating to "cube house", the bahay kubo often serves as an icon of Philippine culture, and is mostly found in rural areas. It's seen in many artworks that depict bayanihan, a Filipino value that refers to communal unity or a joint effort to achieve an objective, where a group of people are seen carrying the bahay kubo to transport it to a new location.
There aren't many of these houses left standing in the urban sprawl of Cebu City; concrete is the preferred material for building properties, and contemporary architecture takes the lead. Although, that's not to say that the bahay kubo is outdated in any way, as its architectural principles gave way to many houses and buildings that rose after the pre-colonial era, and even until now.
The Velavana proves that the bahay kubo is a beautiful remnant of the past. Its location makes it doubly precious—built atop a hill in Cebu's most exclusive gated community, the Velavana sprawls across a half hectare property surrounded by native foliage such as trees of banana, coconut, and bamboo—the last one doesn't come as a surprise, seeing as Velavana is a combination of the Sanskrit words vela and vana, which mean "bamboo" and "house", respectively.
Its owner, whose identity we shall keep under wraps for their requested privacy, built Velavana for them and their family to hang out. For them, it's the best venue to relax and unwind.
"The design was visioned in my brain, executed by two carpenters," they share. "[It] Did challenge my artistic skills to the test. The end result… [is] Pure joy in my unicorn—rare and highly-valued— hideaway."
When you step inside, its chic and airy interiors might throw you in for a loop. Nearly everything is made from organic materials—the furniture, the tables, the hanging lamps, the decor. In the foyer, bamboo vases filled with large glossy leaves of the philodendron and bright white orchids sit atop a glass table with intricately-woven wooden legs.
To the right is the open-air dining area, with the table and chairs woven from rattan. The same material is used to weave the charger plates and napkin holders, adding a native touch to the table settings.
Right in the center of the table lie a variety of Filipino elements. Green tundan (a variety of banana found all over the Philippines), along with white orchids, sungka boards and succulents are lined up to keep with the rustic theme. Hanging above the table are a swanky mishmash of white bougainvillea, ferns, leaves, more orchids, and succulents in terrariums.
On the left of the foyer is a living area, filled with the similarly-themed furniture. Clean white linen furbishing are offset by the woven elements, and greenery liven up the space. Sitting on the couch here gives you an unobstructed view of the city skyline, up until the sea surrounding the island. Everything about the Velavana screams serenity and relaxation, as if you're on a retreat in tropical paradise.
Holy Week Must-Haves
Going on a trip? Look stunning and stylish on your Holy Week trip with these must-haves.
There are plenty of ways to spend the Holy Week. Some people prefer to stay at home and fast while some people prefer to go out of town to spend the week. Contrary to the belief that traveling during this time is risky because of the superstition that evil spirits are lurking amongst us, most people actually enjoy going to beaches or mountains to have a fun and relaxing time with their family or friends during the long holiday.
Of course, planning the trip took some time for you and you're cramming on your shopping on what things you need to bring with you on your vacation. That is why we listed a couple of things that you must pack with you on your trip because we want you to look good and stylish during this Holy Week.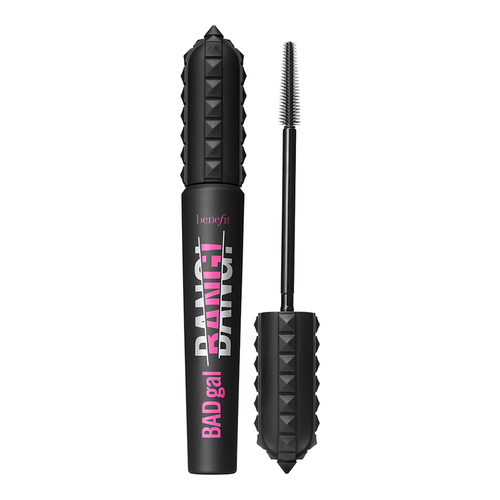 Benefit Gimme Brow Gel and Bad Gal Bang Mascara
Waterproof makeup is a must when going on beach vacations. The Benefit Gimme Brow Gel and their Bad Gal Bang Mascara are best brought when it comes to trips like this. Have fleeky brows using the Gimme Brow Gel with its formula that is created with microfibers that makes your brows full-looking. Their Bad Gal Bang Mascara also makes your lashes pop with their gravity defying formula that even after a long day, your lashes will surely still have that volume. Both of these products are water-resistant and long lasting so you don't have to worry of having to retouch while you're enjoying your day.
Origins Vitazing SPF 15
One thing we're all worried about when going on vacations is how we can protect our skin from the sun. The Origins Vitazing SPF 15 will surely come in handy when going to vacations. It's a moisturizer, a foundation and a sunscreen, all in one product. The Origins Vitazing SPF 15 will help you look fresh and clear while protecting you from damaging your skin from the sun exposure that carries UV rays.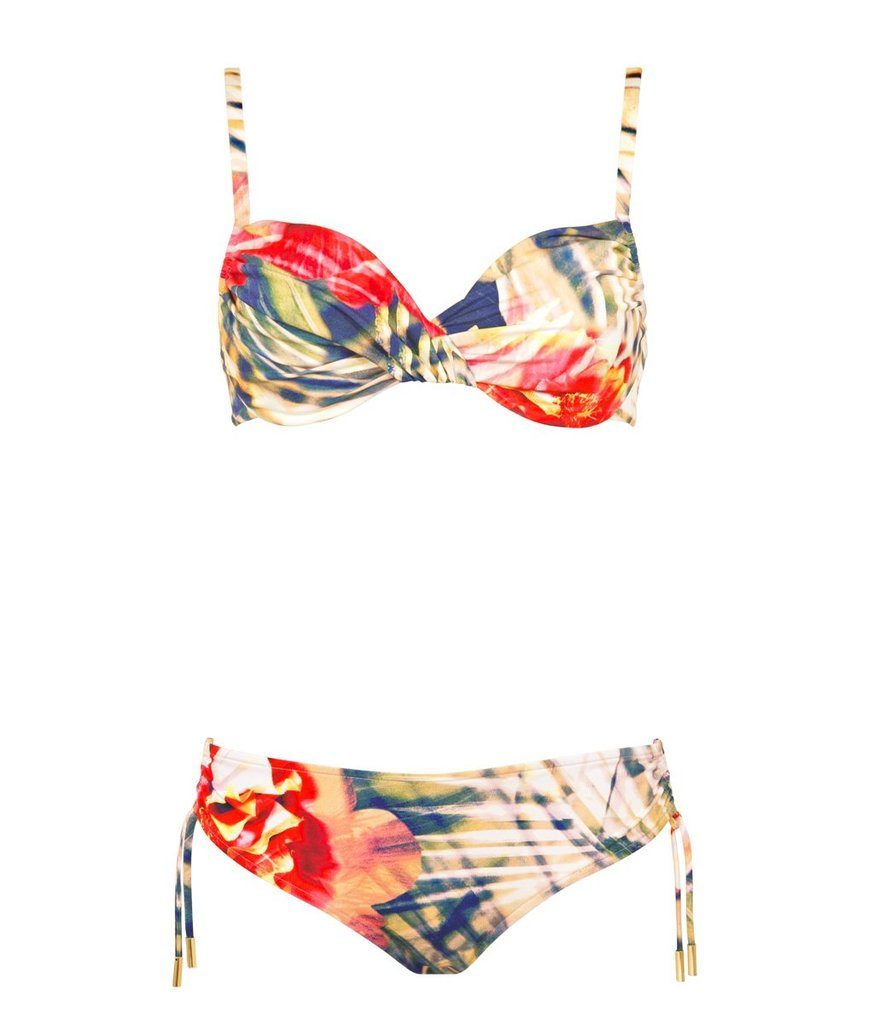 Maryan Mehlhorn 'Fusion' (Hibiscus) Underwired Bikini
This swimwear by Maryan Mehlhorn will definitely bring you that confident vacation vibe this Holy Week. The luxurious bikini is designed with a mixture of prints that will make you look stylish and fashionable as you enjoy swimming in the waters or sunbathing in the sand. Made and designed to fit all shapes, this swimwear will surely make you look and feel elegant yet sexy once you wear it at the beach.
Lilly Pulitzer Castilla Cover Up in Resort White
If there's anything you can't be without when going to a beach, it would be a cover up. Cover ups always create the look, especially on photos. There are many kinds of cover ups available but this one from Lilly Pulitzer just looks so stunning with its flowy cloth and tassel designs which would really add the beachy vibe to your outfit. Plus, it matches the Maryan Mehlhorn swimwear mentioned earlier.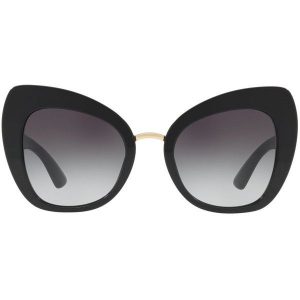 Dolce and Gabbana Butterfly Acetate Glasses
Look classy throughout your vacation with Dolce and Gabbana's Butterfly Acetate Glasses. These square-shaped glasses would not only protect your eyes from the sun, but it would also make you look stylish and cute when you wear this at beach. Definitely, it will match any outfit that you choose to pair it with.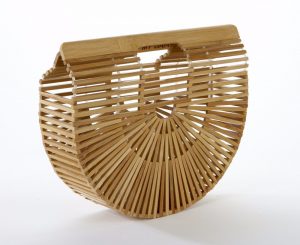 Cult Gaia's Gaias Ark Bag
The Ark Bag from Cult Gaia is a staple and a classic to the brand. This bag from Cult Gaia is made from bamboo and it displays its iconic arc shape that not only is stylish but is also easy to carry with you wherever you go. It's also very spacious and it can carry all your beach essentials such as sunblock, sunglasses and your camera.
Lapin House Straw Sun Hat
Known for its style and function, a vacation look is never complete without a cute floppy hat. Lapin House's Straw Sun Hat would really look cute on you with its white ribbon band on top that would totally match the Lilly Pulitzer Cover Up or any outfit that you'll be wearing. It's also big enough to protect your face from direct exposure to sunlight and we want none of that.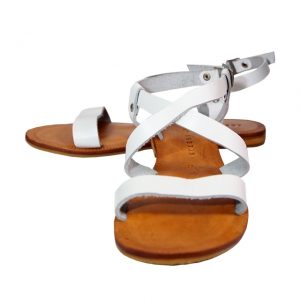 Lady Rustan Dei Thin Cross Strap Sandals
A simple yet stunning sandals would complete your vacation look and adding a Lady Rustan sandals in leather should do the trick. These sandals would be perfect with any outfit that you have in mind and it's good for walks on the sand. You can either get the brown one or the white one for the perfect beach look.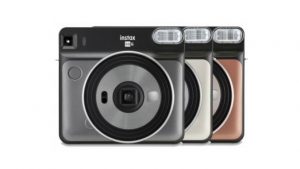 Fujifilm Instax Square SQ6
A polaroid camera is always a must when going on a vacation. Capture precious moments with Fujifilm's Instax Square SQ6. It's better than your regular polaroid camera because it prints bigger films that will capture the beauty of every scene that you take, may it be a landscape of a place or it can just be a picture of you and your loved ones that you went to vacation with.
Join the Zero-Waste Movement with Havaianas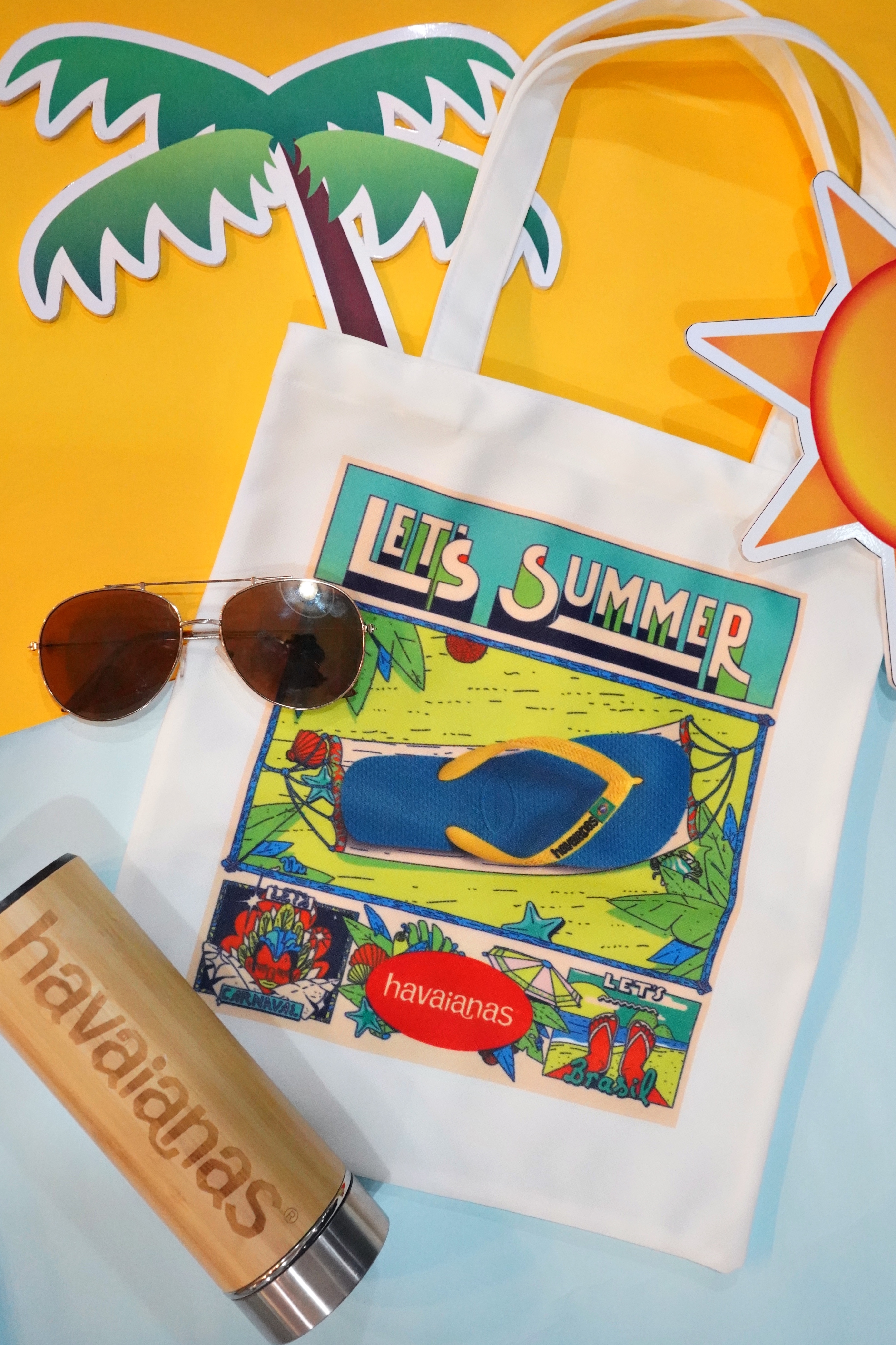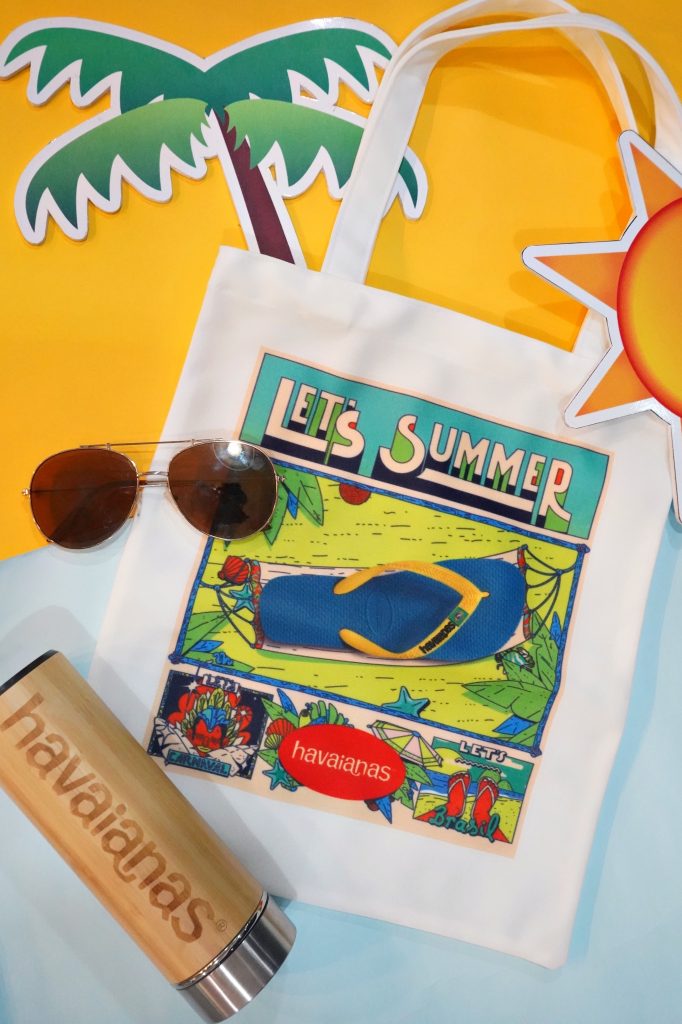 Help save Mother Earth and join the campaign for sustainable living by using eco-friendly products. Get a free reusable bag for every purchase of a Havaianas pair at any All Flip-Flops outlet in Cebu on Earth Day, April 22. All bags come with a voucher that entitles customers a P50.00 discount the next time they buy a regular priced pair with their reusable bags.
Each voucher is valid until July 31, 2019. Get the Havaianas Bamboo Bottle for only P349.00 with every purchase of two regular-priced pairs or P1,500 worth of Havaianas merchandise at any All Flip-Flops outlet nationwide from April 21 to June 2, 2019.
In Cebu, Havaianas is available in Rustan's Department Store, and in All Flip-Flops
outlets at Ayala Center Cebu, SM City Cebu, SM Seaside City Cebu, and Robinsons
Galleria Cebu. For more information, follow @havaianasphils on Twitter and
@havaianasphilippines on Instagram, like Havaianas Philippines on Facebook, and
visit www.havaianas.ph.