Restaurateur Kate Anzani Shares Her Food & Wine Journey in Italy
No one has heard of vineyards and beaches within 30 minutes distance, but it exists in Rimini. Kate Anzani shares her itinerary from her recent Italy trip. f
by Kate Anzani
The Emilia Romagna region in Italy is the Capital of Food and D.O.P (Dominazione di Origin Protteta) This goes for wine, Parmesan, Balsalmic and Olive Oil (They take it very seriously).
We chose RIMINI which is by The Spiaggia for the beach vibe and summer fun. Rimini is the base for 7 days. You'll be surprised at the terrain of Rimini – no one has heard of vineyards and beaches within 30 minutes distance. But in Rimini it exists. As days ahead form into a journey of stomping and strolling vineyards, Olive Oil haciendas , Boat Safaris , long "Spiaggia" walks, Parmesan Caves, Balsamic Bottegas, Cheese Pits and Truffle bunting & where you stumble upon the true meaning of "Artiginale" . Only found in the region ; the Food and Wine Journey of Anzani will stay active for the season between June to September yearly .
Rimini is a fun base to set the tone for a week of extraordinary pleasures. The goal is not to indulge, but to awaken a sense of palate that has been inhibited. We promise an unearthing of happiness, love and a sense of pleasure that the Italians have lived for years. We needed to share it with you. The Love for Food & La Dolce Vita.
Day 1 Arrivals
Because of trans-Atlantic and International flights, day of Arrival/pick up from Milan into Rimini. Pace yourself as you arrive in your chosen hotel
Day 2 Enio Ottaviani Winery & Nona's Kitchen Cantina
The WINERY of ENIO OTTAVIANIFirst impressions of the vineyard is truly a sense of HOME. It is a small artisan Vineyard, (14hectares 🥰) where you allow yourself to breathe it all in. Life is slower and more delicate. Stroll vineyards by the River. You will understand the vineyard lies on the Rubicone River where the earths minerals transfer to the grape. To result in such a unique flavor in the mouth.
You start meeting Massimo, Davide, the cousins & the family who welcome you in their home vineyard for over four generations. Prepare to allow surprises and Life to happen. Tastings, Chemistry, Viticulture, Life talk, & unique Stories.
Wear slip on's as you leave the Hotel to mark the real beginning of leisure. Groggily grab Italian espresso "Un cafe" & Cornetto Italian style and get whisked to the Marina Port of Rimini to step into a 16 foot catamaran. The state of luxury and ease of this boat sets all expectations out the window as one peels the layers of stress, anxiety and worry out the water. Prosecco and Olives are a staple for water landings.
Followed by a degustatory LUNCH IN one of the seaside restaurants in the Spiaggia. You find yourself lost in the Italian Life. We finished dessert at 4. So lounging in The Beach is The alternative. And then by 5. It's happy hour time.
Day 4 Bottega Artiginale , Parmesan, Balsalmic , Ferrari , Spritz
Prepare your palate to begin the morning with a stop at an old pastry house that leaves you staring at their pastry counter. Eeny, Meeny, Miny, Moe. The choices will leave you with a foot in toe!
You head to the town of Modena (1.5hours) and arrive at the Parmesan Vault. See how all the Cheese is made. Then cross over to meet Fredericka to experience Food Alchemy with Balsalmic Vinegars. It's so interesting, we've wondered if this was the true aphrodisiac.
Lunch is served silver service in the cellar with a tasting lunch of Artisan curation . Lunch ends at 3:30. And you gather up the energy to head to the Ferrari Museum in Maranello. This short stop revs up the speed in you and the muscles in the man. A quick pit stop in one of the towns shops to bring home a souvenir or drive one in the test courts.
Day 5 STAMPI & Agriturismo
Arrive in a unique small village so artiginale and quaint, extremely amazing creativity. We ended up buying soaps and unique ouds while others got lost in their pictures .
The village leads you to small alleys and walkways until you stop in a real Bottega STAMPI . A 4th generation , unique Leonardo da Vinci printing on everything. From tablecloth, towels, napkins, pillows. So unique and a lost art in the new culture of technology. A worthwhile stop.
12:30/ Meet MILENA and Marina
Two cooking laughing Italian Mama turned goddess of wine. They will lead you to create with them 3 dishes. Their specialty is Piadina and will teach you real tagliatelle with stroprezzi.
Allow the surprise of the day to unravel. As you sparkle with sparkling wine, find the legs of the red and muster your flexibility in pasta flexing. And go around the Agriturismo, learn about their jams, wines and passito. Day will end so happy you won't be walking straight
Day 6 Fossa Cheese Casefico & Olive Oil Agriturismo
The day starts at 3:30. Choose to lay out in the beach of the hotel in the morning and do nothing but touch the sand, walk the beach, some chose to exercise by the beach with this Italian instructors urging you to move.
Afternoon cafe, come-walk to the old village where the Casefico Pitt is housed. A very interesting affair with cheese and how they store it in the PITT. Cheese tastings. And shopping stops over honey, cherry jam, walnut liquor, passito or pistachio liqueur. Just unimaginable display of creative food display.
Head to the sprawling hacienda of Cleto. The Olive oil visionary explodes with dignified pride as he walks you to the olive groves urging you to hug or sit under a tree to purify your soul. It's magic the olives. He walks you through a proper olive tasting , to distinguish grade.
You finish your day on a sunset overlooking what looks like Tuscany. The breathtaking view takes your words as you sit on this bliss of a beautiful life. Dinner is served. Clerks wife cooks and comes out with dishes that roll of the tongue but found in their garden. And on their farm
Day 7 Truffle hunts and tastings
Truffle hunts. Need we say more? Follow the nose or follow your palate as the day translates to epicure to engulf a sense of strong flavor to only come from the truffle.
A beautiful tasting over oil, honey, a simple risotto or a white cheese takes tastings to another level.
This journey is available until September 2019. We find our journey is wholesome with minimum of 10 people & maximum of 12 people only
EU 1,250 per person
* Please email the tastemakers team info@anzani.com.ph for suggested hotels and any questions for the itinerary. *
Dining Out? This Restaurant in Busay Offers Modern Filipino Cuisine with a View
Balay sa Busay is a new modern-Filipino food destination that offers an unhindered view of the city landscape, providing a pleasurable dining experience.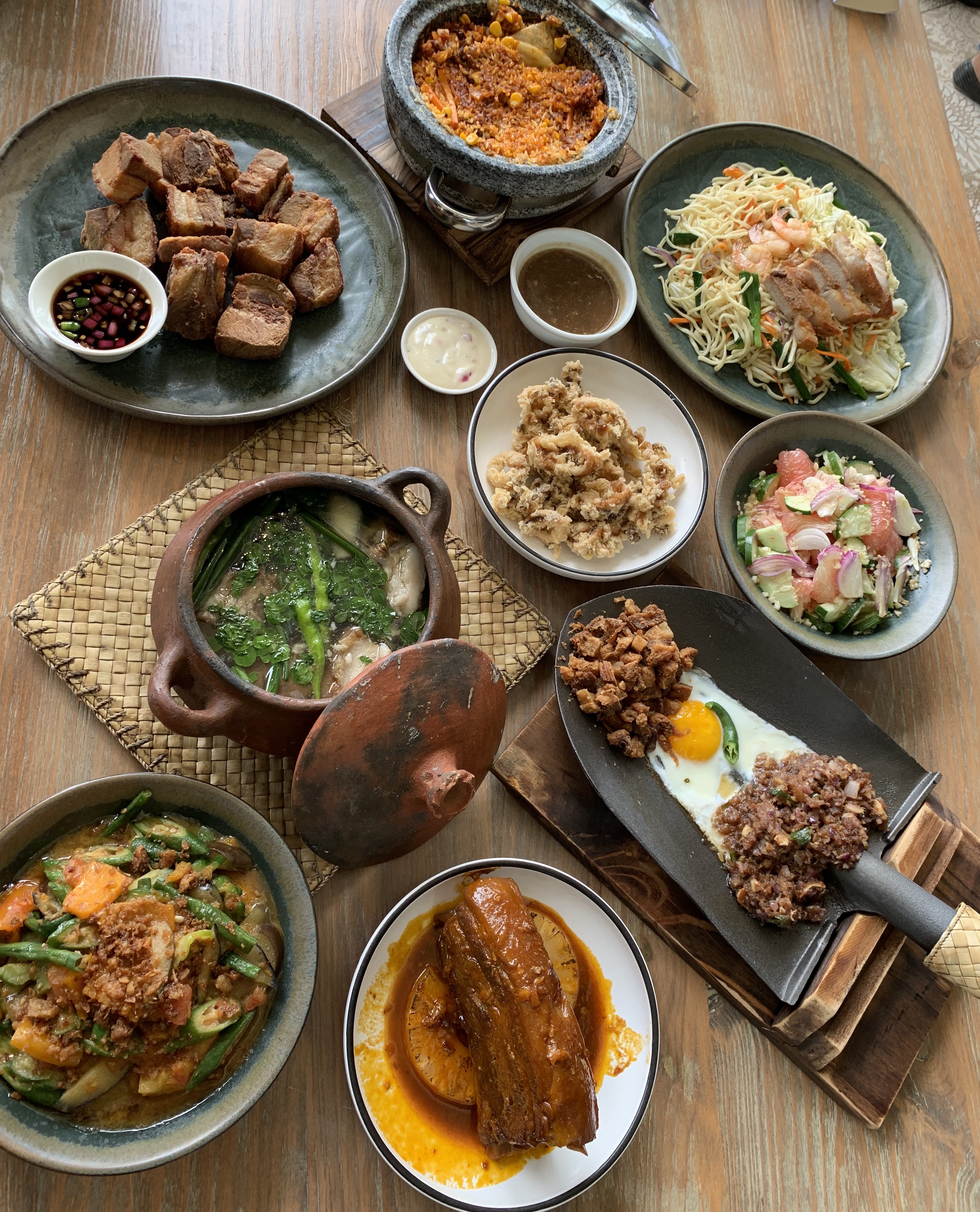 Balay sa Busay is a new modern-Filipino food destination in Busay, Cebu which offers an unhindered view of the city landscape and ocean view with a cool breeze, providing a pleasurable dining experience.
Specializing in modern Filipino cuisine, Balay sa Busay serves our favorite comfort food, with a taste of home and a unique Cebuano touch. House specialties include Adobong Binisaya ni Bebe, Hamonada sa Among Bukid, and Paboritong Sisig Ni Tatay.
Other bestsellers are the Chickenillo, a tender roasted whole chicken so tender that it can be cut using a platito; Pomelo Salad with toasted coconut with calamansi dressing; Pochero Rice; Banana Cue Ala Mode with sugar-coated cardava topped with vanilla ice cream; and Shrimps in Buko.
Dining with a splendid view
Whether it's a casual day out or a special celebration with family and friends, 
Balay
 sa 
Busay
 provides a much-desired breather for busy city folks.
The restaurant is inspired by old Filipino ancestral houses in the province with a perfect blend of old and new elements–a transitional style featuring traditional and modern furniture and fixtures. The spacious interiors give diners the option to dine in the air-conditioned room or open-air veranda which provides a panoramic view of Cebu.
Balay sa Busay has an air-conditioned function room for special occasions, private events, and meetings which can accommodate up to 50 guests and can be split into two and seat 25 each. An open area at the second floor is also available and can also accommodate up to 50 guests.
Balay sa Busay is located at Cebu Tops Road, Busay, Cebu City. It is open from Monday to Thursday, 11 a.m. to 10 p.m. and Friday to Sunday from 11 a.m. to 11 p.m. Walk-ins and reservations are welcome.
For more information and updates, like and follow 
Balay
 Sa 
Busay
 on Facebook at @BalaySaBusay. For reservations, private meetings and events, call (032) 354 7169.
This French-Filipino Family Home Perched Atop a Hill is a Beauty
Zee gives you an exclusive look at this family home owned by French businessman Gilles Pochiet and Filipina wife Cielito.
This story is taken from our archives. 
Originally published in the coffee table book, Inside Cebu.
French businessman Gilles Pochiet and his Filipina wife Cielito, with their three children, have made a home for themselves in the hills of Northtown Homes. When they started with it, they had a few items on their wish list: 
First, he wanted to indulge his passion for art and his penchant for a quiet, cultured lifestyle. Thus, the house had to provide ample and appropriate display space for a continually growing collection of contemporary art. Then the importance of family, best expressed through a close arrangement of family spaces, had to come into the picture, too. And yes, they also love to entertain friends at home. 
Their house, designed by Architect Ed Gallego, took over two years to construct and six months to furnish. Finished almost entirely in white and glass, the exterior of the house cleverly utilizes line, angle, and shape to achieve geometric elegance. It opens to the outdoors through full-length, clear-glass panels and retractable walls, permitting generous amounts of the incomparable tropical light to pour in. 
From the lounge and dining areas, one can enjoy pleasant views of the hills of Cebu. The minimalist theme is emphatic in the dining room, where the square table and the eight chairs around it are enhanced only by water flowing on a floor-to-ceiling stone façade. The sound of trickling water is the perfect accompaniment to life's best moments. 
At first glance, the house may not seem family-oriented, but that is only at the ground level. The family bedrooms are located on the second floor—all with cleverly designed storage cabinets disguised as decorative framed walls. Each of the children's rooms has its own carefully selected set of artworks, strongly indicating how their parents would love to pass on to them an appreciation for art. 
The guest pavilion, uniquely located at the poolside, is fully self-contained, and is actually a smaller version of the main building. It shows the importance that the owners place on privacy; they prefer intimate gatherings of their closest friends, where conversations flow over fine wine and good food. 
DETAILS
The homeowners are totally dedicated to contemporary art. Their collection includes paintings by Ouattara, Lindstorm, and Maryan; carpets by Garouste and Bonetti; vases by Gaetano Pesce, and sculptural pieces by Ettore Sottsas. The white walls set off the artworks. The surprising combination of minimalist sophistication and design savvy is achieved throughout the house.
A Pastel-Themed Afternoon High Tea with Kate Anzani
Zee takes you on a journey of elegance and beauty as we look into the fresh themes that Kate Anzani created for her Afternoon High Tea.
Zee takes you on a journey of elegance and sweetness with Kate Anzani's latest themes for her Afternoon High Tea.