Constellation Prize: 'Miss Bulalacao' to premiere at this month's Cinema One Originals Festival
With his face suffused in shadows by the dim lighting, he stood nervously on the stage that evening, in a dress. It was Biliran's town fiesta and amassed before him—or her, as he would prefer—was a crowd of uninterested men and women and giggly children. Dodong knew this final question was pivotal to the pageant's Q&A, one that could possibility hold the key to dreams coming true.
"Motherhood," he replied, without realizing that his answer to what makes a woman had birthed a bundle of extraordinary events for the new Miss Bulalacao.
Directed by Ara Chawdhury, winner of the grand prize at the Sinulog Short Film Festival for her Operation Prutas earlier this year, Miss Bulalacao is a finalist—and the only entry from Cebu—for the 2015 Cinema One Originals Film Festival.
Teaming up on this project are award-winning cinematographer Christian Linaban and producers Jill Anoba-Yap and Bianca Balbuena through Cinema One Originals, Panumduman Pictures, Above the Line Productions and Epic Media. Ara wrote and directed Miss Bulalacao with inspirations from several indie films, the popular video God-game The Sims, and her own childhood experiences in her hometown in Naval, Biliran, where the movie was shot.
Pregnant and bored, the young filmmaker was looking around her mom's village for something to shoot. "Our helper's family was living with us; and an addition to the household was the maid's stepson, a flamboyant and proud boy," Ara recalls. "I was aware that the husband beat up his wife time and again. It wasn't hard to imagine then why the boy had stopped singing à la Regine Velasquez every morning, knowing his father had a short temper and heavy hand. I thought to myself, maybe if he were the pregnant one, his dad would go easy on him."
Miss Bulalacao is a black comedy featuring a young drag queen (Dodong) who joins a barangay gay pageant with the hope of gaining acceptance in his father's eyes and in his community. When he does win, Dodong's dad remains hostile and the nod of approval he had anticipated never came. Instead the father runs after Dodong, who flees to a jungle where he cries his heart out to a single shining star. Instantly, there's a flash of white light. What follows are the strangest nine months of his life as Dodong finds himself pregnant. The whole barangay, now abuzz with rumors of a miraculous encounter or an alien abduction, ridicules him.
Ara says the satire intends to send a message of respect—for all people, their individuality and their roles in society. The film depicts the effects of community sentiment (whether positive or not) on an individual, as well as the culture and attitudes of the people of Region VIII. "Regional stories are important fibers in Philippine cinema because of the little stories that we don't hear in the cities we live in," says Bianca, one of the producers. Ara adds that Region VIII is one of the poorest in the country, even before typhoon Haiyan. "I am hoping this film sheds some light on the culture and attitudes of people who have to survive on family bonds and community spirit, and how the individual suffers for this imbalance."
The film stars Cebuano performer Russ Ligtas in his first lead role in a film. Russ says of the experience, "Even as someone who is part of the LGBT, shooting the film revealed so many things about my own prejudices. I am humbled to be part of it." The cast includes Chai Fonacier, Ferdinand Mesias, Tessie Tomas, Nanette Inventor, Mon Confiado, Jeff Ogario, Nikki dela Paz, Ronyel Compra, Paz Tabueldan and Tita Cris. Tomas, who is a native Waray speaker, says it was a chance to reconnect with her heritage. "Miss Bulalacao is a cleverly wacky story that challenges our beliefs on faith. I am proud to be a part of it," she says.
Miss Bulalacao will premiere at the Cinema One Originals Film Festival on November 9-17, 2015. See screening dates below:
Wednesday, November 11, 2015 (gala premiere)
7:40 p.m., Trinoma
Thursday, November 12, 2015
12:30 p.m., Glorietta
10:00 p.m., SM Megamall
Saturday, November 14, 2015
1:10 p.m., Resorts World Manila
2:45 p.m., SM Megamall
4:50 p.m., Glorietta
Monday, November 16, 2015
12:30 p.m., SM Megamall
Tuesday, November 17, 2015
12:30 p.m., Glorietta
3:30 p.m., Trinoma
by Rusel Apa-ap sittings editor Patty Taboada photography Mark Philip Dales
makeup Romero Vergara hair Jessie Egos locale Qube Gallery
Originally published in Zee Lifestyle, October 2015
Arcane: League of Legends: Netflix Review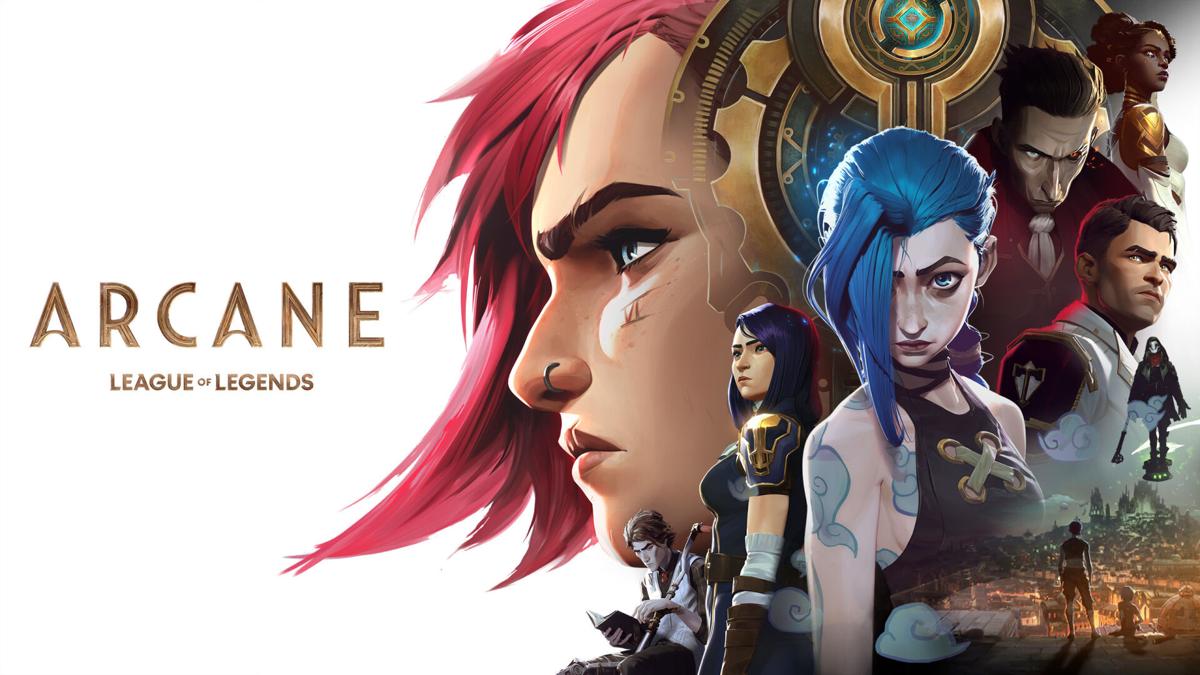 Rating: *****/*****
League of Legends a very popular video game that's been around for over a decade has now been adapted into an animated series on Netflix.  The series, Arcane: League of Legends was just released on November 6, 2021 and starring Hailee Steinfeld.  As a person who doesn't play LoL, I was very surprised by Arcane's story and the quality of the animation.  The title theme song is by Imagine Dragons and soundtrack is very cool.
Rottentomatoes gives the series a 100% score!  Here's what they say:
"Newcomers should be equally enthralled by Arcane's compelling narrative, richly developed characters … "
 Critics Consensus
"Arcane makes an arresting first impression, combining a spectacular mix of 2D and 3D animation with an emotionally compelling story to deliver a video game adaptation that could become legendary."
Well then, this is a must see for me!  Now out on Netflix
… zen
ALBUM REVIEW: Red (Taylor's Version) by Taylor Swift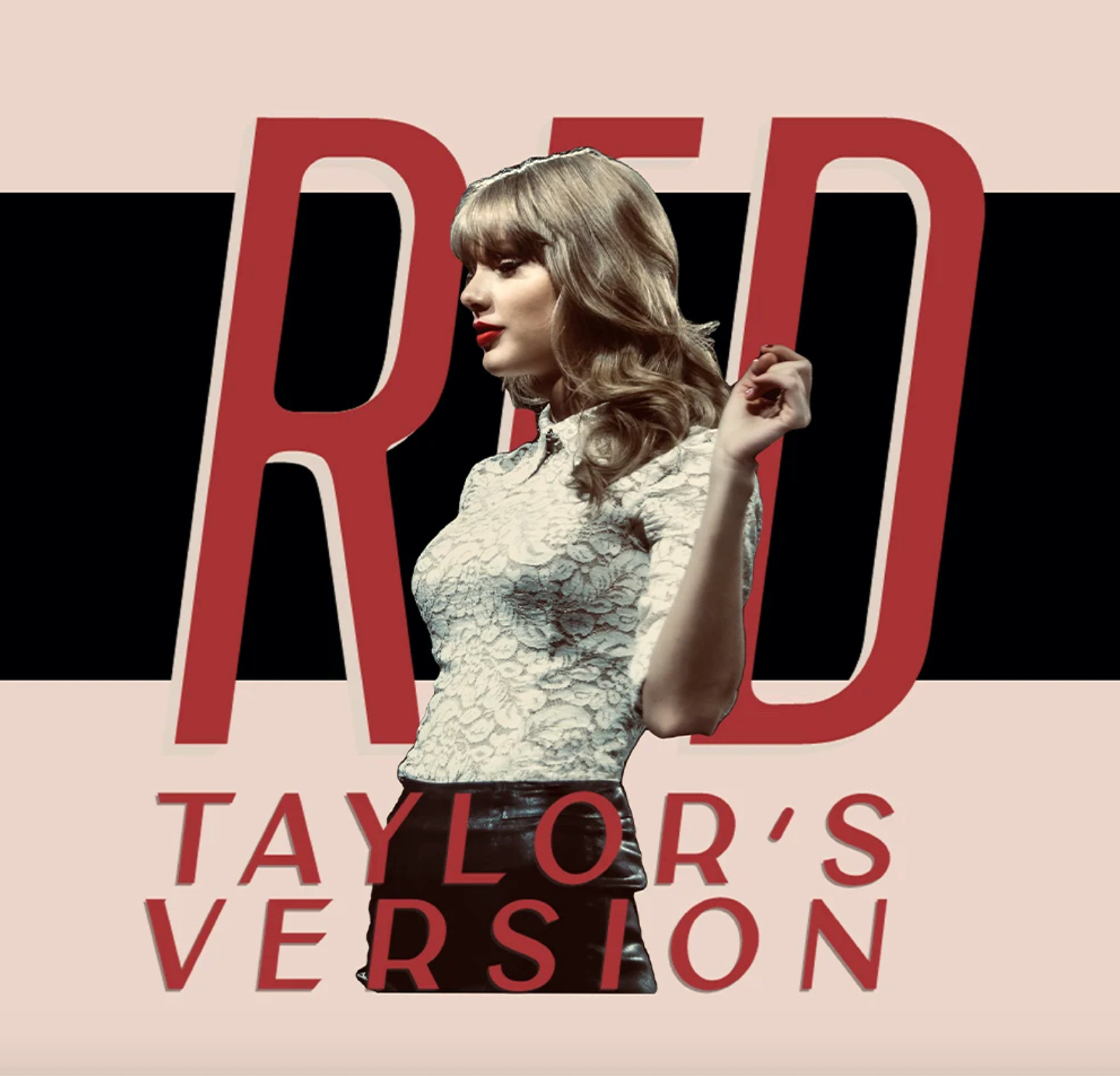 RATING: ★★★ / ★★★★★
You probably don't need to be reminded of why Taylor Swift has decided to release re-recordings of her previous albums, starting with Fearless (Taylor's Version) last year and now with Red (Taylor's Version). However, if you somehow missed one of the biggest music controversies in recent history, here's a quick summary: in 2019, talent manager Scooter Braun acquired the record label Big Machine and as part of the deal acquired ownership of the master recordings for the first six studio albums by Taylor Swift. Swift has been trying to buy the masters to her songs for years but she's been offered nothing but unfavorable conditions — therefore, as a countermeasure, she is re-recording all of her six albums and so far has released two.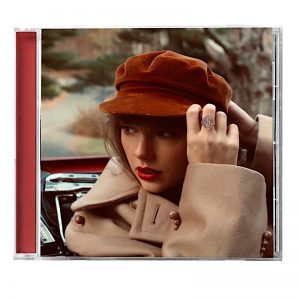 It's a bold move on Taylor's part, but lucky for her, the re-recordings have done incredibly well especially with the re-recording of her 2012 album Red. On its first day of release, Red (Taylor's Version) has broken two Spotify records: one for the most-streamed album in a day by a female and another for the most-streamed female in a single day both in Spotify history.
It's hard to review an album like this when Red (Taylor's Version) is, for the most part, just a recreation of the songs of Red. There are new songs, of course, but the majority of the tracks are simply re-recorded versions of her already existing songs. The Immaculate Collection by Madonna, this isn't — save for All Too Well, there are no new instrumentals or parts of the song here, just plain re-recordings of her previous songs.
Unfortunately for Taylor Swift, some of the songs don't really benefit from being re-recorded. The original version of We Are Never Getting Back Together, for instance, while far from Swift's best song at least had the energy and emotion you'd expect a bitter break-up song like it to have. In the new version, Taylor Swift just sounds lifeless and bored, especially when it comes to her spoken lines.
It's difficult to blame her when she's expected to still give convincing performances of experiences she's had over a decade ago. How do you expect a singer in her 30s to sing a song about how excited she is to be 22 and still make it sound as convincing as she made it when she was actually 22?
That being said, some of the songs also benefit from being re-recorded. There's a sense of nostalgia added to many of these songs. Taylor Swift sounds older and, in a way, that adds even more emotional depth to some of her tracks. And for anyone not wild about these songs simply being re-recordings, Swift has six new "From The Vault" tracks which should be enough to tide you over.
All in all, Red (Taylor's Version) doesn't always work, but for Taylor Swift fans, it's a way to listen to versions of her songs that are hers. It's why the "(Taylor's Version)" at the end of these songs are so important and it's great to know Taylor Swift finally has versions of the songs she wrote which she can call hers.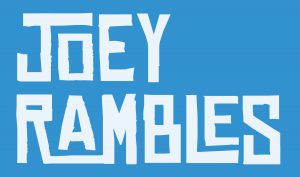 LADY CYCLISTS HIT THE ROADS AND SLOPES OF CEBU.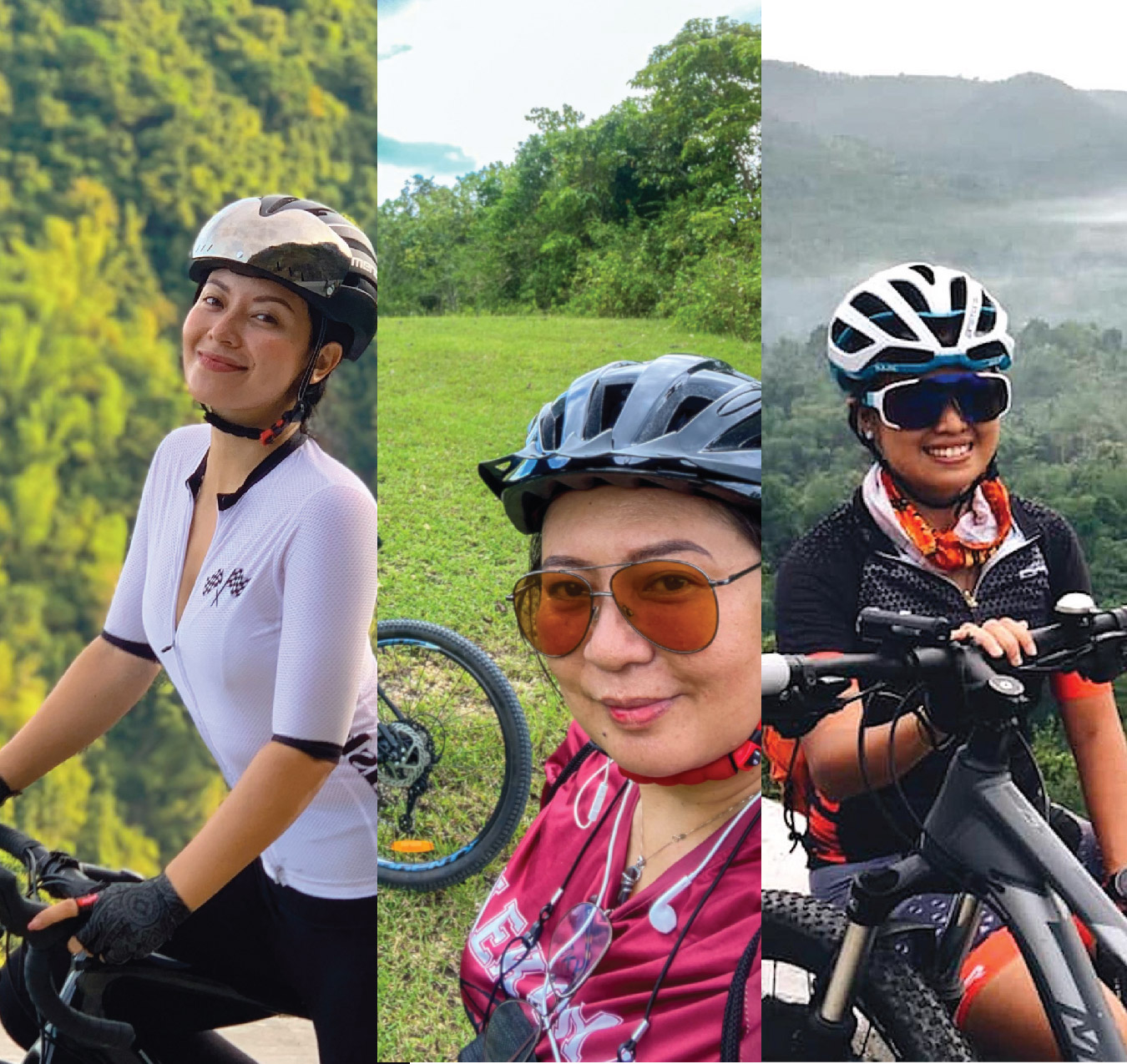 Cycling has been a growing sport and hobby for many years but it's popularity has erupted since the Covid pandemic.  People biking to work and for recreation is an everyday sight in Cebu.  More and more are joining the ride.  Many are quite serious about cycling.  I know three ladies who are among those who've gone long distances across Cebu.
How did you get into serious cycling?  What was your motivation?
Blinky de Leon.  Event Host, Product Endorser & Influencer
" I've been into cycling since I was a kid. A little backstory, I was around 10 years old when my dad surprised me with my first custom-made mountain bike. I still keep it until now, in fact I had it refurbished. It's the most sentimental thing I ever received since it was his way/gesture to catch up with me after not seeing each other for almost 6 yrs. My dad is based in Germany and he also loves cycling and makes his own bamboo bike."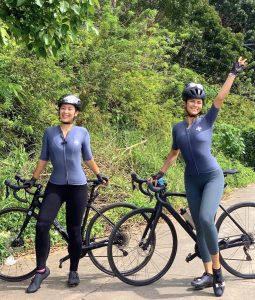 "Just a year ago though, my friend Gazini randomly, out of nowhere, picked me up from home to bike with her to the South of Cebu. I felt really excited and motivated to get back on track because it's very nostalgic and brings back so many great memories. And since then, the rest was history. We've been joining different groups, tried different routes and conquered different heights. I've met so many cyclists with very inspiring stories in the bike community who kept me feeling motivated too. I also look forward to the sights and the adventure that comes along with it."
Yumz Mariot. Branding & Marketing Consultant
"I used to bike along with rock and wall climbing. I am lousy with ballgames which is why. Our usual route were Talamban and Mactan but one time, managed to ship gears all the way to Dumaguete for a quick ride to Valencia, the next town located at a higher elevation. Those were days when I did it for fun and what bike I was using did not matter."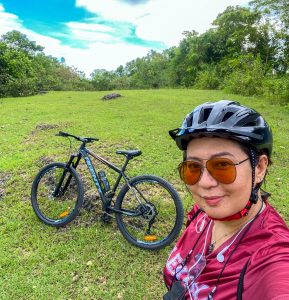 "Fast forward to 2021, a year after the pandemic lockdown began, I realized I have been lazy to do any fitness routine. Too caught up on juggling between house chores and Work from Home deliverables (I work as a Branding and Marketing Consultant), I started to feel my body needs to move as much as my brain does. A hysical fitness routine is as important as what I eat, or what I read or watch. So I decided to invest on a decent MTB, just very recently and got myself a much necessary restart. What motivates me even more is the area where I currently reside at. It is vast, fresh, green and safe for solo bikers like me."
Prime Sarino. Digital Media Creative
"I started biking as a young teenager and I got the idea to start it as an adult hobby 3 years ago. I was already into running and I thought it would be great to venture into another outdoor activity to keep me occupied after work hours and weekends. I was set to travel for a year so I had to put aside the idea first but came pandemic. We were all forced to stay put and everything was put on hold. Cycling became my diversion. My cyclists friends invited me to quick and short rides. I enjoyed my first 50km ride and the sceneries and routes most of all. It also helped channel a positive mindset during the hard hit season of the pandemic. Not to mention it's also another way to stay fit when we were forced into inactivity during the quarantine."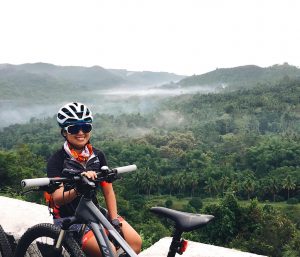 Next in Part 2, we ask the ladies about their cycling experiences and memorable moments…
by: Zen