CEBU'S GALLERY OF ROUGE: Mistress of Disinfo, Vixen of Vexation and the Duchess of Disorder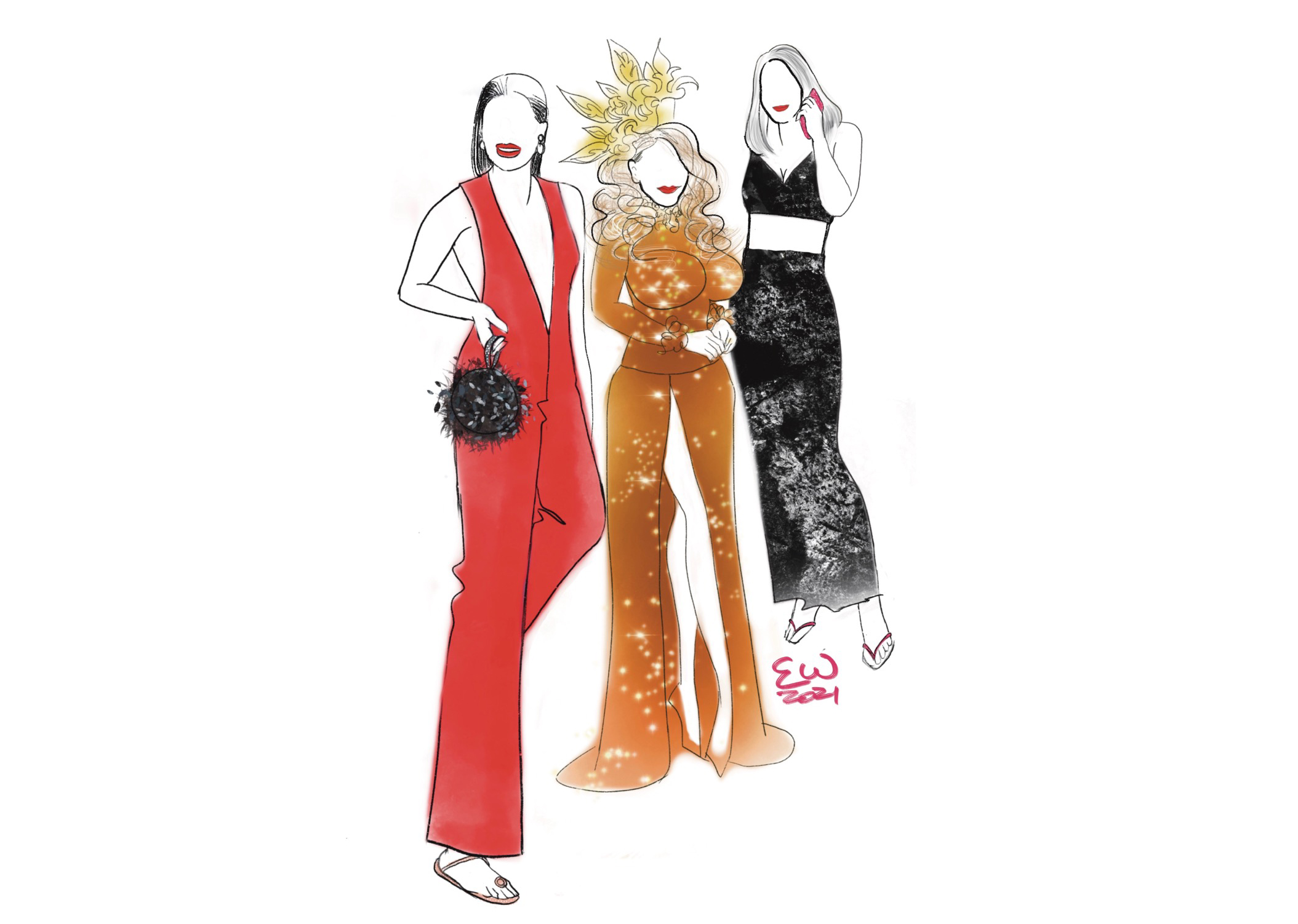 Ogle La La
By Alexandra Fortabat de Hermès
Cebu's own Lady Whistledown is back after a long hiatus and talks about the naughty ones who comprise the initial #TroubleTrifecta, three ladies who you may or may not know…
It's been eight years since someone's picked up this particular (jewel-encrusted) quill so thought it rather apropos to begin sharpening those French-manicured talons and polishing our sardonic wits once again. After all — dear amigas — there is only so much Netflix one can watch, or peloton one can engage in, or caviar-topped foie to prepare, while we've all been locked down in our kubôs for well over a year!
To be sure the last twelve months have been a rollercoaster of emotions, a carousel of follies and a series of blunders that have reversed decades of growth resulting in historical levels of unemployment while a very few have been channeling  Winston Churchill's adage of "never waste a good crisis" a bit too much. While we can go on and on about the bungled and disastrous government response, we will limit our political commentaries here as we have no interest – nor inclination — to open that rather voluminous Pandora's box. 
The armoires that we will explore will belong to three types of our island's "alta" sociedad who – in this last revolution around the sun – made us cringe and bust out many tubs of popcorn through their sheer audacity, lack of sensitivity, and overall dopiness.  This –  ladies (and lady wannabes) – is therefore the debut edition of the  #TroubleTrifecta.
The first is that amiga who, by choice or plain predilection, just cannot keep her facts straight.  Let's call her Mistress of Disinfo coz one simply cannot trust what comes out of her well-lined lips or read from her often convoluted (and run-on) status updates. In this age of ubiquitous and nearly instantaneous information and the proliferation of fake news, the least one can do is check the veracity of what one puts out in the social media realm.  As with anything else, quality is key!
The next Vixen of Vexation is that overbearing arriviste who is desperate to bowdlerize her courtesanal past by plastering her obviously enhanced and Gluta-enabled mug on every surface (and platform) known to modern man.  This self-proclaimed Madame Multiverse is quick to brandish her (dubious) accomplishments, has an affinity for B (or C?) rated actors and milks her closeness to certain members of the Old Guard.   In her perpetual quest for legitimacy and acceptance by the upper echelons, perhaps this Señorita aspirant should heed the advice of  Malcolm Forbes when he declared: "How to Succeed: Try Hard Enough; How to Fail: Try Too Hard."
Our last Duchess of Disorder is definitely NOT the least in this Gallery of Rouge and has actually been the source of not just consternation but of many a disruption – and not in a good way.  This Soaper Woman is so-called due to her propensity to air out all her filthy lavada to anyone who will listen or bother to read her IG stories. Besides giving any Grammar Nazi a massive coronary, this Fräulein of Fracas has been known to commit acts of arson, has no qualms of engaging in online character assassinations AND seems to have a never-ending bevy of skeletons that are constantly feasting in her many closets. 
Ladies, please!  While we have to admit that we derive a certain guilty pleasure from your virtual explosions and implosions, they do get very prosaic – very quickly.  Discretion, like intelligence and proper manners, truly never goes out of style.
So there you have it folks. These tumultuous times we live in certainly do not need any more brouhaha so  please remember to be precise, don't try too hard and always maintain a  certain sense of delicadeza. Not only will your lives be simpler and more pleasurable but maybe, just maybe, you may finally crack that clique that you've been clawing your way to be a part of.  
How to Manifest Pantone's 2022 Hue "Very Peri" in your Daily Deals as Listed by Fashion Editor Oj Hofer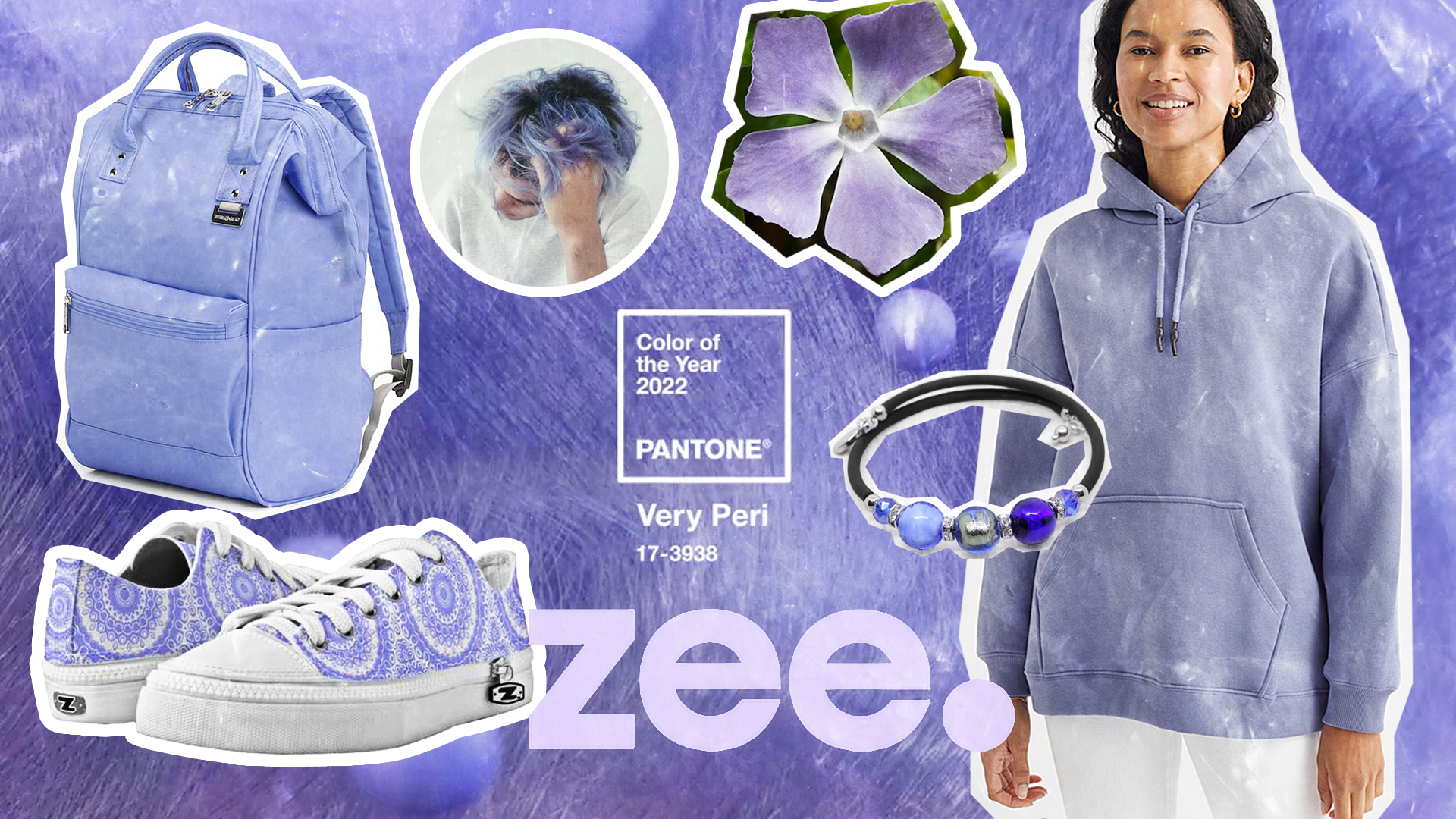 Winkling the Blues Away with Veri Peri
by Oj Hofer
Very Peri Pantone 17-3938 is the color of the year 2022. Pantone's dynamic Periwinkle blue hue with a vivifying red-violet undertone symbolizes "transformative times', displays carefree confidence, and daring curiosity. Its presence in fashion and accessories encourages inventiveness, creativity and optimism. It is the new happy, neutral color and here's how to fashionably manifest it in your daily deals.
Awesome Online-Exclusive Deals and Free Shipping Await Shoppers at the Newly-Launched Old Navy PH Digital Store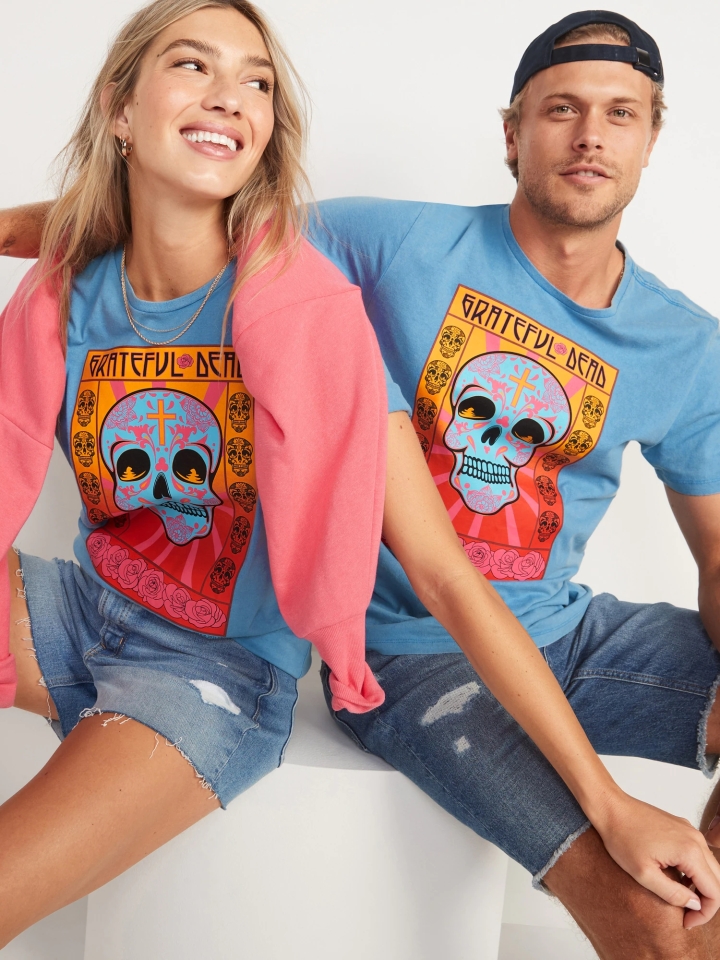 By Danica Ronquillo
Nothing screams "Americana" like Old Navy!
From trendy denims and soft cotton Ts to statement graphics and fleecy pajamas, Old Navy has been the first name in fun, classic fashion staples for the whole family since 1994. Known for high-quality pieces that fit every size, shape, and budget, this heritage brand has found a way to reach even more hangers in the digital age: OldNavy.com.ph.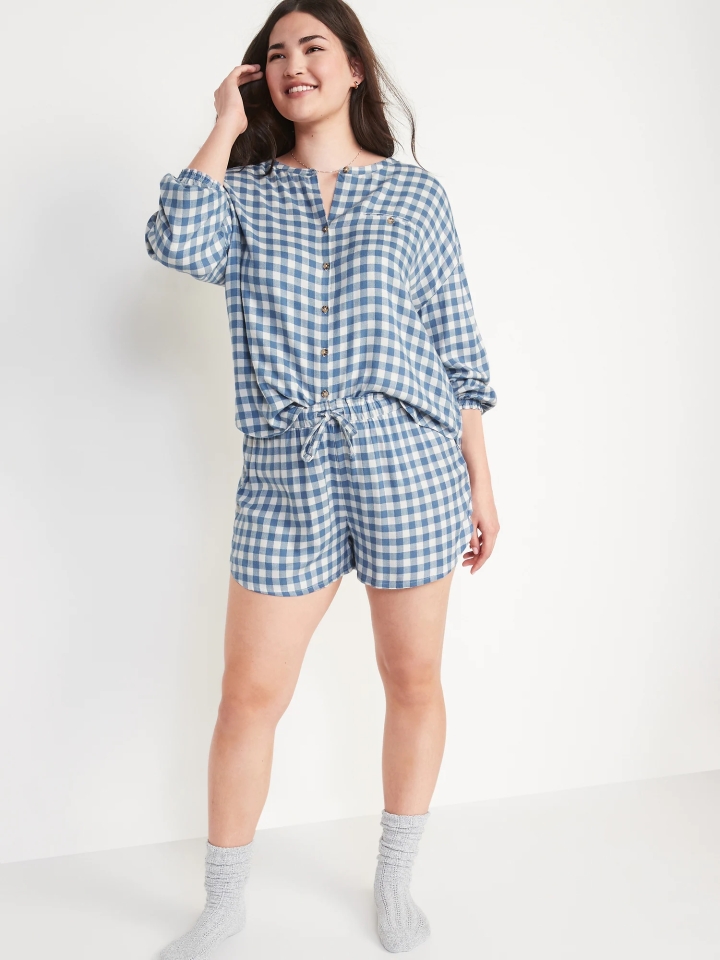 While no stranger to the digital sphere, OldNavy.com.ph is the brands's first standalone e-commerce, making Old Navy's vast array of on trend apparel and accessories available to customers 24/7. The launch of OldNavy.com.ph will not only feature styles that can be found in their brick- and-mortar locations, but also seasonal essentials and online exclusives, like Old Navy's activewear line.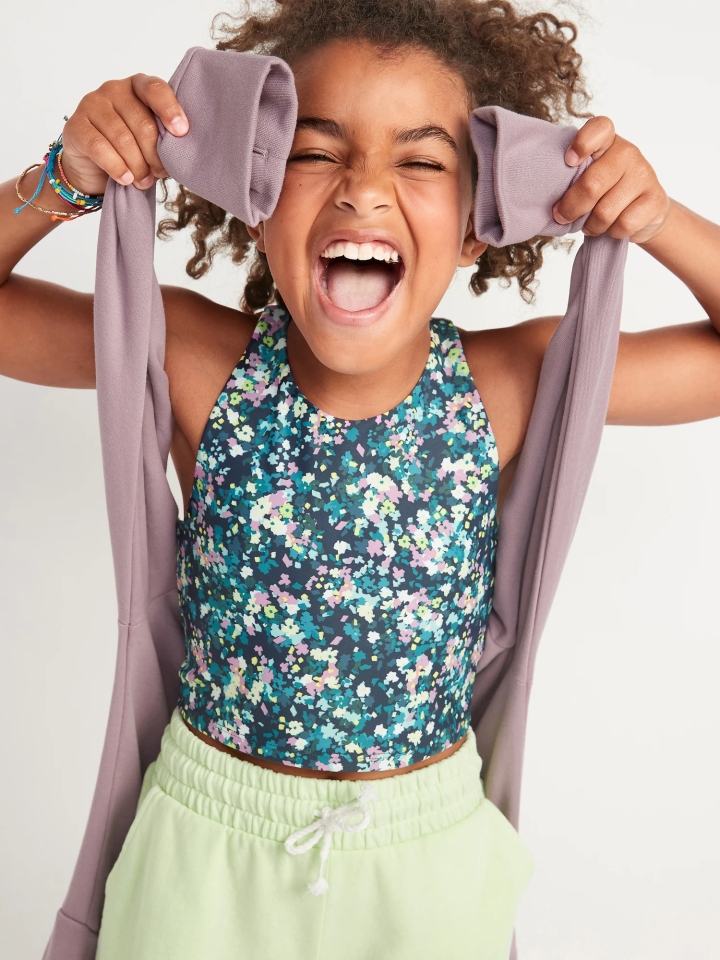 OldNavy.com.ph customers can enjoy free shipping with a minimum order spend of Php 4000, as well as various deals and e-payment options to ensure everyone can be a part of the Old Navy experience.
Shoppers will still be able to find new arrivals in all Old Navy Philippines stores, including Bonifacio High Street, SM Megamall, and Shangri-La Plaza, as well as in Old Navy's Viber community.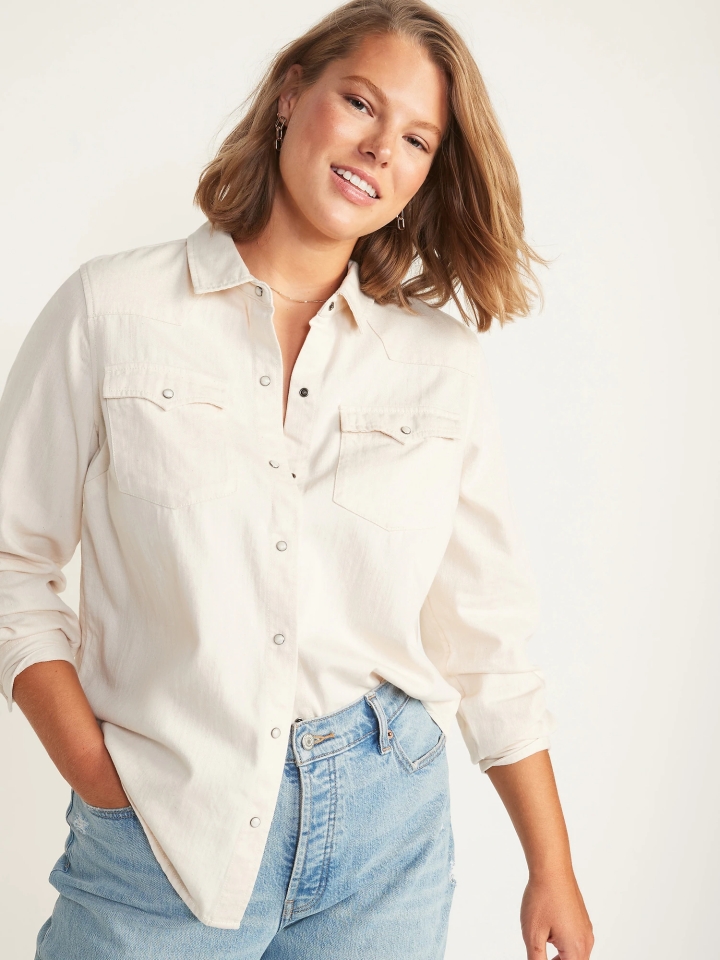 With this launch, Old Navy Philippines continues to be the pioneer of making comfort, quality, and style accessible to all. There's something for everyone at Old Navy!
37 Years of High Fashion; Arcy Gayatin leaves a Legacy of Edginess and Elegance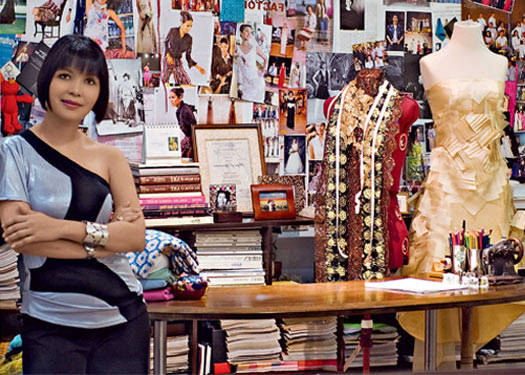 Arcy Gayatin: A Legacy of Luxury in Fabrication
By:  Allain Dumon Fonte 
The brand Arcy Gayatin gave the Queen City of the South a distinct reputation in the fashion industry.  The fashion line of Arcy Gayatin sets the bar higher each year for clothing luxury and fabrication techniques.
Araceli "Arcy" Ancajas Gayatin is the daughter Galileo Ancajas and Remedios Zanoria Ancajas who founded Cebu's home brand, Gal's Bakery.  Arcy went to the University of San Carlos and studied Political Science.  And just like Dr. Muccia Prada, who completed her Ph.D. in Political Science and established the luxury line of Prada, Arcy also got in touch with her artistic side and started her own fashion line.  However, it was not Prada that influenced Arcy.  Arcy was introduced to fashion and tailoring at a very young age by her mother, Madame Remedios Anacajas whom they dearly call Mama Eme.  Mama Eme was running a tailoring business back then.  It was called Arabel; named after Arcy and her sister Belma.  Ara from Araceli and Bel from Belma.  In those years, Arcy was fascinated by fabrics and was intrigued by how to manipulate the fabrics to come up with fashion-forward designs without compromising comfort and taste.
After 37 years of creating haute couture pieces for the most fashionable personalities in the Philippines, Arcy Gayatin is now laying down her sketchpads and pens to rest.  As she enjoys her retirement, may be on a cruise to the Bahamas or a holiday to the Swiss Alps, Arcy Gayatin has left the fashion industry a legacy of elegant and edgy clothing ensembles that understand and define the shape of women; without compromising comfort and good taste.
To salute the lady who brought Cebu fashion to the world, a retrospective exhibition of Arcy's incomparable masterpieces can be seen today at Ayala Center Cebu's The Gallery; curated by fashion editor and writer, Clint Holton Potestas, and interior and fashion designer, Jul Oliva.
BALANCE.  Arcy Gayatin is known for her perfect symmetrical lines when fabricating.  She knows how to balance edginess and class; understanding well the strength and the finesse of a woman.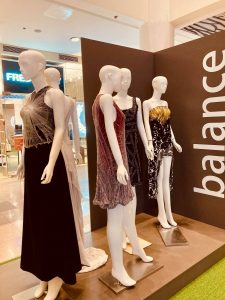 RHYTHM.  Arcy's expertise in draping and fabric manipulation can be seen in how she achieves rhythm between architectural lines and soft fabrics like silk and cashmere.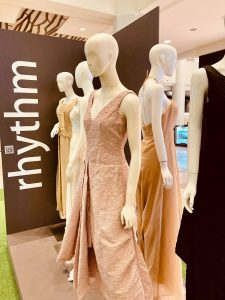 TEXTURE.  With her thorough knowledge on fabrics, Arcy Gayatin has achieved the perfection of fabrication by working on different types of fabrics and creating a single piece of art out of them.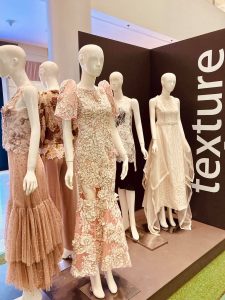 HARMONY.  The simplicity of the silhouette plus the intricacy of the details create a wonderful harmony, making Arcy Gayatin's design a one-of-a-kind masterpiece.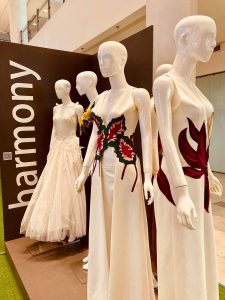 The photos below show an up-close look at the intricacy and the exquisite craftsmanship of Arcy Gayatin's fabrication techniques: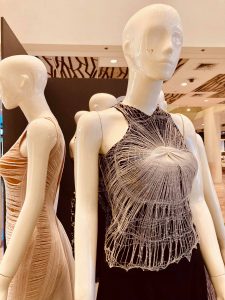 THE SPIDER WEB:  one of Arcy's genius fabrication techniques.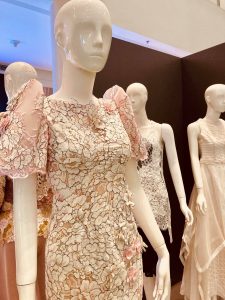 MATCH and PATCH:  Arcy's unique fabrication craft by patching layers of different types of lace and lace patterns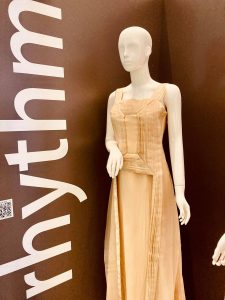 PLEATS: The perfection of symmetry in pleats on silk.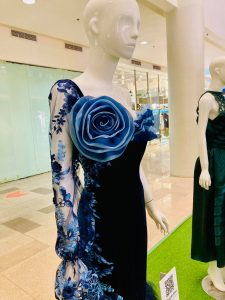 LA ROSE BLEUE:  U.P. student, Danielle Alessandra Deutsch, inspired by the artistry of Arcy Gayatin, designed this midnight blue dress.   The cabbage rose made from layers of silk organdy gave this evening ensemble a romantic appeal.