Deidre Fischer: Beyond The Place
Cebu International School's new superintendent Deidre Fischer shares her thoughts on the education scene and on finding her feet in a different country. Get a load of what makes Cebu so endearing to the Aussie.
Cebu International School's new superintendent Deidre Fischer shares her thoughts on the education scene and on finding her feet in a different country. Get a load of what makes Cebu so endearing to the Aussie.
Driving in the Philippines is a different experience. I have driven in every country I have lived in and each country has its own unique perspective to add to my repertoire. In Beijing it was the sheer volume of traffic; in Denmark it was the combination of high quality roads and the ease of getting anywhere; in Mongolia, driving was like riding horses with reckless abandon. And here in the Philippines you must keep your wits about you at all times as there's a sheer variety of modes of transport: jeepneys, tricycles, motorbikes, trucks, buses, pushbikes, pedestrians, horses, etc. To witness how different transport types can fit on a two-lane road and for the most part co-exist, is something intriguing to see.
Living and working in different countries allows me to learn about the country, the people and the culture, and I have found everything very fascinating. What's wonderful working in international schools is that I get to find jobs all around the world, and thus I develop a far greater inter-cultural understanding than if I had remained living in my home country. The keys to the 21st century are communication skills and the ability to adapt and move in different situations.
I currently work in Cebu International School (www.cis.edu.ph) and not only do I love where I live, but I love my work here in Cebu. The students are respectful, warm and friendly, and the staff are hardworking and constantly seek improvement. CIS is the only internationally accredited school in Cebu; and outside Luzon, it is the only International Baccalaureate Diploma Program school. Our core values and beliefs guide us in everything we say, think and do and we ensure that we prepare our students for a global world with a holistic approach. Our graduates can compete with graduates from other international schools elsewhere in the world. It is an increasingly small world—we are becoming global nomads and we hear terms like Third Culture Kids (TCK). The world is exponentially changing–what we grew up with will not be the same for our younger siblings and children and we know that we have to prepare our students for an ever-changing world.
When I am recruiting teachers in London and Sydney for CIS, I often have to describe Cebu in one sentence and it is usually: Cebu is a beautiful tropical destination with the mod-cons of a city, easy access to nature and the friendliest people in the world. I talk about what Cebu has to offer. I represent the school on the EARCOS board (www.earcos.org). I also represent the region on the IB Diploma Committee in Europe which has representatives from each region. I believe that I also act as an ambassador for Cebu.
I take every opportunity to entice visitors to this beautiful place. I take my visitors to Casa Gorordo Museum which displays the relics and artifacts of Cebu's rich history. I take them to Kawasan Waterfall and Boljoon Church. The drive from Carcar, across the western side of the island and down to Kawasan, is interesting and enjoyable, while the painted wooden ceiling of the Boljoon Church is breathtaking. I've lived in Mongolia for some time and I find similarities between that country and the Philippines. Both cultures place high importance on extending hospitality to visitors to their homes and country.
photography Katya Zialcita
LADY CYCLISTS HIT THE ROADS AND SLOPES OF CEBU.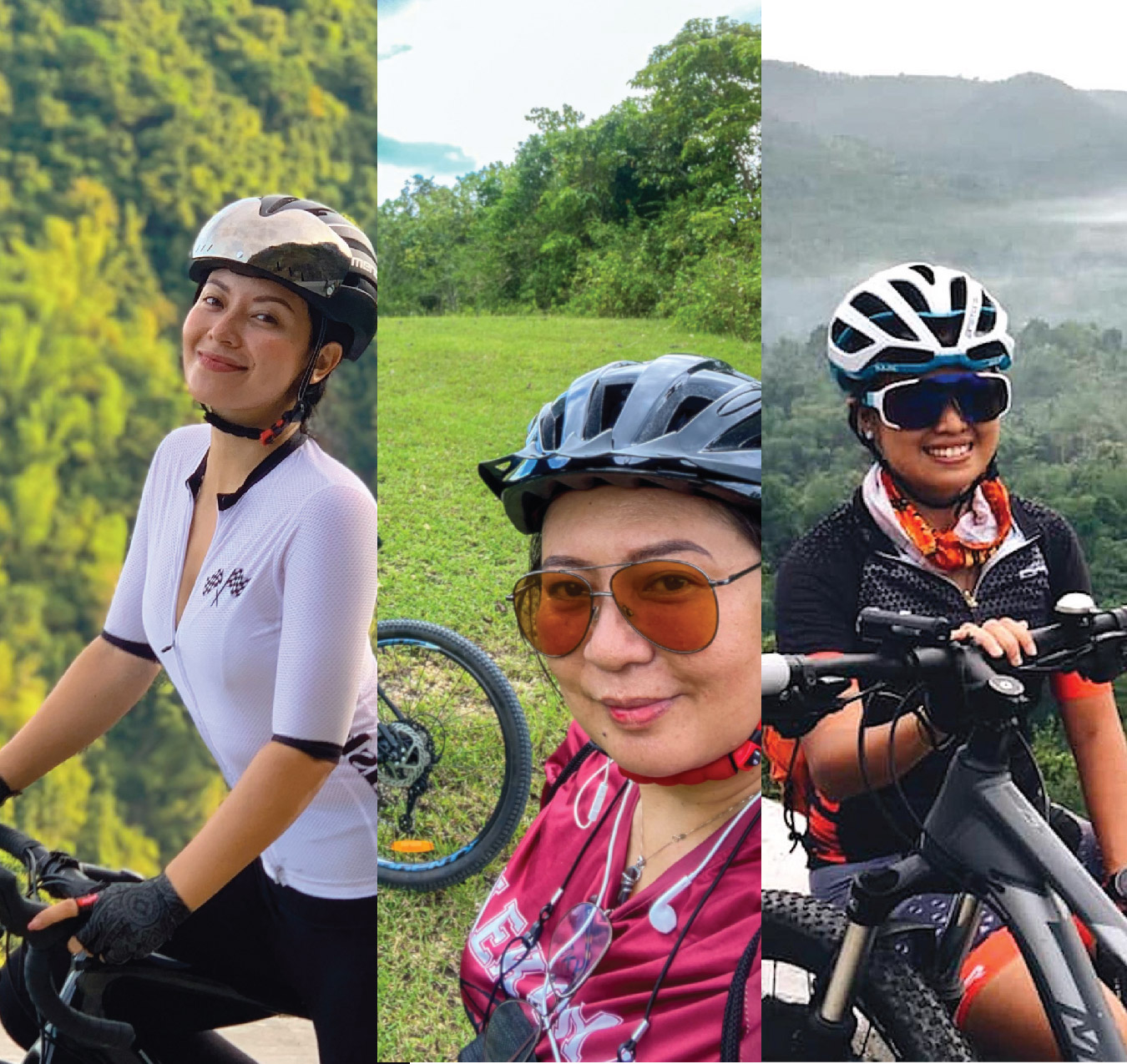 Cycling has been a growing sport and hobby for many years but it's popularity has erupted since the Covid pandemic.  People biking to work and for recreation is an everyday sight in Cebu.  More and more are joining the ride.  Many are quite serious about cycling.  I know three ladies who are among those who've gone long distances across Cebu.
How did you get into serious cycling?  What was your motivation?
Blinky de Leon.  Event Host, Product Endorser & Influencer
" I've been into cycling since I was a kid. A little backstory, I was around 10 years old when my dad surprised me with my first custom-made mountain bike. I still keep it until now, in fact I had it refurbished. It's the most sentimental thing I ever received since it was his way/gesture to catch up with me after not seeing each other for almost 6 yrs. My dad is based in Germany and he also loves cycling and makes his own bamboo bike."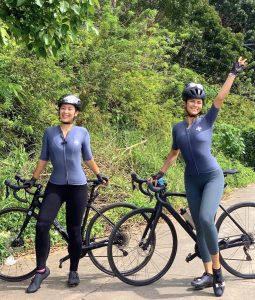 "Just a year ago though, my friend Gazini randomly, out of nowhere, picked me up from home to bike with her to the South of Cebu. I felt really excited and motivated to get back on track because it's very nostalgic and brings back so many great memories. And since then, the rest was history. We've been joining different groups, tried different routes and conquered different heights. I've met so many cyclists with very inspiring stories in the bike community who kept me feeling motivated too. I also look forward to the sights and the adventure that comes along with it."
Yumz Mariot. Branding & Marketing Consultant
"I used to bike along with rock and wall climbing. I am lousy with ballgames which is why. Our usual route were Talamban and Mactan but one time, managed to ship gears all the way to Dumaguete for a quick ride to Valencia, the next town located at a higher elevation. Those were days when I did it for fun and what bike I was using did not matter."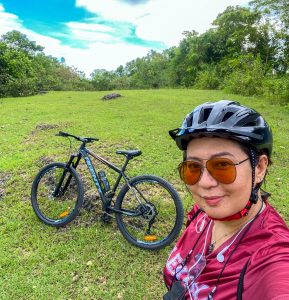 "Fast forward to 2021, a year after the pandemic lockdown began, I realized I have been lazy to do any fitness routine. Too caught up on juggling between house chores and Work from Home deliverables (I work as a Branding and Marketing Consultant), I started to feel my body needs to move as much as my brain does. A hysical fitness routine is as important as what I eat, or what I read or watch. So I decided to invest on a decent MTB, just very recently and got myself a much necessary restart. What motivates me even more is the area where I currently reside at. It is vast, fresh, green and safe for solo bikers like me."
Prime Sarino. Digital Media Creative
"I started biking as a young teenager and I got the idea to start it as an adult hobby 3 years ago. I was already into running and I thought it would be great to venture into another outdoor activity to keep me occupied after work hours and weekends. I was set to travel for a year so I had to put aside the idea first but came pandemic. We were all forced to stay put and everything was put on hold. Cycling became my diversion. My cyclists friends invited me to quick and short rides. I enjoyed my first 50km ride and the sceneries and routes most of all. It also helped channel a positive mindset during the hard hit season of the pandemic. Not to mention it's also another way to stay fit when we were forced into inactivity during the quarantine."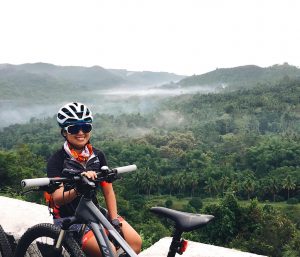 Next in Part 2, we ask the ladies about their cycling experiences and memorable moments…
by: Zen
#CebuPride:  Cebuanos in Multi-awarded Pride-Themed Films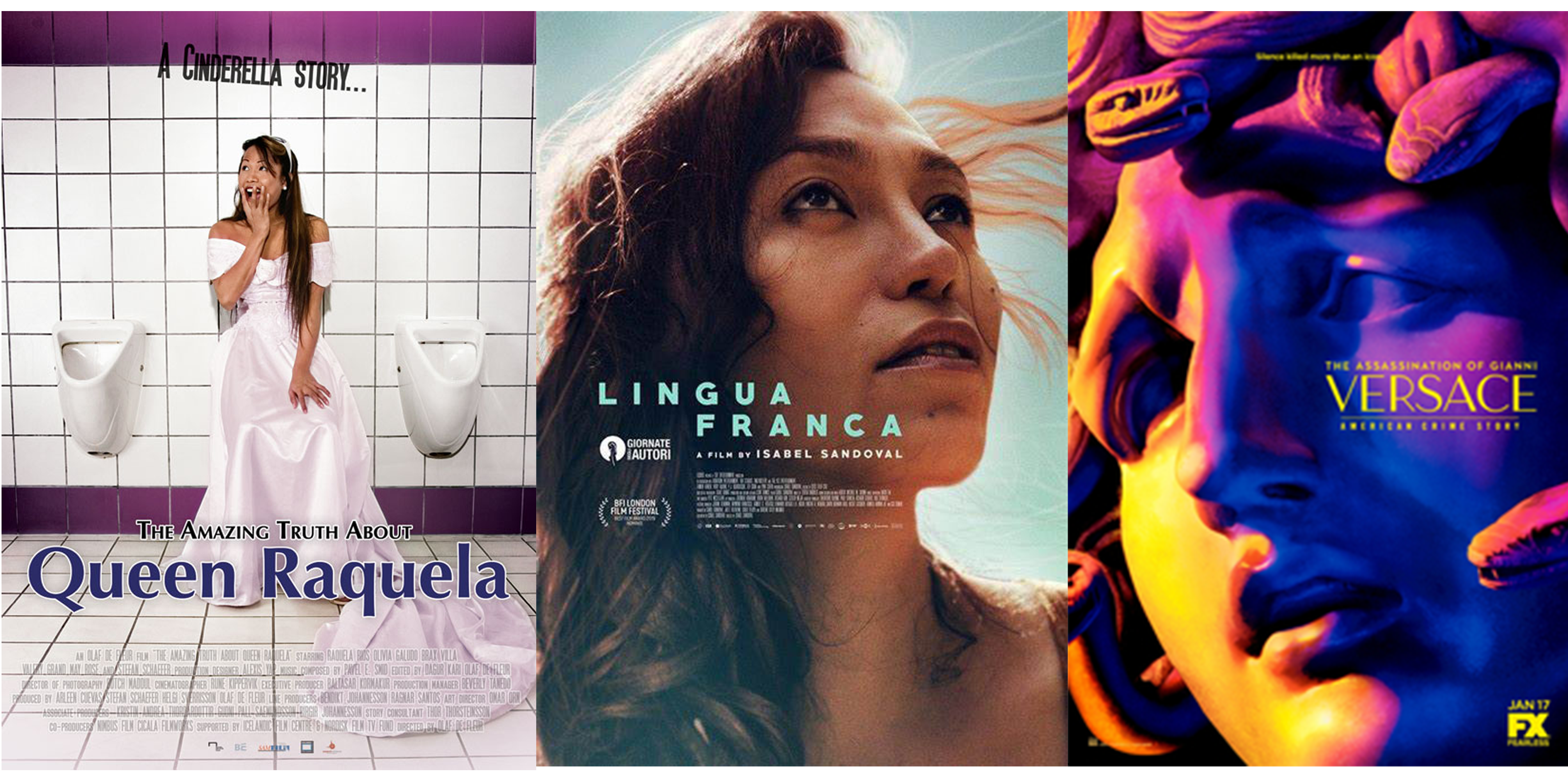 Multi-awarded International Gay Movies with Cebuano Lead Casts
By:  Allain Dumon Fonte
Pride-themed movies are starting to invade the film industry as people become more accepting and are more intrigued on the stories about LGBTIQ.  Many have shared the intensity of emotions and laughed with the craziest jokes on gay-themed movies.  In the Philippines, these kinds of movies were questioned as to their morality and their message to the society.  The strong influence of the country's religious standards had branded gay-themed movies as sex-oriented and nothing more.  Yet, with Thailand's more tolerant culture, Thai BL (Boy's Love) movies and television series have created a new perception to the viewers; and that is gay-themed movies are remarkably alike to all other movies – there is romance, comedy, drama, and the continuing struggle of living like normal people.  Hence, Thai BL TV series have a massive following all over Asia.  At the end of 2019, they became available in Netflix and are being watched by millions of viewers all over the world.
The Philippine film industry is not that far from Thailand's.  Some of the LGBTIQ-themed movies and television series are slowly getting a following in Asia and are now accessible to viewers worldwide.  A few of these pride-themed movies that casted or directed by a Filipino have already been receiving nominations and awards from Golden Globe, The Berlin Film Festival, the Venezia Film Awards, and even the Emmy's…and the Filipinos in these films hail their roots from Cebu!
1. Lingua Franca
Lingua Franca is a film directed by a Cebuana, Isabel Sandoval.  Sandoval also plays the main character of the movie, and she even wrote the screenplay.  Lingua Franca tells the story of Olivia, an undocumented transgender woman in New York who works as a caregiver to a senile old-lady of Russian-decent.  When Olivia is challenged to attain legal status in the US, she is left with a "marriage-based green card".  While in search for her groom-to-be, she becomes romantically involved with Alex, Olga's grandson.
The film is now available on Netflix and has received positive reviews from the media.  Stephen Dalton of the Hollywood Reporter wrote Lingua Franca is a "heartfelt personal statement rooted in timely, gripping issues that obviously resonate deeply with its author, notably trans rights and Trump-era immigration anxieties".
Isabel Sandoval graduated summa cum laude with the degree in psychology from the University of San Carlos in Cebu, Philippines.  In New York, she pursued graduate studies in Film at NYU.  She is now currently residing in NYC, and already has award-winning films under her belt like Apparition, Lingua Franca, Senorita, Ritwal, The Unstoppable, and Judgement.
2. The Assassination of Gianni Versace: American Crime Story
This television series was aired in Netflix and has gained so much popularity because it showed the murder of world-renowned fashion designer, Gianni Versace, by a serial killer, Andrew Cunanan.  Based on Maureen Orth's book Vulgar Favors: Andrew Cunanan, Gianni Versace, and the Largest Failed Manhunt in U.S. History, this television series has 9 episodes of suspenseful scenes, and is star-studded with casts like Ricky Martin and Penelope Cruz.  However, the main actor who played Andrew Cunanan is Darren Criss who gained his popularity after being a regular on the top rating TV show, Glee.  Darren Criss hails his roots from Cebu, Philippines.
The Assassination of Gianni Versace: American Crime Story received positive reviews from critics. At the 70th Primetime Emmy Awards, it received 9 nominations, and won 3 awards, including Outstanding Limited Series and Outstanding Lead Actor in a Limited Series or Movie for Darren Criss.
Criss was born and raised in San Francisco, California, USA.  Criss was raised as a Roman Catholic and attended roman catholic schools.  He later moved to Michigan where he studied Bachelor of Fine Arts major in Theatre Performance and minor in music at the University of Michigan.  Criss's father, Charles William Criss, is a banker and served as CEO of the East West bank in Honolulu, Hawaii.  Criss's mom, Cerina, is a native of Talisay, Cebu, Philippines.  When he was younger, he visited Cebu a couple of times with his mother.  Darren Criss is very proud of his Cebuano roots and wants to portray Filipino characters in films and in theatres to promote visibility of the Filipinos in the American films.
3. The Amazing Truth About Queen Raquela
     The Amazing Truth About Queen Raquela premiered at the 2008 Berlin International Film Festival where it grabbed the Teddy Award for Best Feature Film.  It was also awarded the Grand Jury Prize in the 10th 2008 Cinemanila International Film Festival at Malacañang Palace's Kalayaan Hall.  It starred Raquela Rios also known as Minerva to her Cebuano friends.  Raquela  is a local of Mandaue City, Cebu, Philippines.  The film is directed by Icelandic film director, scriptwriter, and producer, Olaf de Fleur Johannesson.
Raquella Rios is a native of Mandaue City, Cebu, Philippines, and she went to the University of San Carlos in Cebu, studying sociology and anthropology.  Before finishing her studies, Raquella left the Cebu and went to Iceland after being casted by Icelandic film director, scriptwriter, and producer, Olaf de Fleur Johannesson for the movie The Amazing Truth About Queen Raquela.  She is now based in Bangkok, Thailand as a fashion stylist and wardrobe assistant to some local Thai movies.  Raquella is also an activist for sex workers rights and trans rights in Southeast Asia; pushing for the recognition on the choice of their gender and the right to change their birth names.
There are still plenty of pride-themed films in the Philippines that gained recognition all over the world; yet these movies mentioned are special because of the talented Cebuanos that have  brought Cebu to world.  They truly are #CebuPride.
37 Years of High Fashion; Arcy Gayatin leaves a Legacy of Edginess and Elegance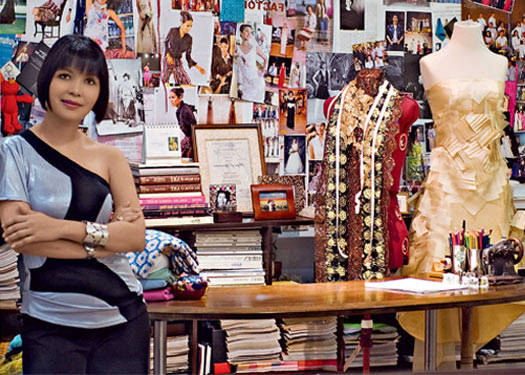 Arcy Gayatin: A Legacy of Luxury in Fabrication
By:  Allain Dumon Fonte 
The brand Arcy Gayatin gave the Queen City of the South a distinct reputation in the fashion industry.  The fashion line of Arcy Gayatin sets the bar higher each year for clothing luxury and fabrication techniques.
Araceli "Arcy" Ancajas Gayatin is the daughter Galileo Ancajas and Remedios Zanoria Ancajas who founded Cebu's home brand, Gal's Bakery.  Arcy went to the University of San Carlos and studied Political Science.  And just like Dr. Muccia Prada, who completed her Ph.D. in Political Science and established the luxury line of Prada, Arcy also got in touch with her artistic side and started her own fashion line.  However, it was not Prada that influenced Arcy.  Arcy was introduced to fashion and tailoring at a very young age by her mother, Madame Remedios Anacajas whom they dearly call Mama Eme.  Mama Eme was running a tailoring business back then.  It was called Arabel; named after Arcy and her sister Belma.  Ara from Araceli and Bel from Belma.  In those years, Arcy was fascinated by fabrics and was intrigued by how to manipulate the fabrics to come up with fashion-forward designs without compromising comfort and taste.
After 37 years of creating haute couture pieces for the most fashionable personalities in the Philippines, Arcy Gayatin is now laying down her sketchpads and pens to rest.  As she enjoys her retirement, may be on a cruise to the Bahamas or a holiday to the Swiss Alps, Arcy Gayatin has left the fashion industry a legacy of elegant and edgy clothing ensembles that understand and define the shape of women; without compromising comfort and good taste.
To salute the lady who brought Cebu fashion to the world, a retrospective exhibition of Arcy's incomparable masterpieces can be seen today at Ayala Center Cebu's The Gallery; curated by fashion editor and writer, Clint Holton Potestas, and interior and fashion designer, Jul Oliva.
BALANCE.  Arcy Gayatin is known for her perfect symmetrical lines when fabricating.  She knows how to balance edginess and class; understanding well the strength and the finesse of a woman.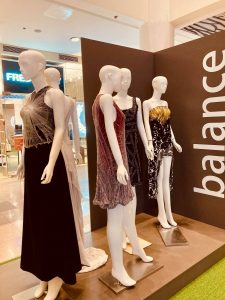 RHYTHM.  Arcy's expertise in draping and fabric manipulation can be seen in how she achieves rhythm between architectural lines and soft fabrics like silk and cashmere.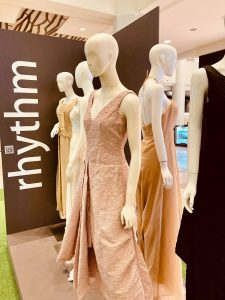 TEXTURE.  With her thorough knowledge on fabrics, Arcy Gayatin has achieved the perfection of fabrication by working on different types of fabrics and creating a single piece of art out of them.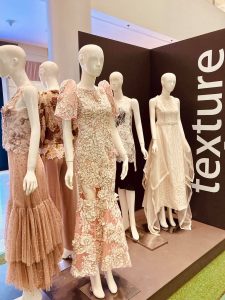 HARMONY.  The simplicity of the silhouette plus the intricacy of the details create a wonderful harmony, making Arcy Gayatin's design a one-of-a-kind masterpiece.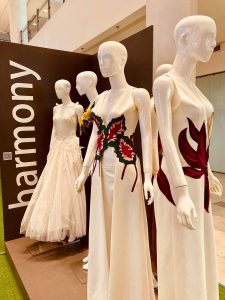 The photos below show an up-close look at the intricacy and the exquisite craftsmanship of Arcy Gayatin's fabrication techniques: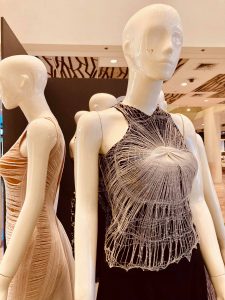 THE SPIDER WEB:  one of Arcy's genius fabrication techniques.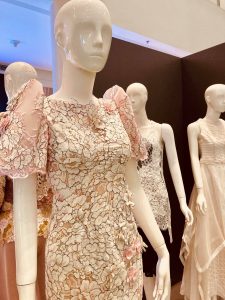 MATCH and PATCH:  Arcy's unique fabrication craft by patching layers of different types of lace and lace patterns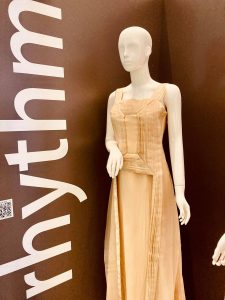 PLEATS: The perfection of symmetry in pleats on silk.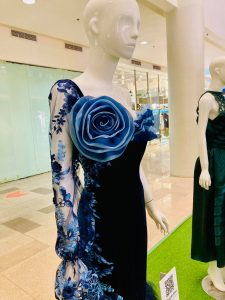 LA ROSE BLEUE:  U.P. student, Danielle Alessandra Deutsch, inspired by the artistry of Arcy Gayatin, designed this midnight blue dress.   The cabbage rose made from layers of silk organdy gave this evening ensemble a romantic appeal.