Surigao Sur is Your Next Favorite Travel Destination
Surigao Sur is a province that's not often mentioned in the list of popular Philippine tourist destinations, but editor Shari Quimbo finds out why it should be.
The mesmerizing video clips of Laswitan have been making the rounds in social media in the last few months. You know what I'm talking about—it's these thunderous waves of water crashing against the craggy rocks filling up tidal pools with foamy seawater and soaking the tourists bathing in it. It's a powerful epitome for the forces of nature, if you ask me.
It's incredible to think that this magnificent scene was happening right in our backyard, and even more incredible to realize that I (and probably a good chunk of the local population) didn't really know much about Surigao Sur. I was familiar with its northern namesake, of course — discovering Siargao two years ago had made it my new favorite local destination. But even the Enchanted River, arguably the province's most famous landmark, is more associate with Surigao del Norte, a funny fact considering Surigao City was more than a five-hour drive away.
We live in an archipelago of 7,107 islands, so yes, it's inevitable that some destinations don't enter the common tourism spectrum of Boracay, Palawan, Bohol or even Cebu. But it bugged me that I had previously never heard much about this province that was just a short plane ride away from my hometown, and a quick Google search revealed that it had much to offer.
Off the bat, though, I realized that Surigao Sur was a place that you need to visit with a sense of adventure. Here, the tourism industry is just stretching its legs — flights to the capital city of Tandag were only three times a week, there isn't much choice for accommodations, and moving from place to place involved drives that could be as quick as 30 minutes or as long as four hours (something that the oft-motion sick me didn't much appreciate).
It didn't come easy, to be sure. A lot of the places we'd visited in Surigao Sur presented naturally beautiful sights, but also a challenge that we had to surpass to really get there.
Tinuy-an Falls, for example, had gotten its name from the Bisaya word tuyo meaning with an intention — the only reason you'd be on the road to Tinuy-an is that you were on your way there. The rough road went up and down hills, before finally dipping into a valley where, even from the parking lot, you could hear the cacophany of falling water.
We were lucky enough to have been visiting in the middle of an incredibly rainy week, which meant the river was practically overflowing. The current was so strong that the volunteers at the site had to remove the wooden bridge that connected the entrance to the other side of the river—but because the overgrown playgrounds and picnic benches over there were more picturesque, we agreed to crossing. A wooden canoe looked like it would topple over quickly, so instead we go through the knee-deep water and the most forceful current ever.
A person slipping on the wet stones and one lost action cam later, we found ourselves on the other side, enjoying the refreshing mist created by the crashing water and the mostly untouched trees surrounding us.
This sort of delayed gratification was something that Surigao Sur had in spades. An early morning call time for island hopping in the Britania Group of Islands promised us a beautiful view of the sunrise over the open ocean, but being on the edge of the Philippine Sea made it feel like the waves would throw us overboard any minute. Even trying to dock was a challenge — the boat bobbed up and down against the sloping terrain of our first stop Hagonoy Island, and we eventually had to just leap down onto the sand.
Not that we were planning on complaining. The sun was slowly rising into the cloudy sky, casting the island's three coconut trees into a dramatic light. After all the necessary photo ops, we retreated to Hiyor-Hiyoran Island for breakfast on seafood that had been caught just hours before.
The sea plays a very big role in Surigao Sur's tourist offerings. In Lanuza, the beach scene is one of action — locals are constantly paddling out to meet the waves, learning to ride them at an early age. The vibe was a lot more laidback than that of Siargao, although a lot of foreigners are now frequenting the spot. In fact, the town is now host to the different international competitions, and the local Surf Camp offers packages that allow you to spend weeks at a time mastering the sport.
Although I had originally wanted to surf, it wasn't exactly the best season to ride the waves — you had to ride a good distance out to get good swells, and I was much too content settling into the cottage on stilts we had rented out, listening to music and digging into the bag of cooked shellfish I'd bought at the local market. The afternoon was spent watching the more skilled surfers cruise the choppy seas — Debbie, our unofficial guide for the few days we were there, was the amazing surfer I hope to be one day.
A spot that I had tried to lower expectations for was the Enchanted River — it had garnered massive popularity for its beautifully colored, crystal-clear waters, and for the mystery of its seemingly bottomless caverns. I was honestly a little worried that the actual place wouldn't live up to the hype.
Thankfully, I was wrong. We were lucky enough to have visited when swimming wasn't allowed (and I'd recently read that swimming in the mouth of the river is now permanently prohibited), so there were no crowds to distract from the scenery. It looked like someone had turned the saturation up in the area, the lush greenery of the canyon framing the vivid blue hues that got darker as the water got deeper.
It's unsurprising that people attach supernatural meaning to the place — even the fish were peculiar, traveling alone or in pairs while peering up at you intently from beneath the surface. No wonder they decided to call it enchanted.
Quite fittingly, our last stop for the trip was Laswitan, the very spot that had gotten me interested in Surigao Sur in the first place. Much like a lot of the places we visited, getting there took some time — from the highway, you had to take a narrow dirt road that snakes through farms and wooded areas before leading to a clearing that dropped into the water. From there, a steep staircase led to sea level, where helpful volunteers told us to sit in a cottage and wait.The waves hadn't been as strong lately, they said, so maybe we'll get luckier as the afternoon got later.
And wait, we did. February was the tail end of the stronger squalls and cold fronts, so the waves we saw only produced a light spray as it crashed onto the rock formations.
It's interesting to note the sheer number of people who were there — social media had truly done its job. We're told that people from other provinces drive for as much as five hours just to see the sight they'd seen online for themselves.
As the day got later, we had begun to resign ourselves to the fact that we might not be able to see a wave big enough to cause a massive splash. We were just talking about packing up when the sound of a steadily growing roar was building up from beyond the rocks, and a gust of water slammed into it, bringing an enormous gush into the tidal pools. Pretty soon, they come in regular intervals, making me think that somewhere, Mother Nature was thanking me for deciding to come.
Photography by Arnauld and Chester Baldicantos
Get Lost in this Not-so-distant Island Safari Paradise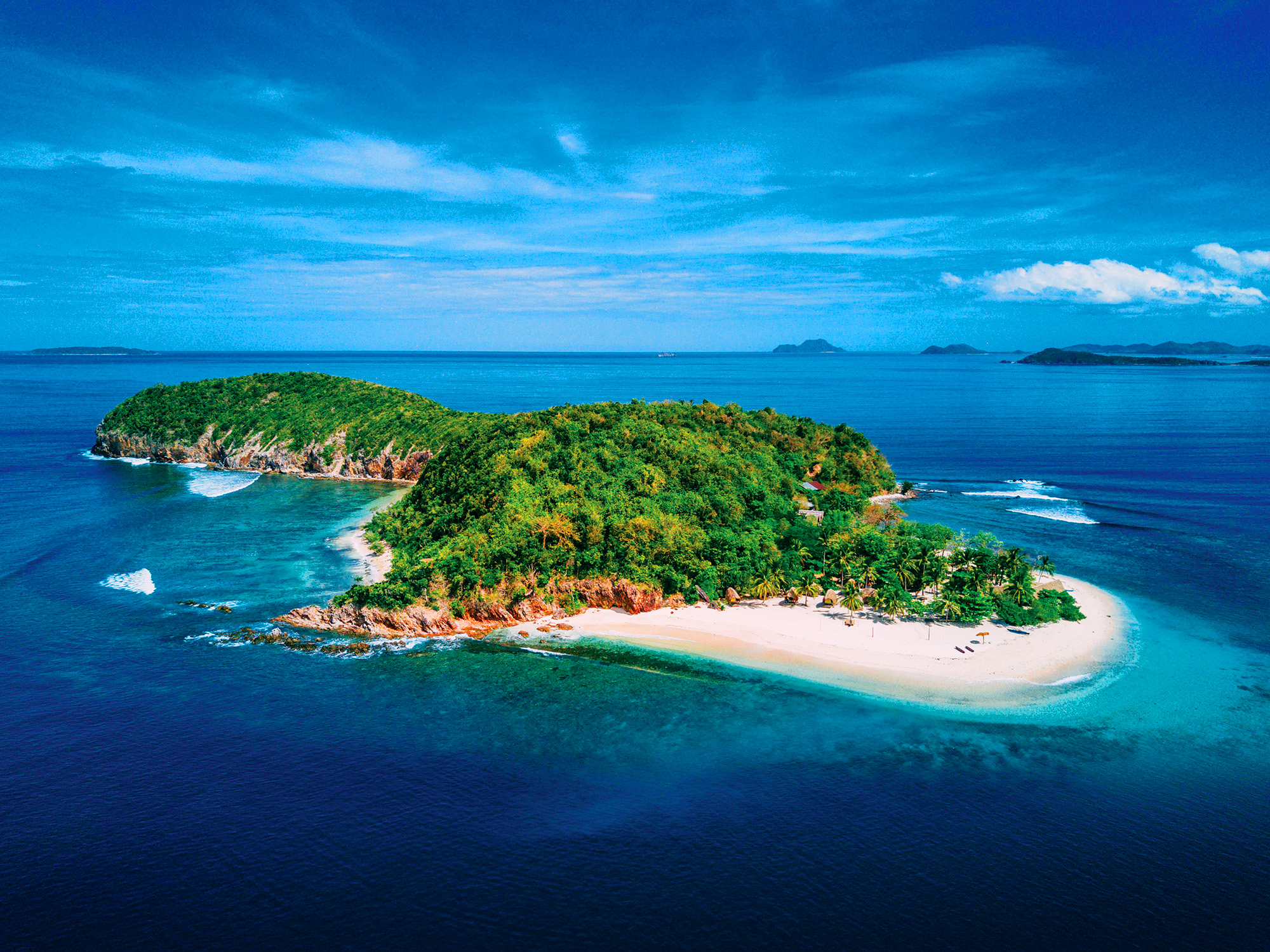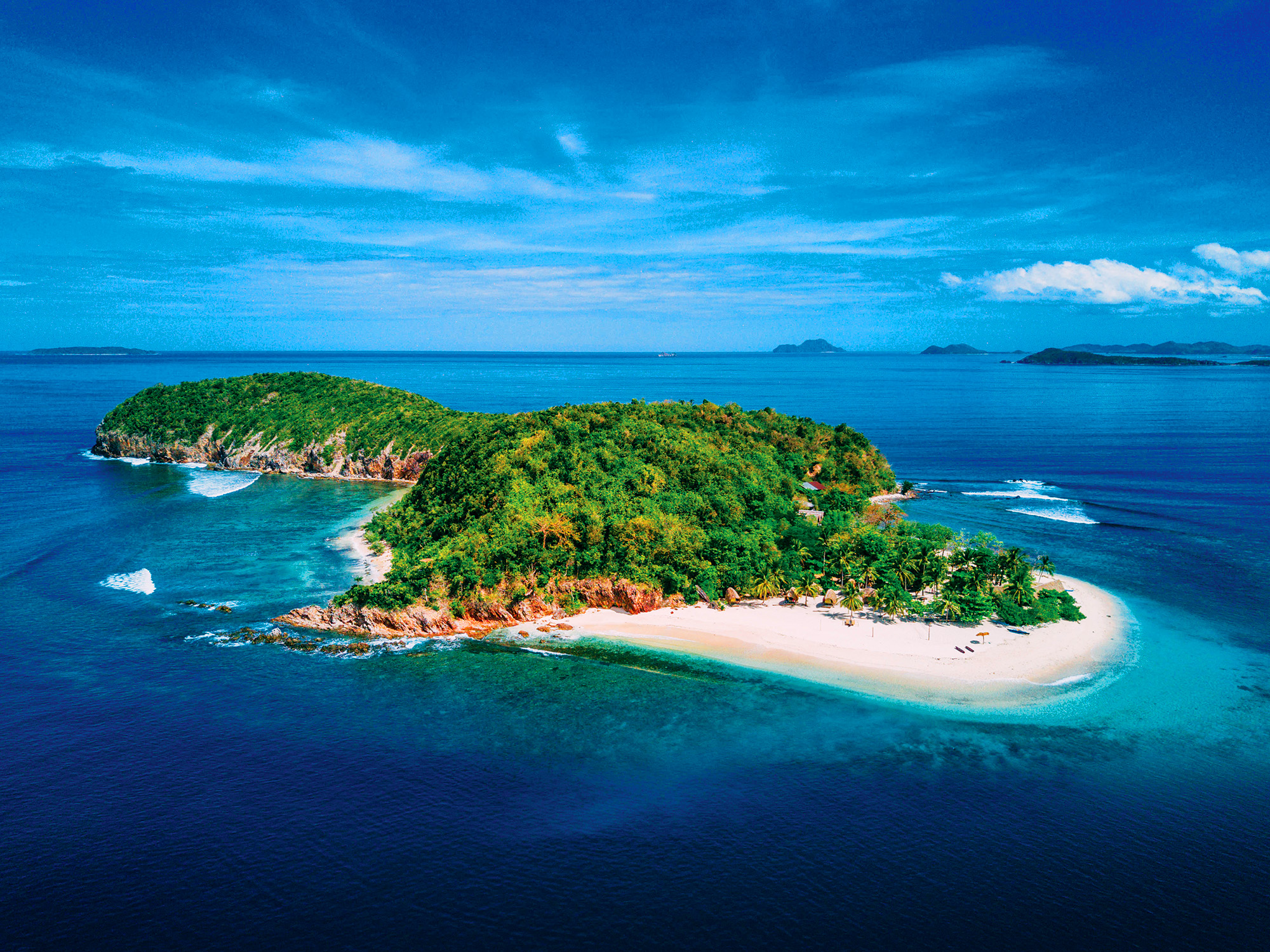 LOST IN PARADISE
Tao Philippines Crusoe-style deserted island camp paradise is perfect for those who understand the luxury of simplicity and disconnection.
by Melo E. Esguerra photography by Scott Sporleder
Just when you think Palawan is fast becoming a second Boracay, where congestion of concrete buildings and human bodies have begun to define the island experience more than the pristine beaches of white powdery sand, the Lostboys of Tao Philippines came up with a new island project that guarantees an escape to paradise. They call the island Camp Ngey Ngey.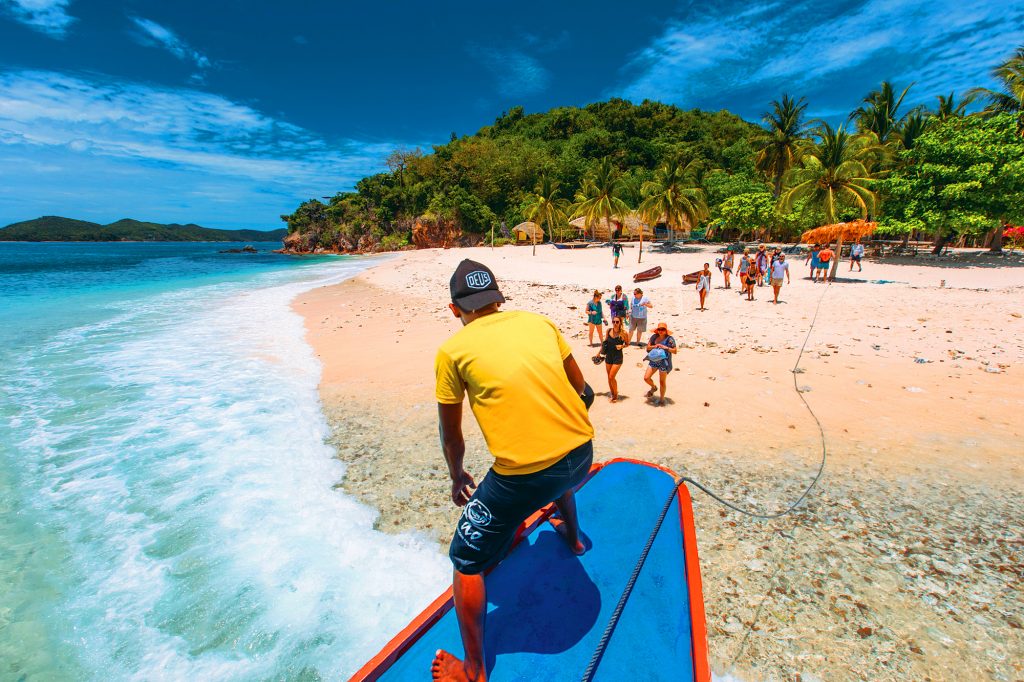 The Lostboys have taken over the abandoned resort of Manguengey in Busuanga, a remote island in Palawan. They have kept the ruins from the typhoon and built their signature bamboo Tuka huts around the main beach of the island, which serves as the camp area. Just a short walk away you'll find jungle trails that lead to three other wild beaches, preserved reefs and windswept cliffs encompassed by crystal blue waters. And on certain days, when the winds are strong, one side of the island becomes a good site for surfing.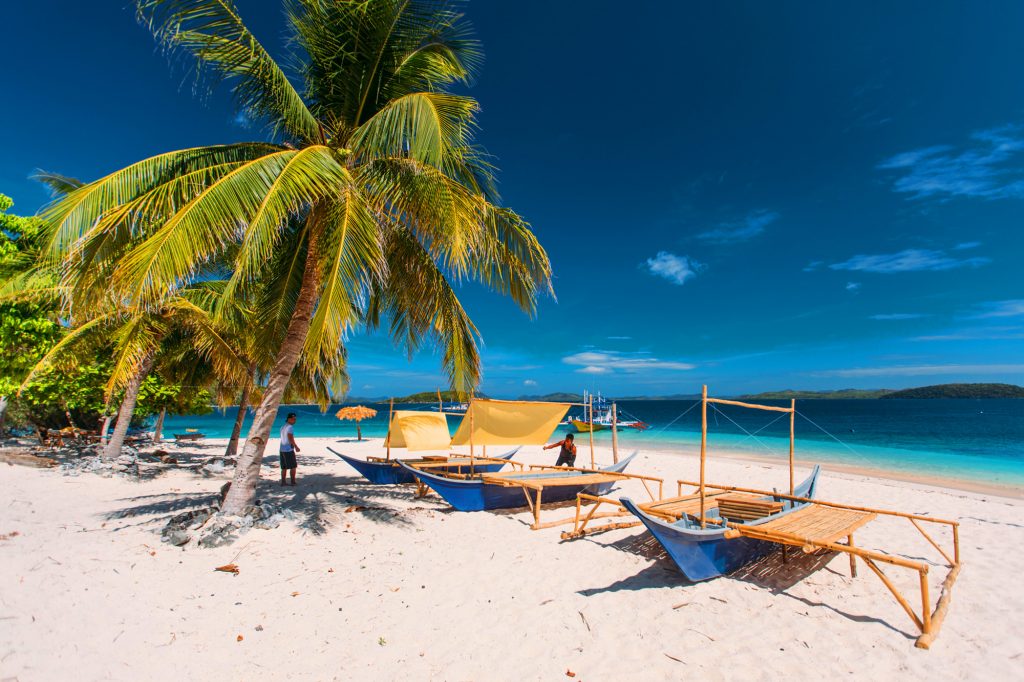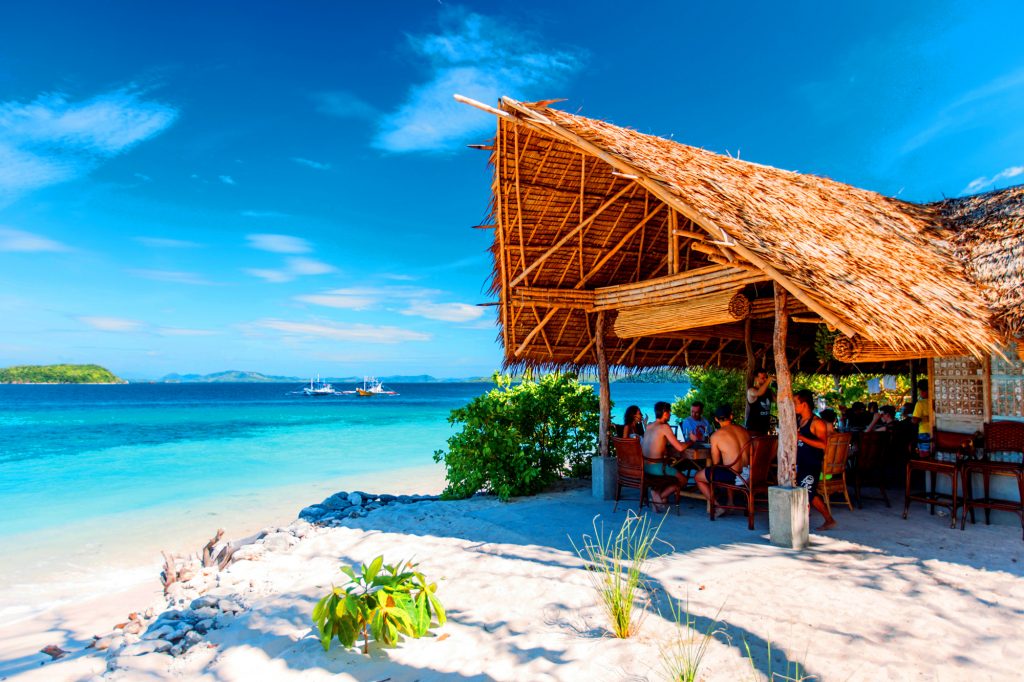 Eddie Brock, one of the founders of Tao Philippines, explains how this concept of an island safari came about. "When we took over Manguengey Resort, we were stuck with the idea of how to run it. We do not know how to cater to resort guests, the individual choices and needs, and menus," he admits. "Tao's expertise is to show travelers something new, something more raw and adventurous. We decided that we will not worry about things we don't understand, and stick to what we do best. One of the best aspects of a Tao trip is creating an atmosphere of connecting with other travelers, disconnected from digital clot—without the worry of planning, wallets and keeping a status. Five days out in the remoteness with the islanders in control leads to a positive attitude: guards down, inhibition is off and open to meet new friends."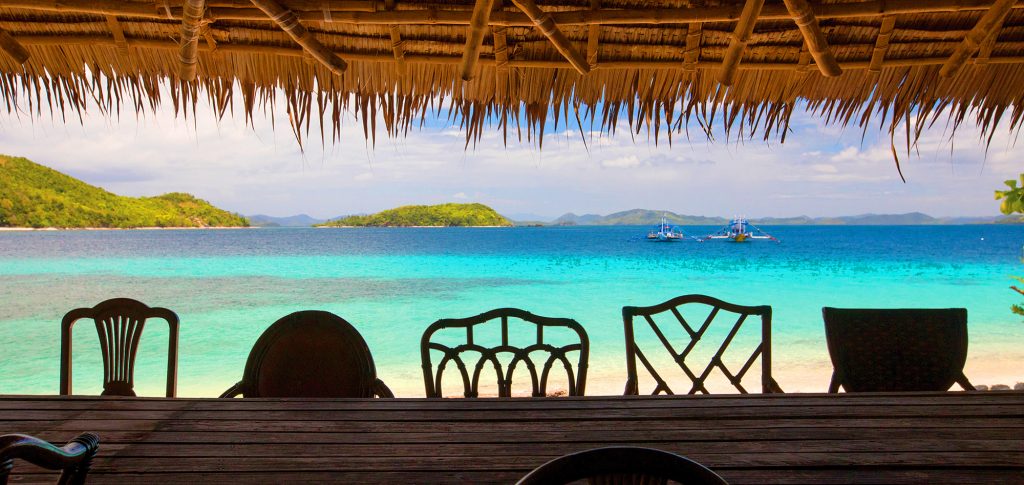 The camp is accessible through the three day/two night boat safari from Coron, with beach and reef stops en route the camp and back. Guests will be joining other travelers, staying in individual Tuka huts dotted along the beach. There are lounges, a dining and kitchen area, and open hang-out places. Currently, the big mansion from the old resort is being restored into a villa that can accommodate a family or group of friends.
The island can be reserved for big events like weddings, parties and other meaningful gatherings.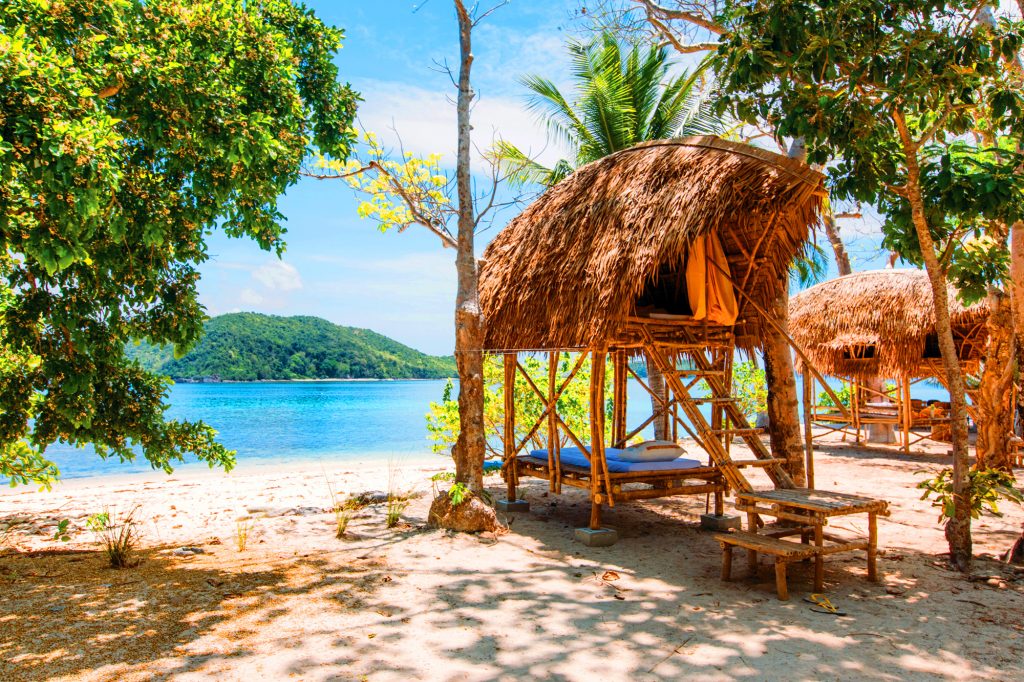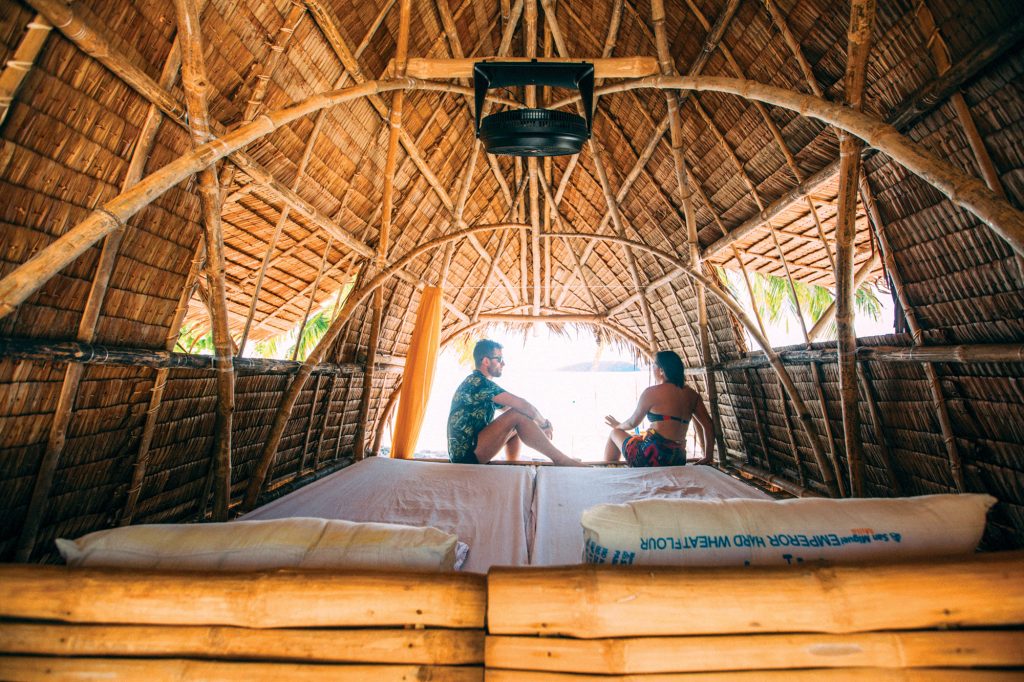 In the island, there is no room service, no menus, no WiFi. You will arrive as strangers, you will eat together, swim together, laugh together, drink together, and get to know each other offline. Become part of the magic of Tao, and see what happens!
For more information on how the trip to Camp Ngey Ngey works, log on to www.taophilippines.com
(This article has already been published in Zee Lifestyle's June 2017 Men's Issue, "Lost in Paradise" on pages 110-113.)
THROWBACK THURSDAY. Our Stylish Voyage on a Boat with Loida and Richard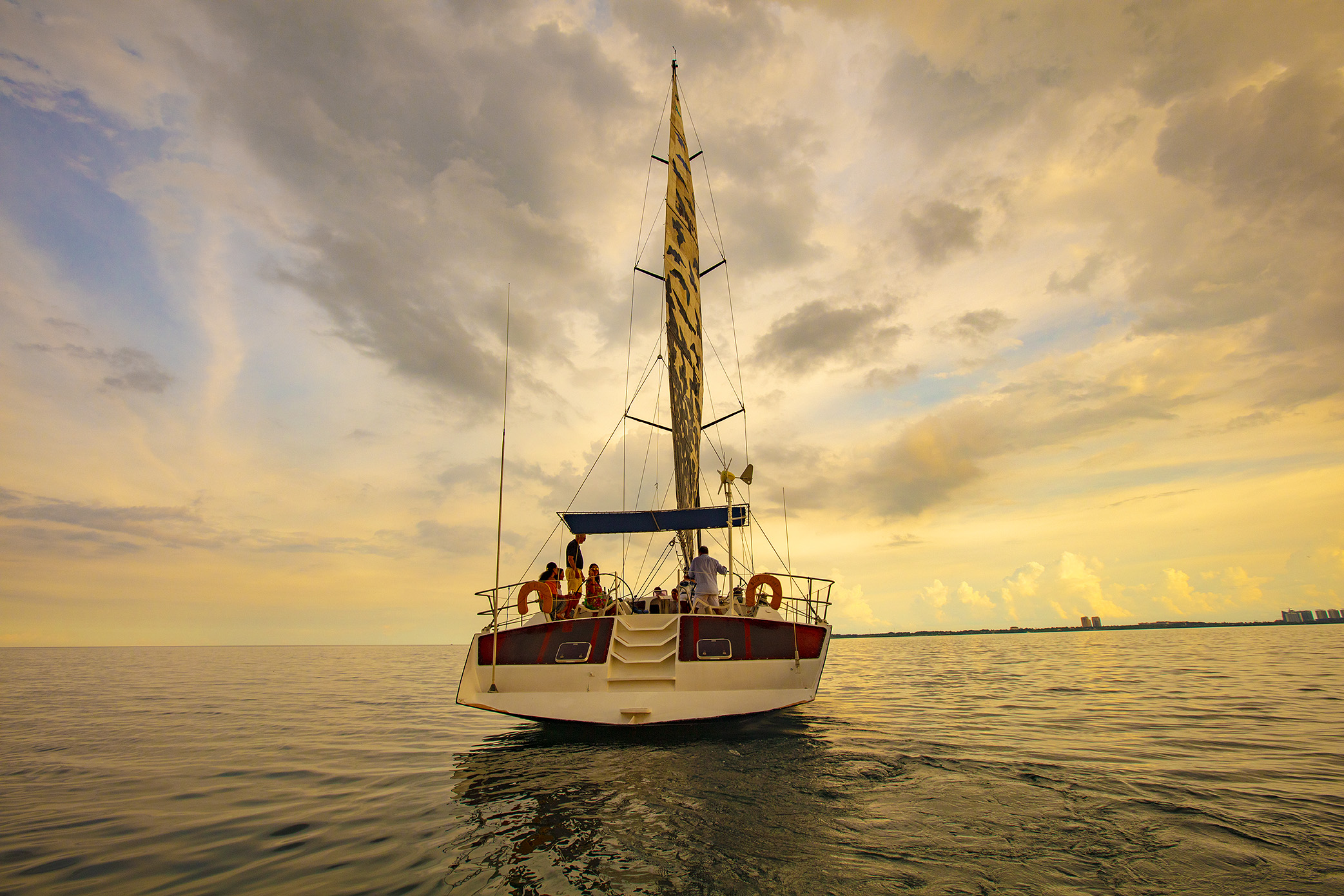 FOR SAIL
With hosts Loida Montesclaros and Richard Forteau, we take entertaining to the high seas.
by Shari Quimbo photography Steffen Billhardt
The sky was decidedly gloomy on the Sunday afternoon Loida Montesclaros and Richard Forteau invited a small group of us for a sail, the clouds getting darker as I make my way to Porter's Marina, where the Blue Planet was docked.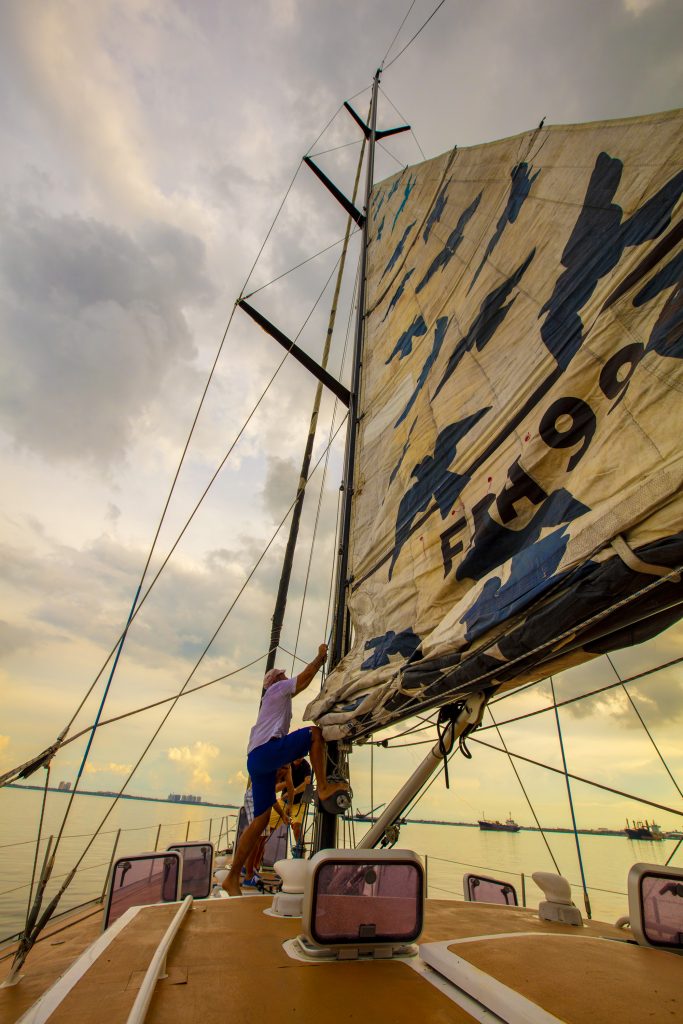 "Richard built the boat himself in Cebu," Loida explains, going on to share that he was the former honorary French consul in Cebu. "It was built here, and I designed the interiors."
All that work certainly paid off—Loida and Richard would often sail the boat out to different Philippine destinations such as El Nido, Siargao, Boracay and the Gigantes Islands in Iloilo. These could mean days-long journeys that sometimes meant dealing with some rough seas. Quick day trips, much like the one we were about to embark on, were also a regular past time.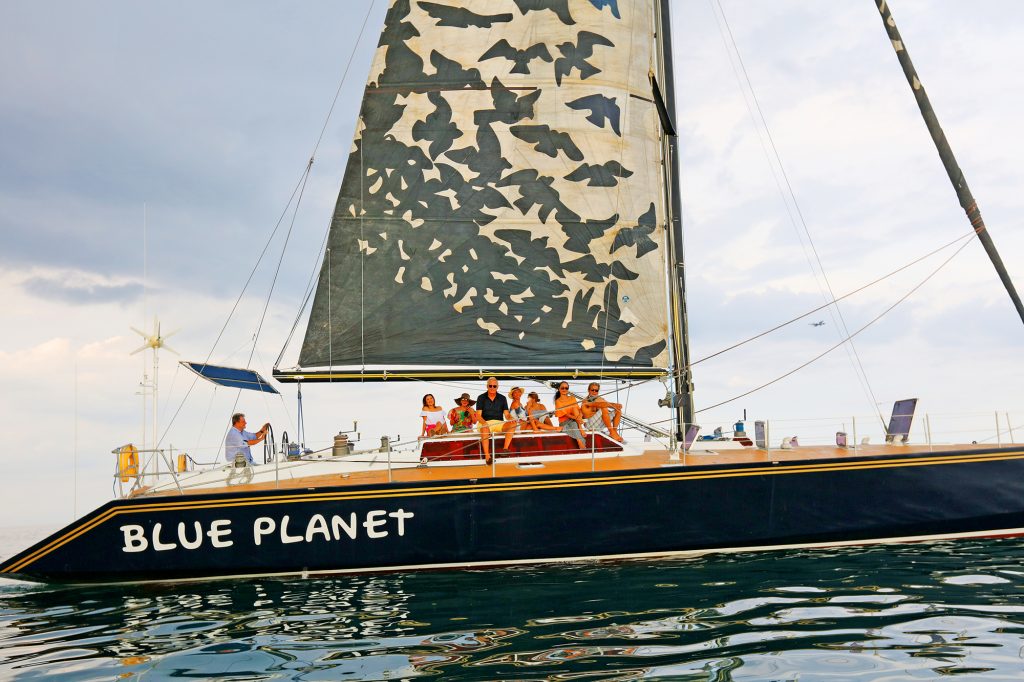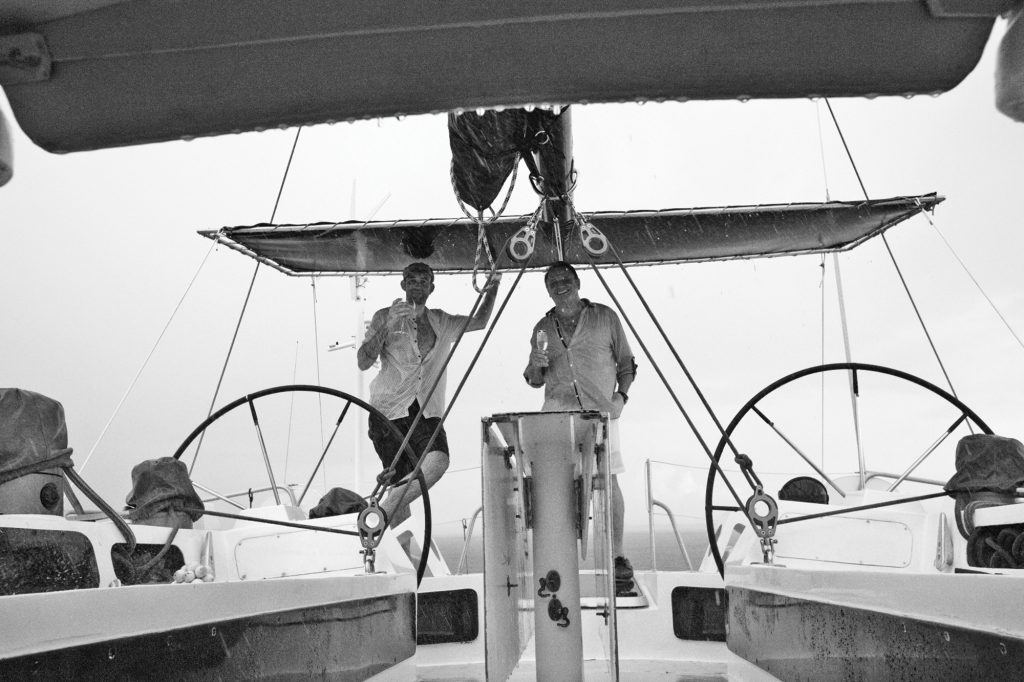 Loida gives me a quick tour of the boat then shows off her tropical spread. With its bright blue and white floral seating, the cabin's dining area is already a pretty festive site. "I wanted to keep it simple," she tells me, arranging her fresh fruits around on the banana leaf-covered wooden slabs she was using as serving trays. "And I wanted it to look more local, more tropical. We are on the water, after all."
The bamboo slats of the dining table were the perfect backdrop to Loida's spread, which featured tropical fruits alongside an entire roll of lechon belly, fresh lumpia, empanada and steamed shrimp.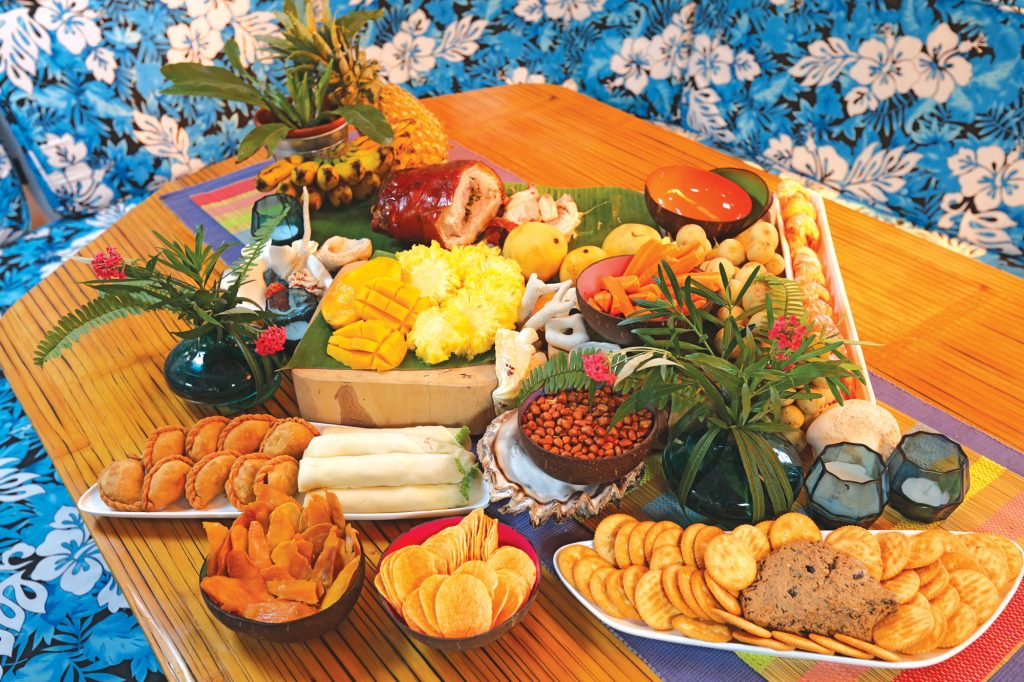 The highlight of the table, though, was the chicken liver pate, a dish that Richard makes himself. "Luckily, the French love to cook," Loida jokes conspiratorially.
Finally, it was time to take the vessel out onto the high seas, and the group makes its way above deck to enjoy the view. The cool sea breeze was a bit stronger than usual, something that had to do with the dark rain clouds looming above us—something that would have deterred any other group, but not this adventurous bunch. Armed with a glass of champagne in one hand and a biscuit smeared with pate on the other, many stand against the railing, admiring the sight of the sky turning orange above the Mactan Channel.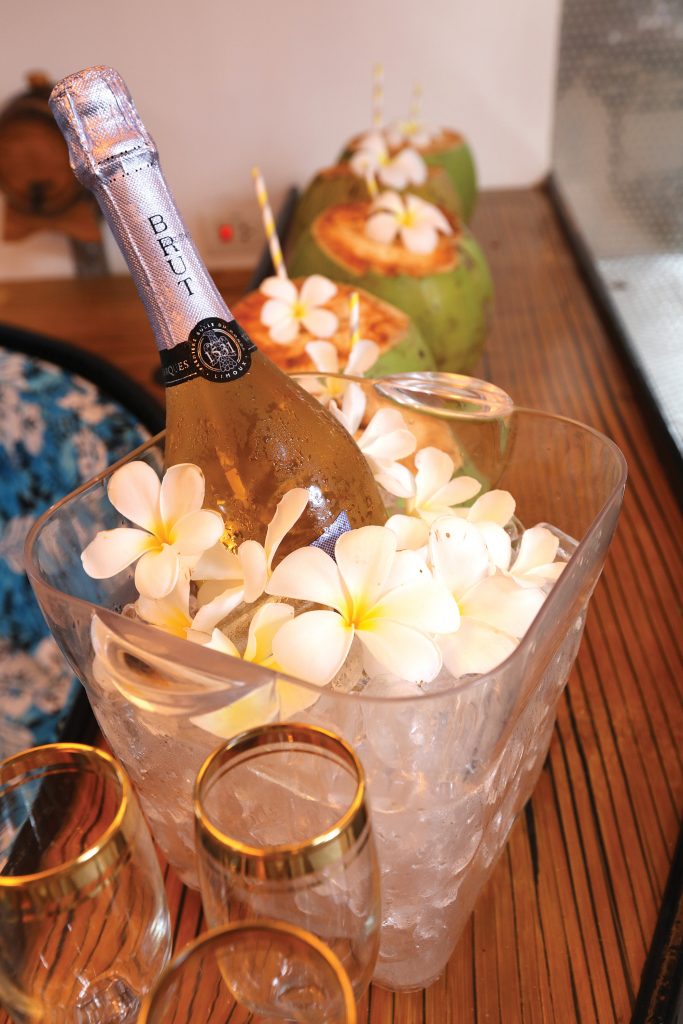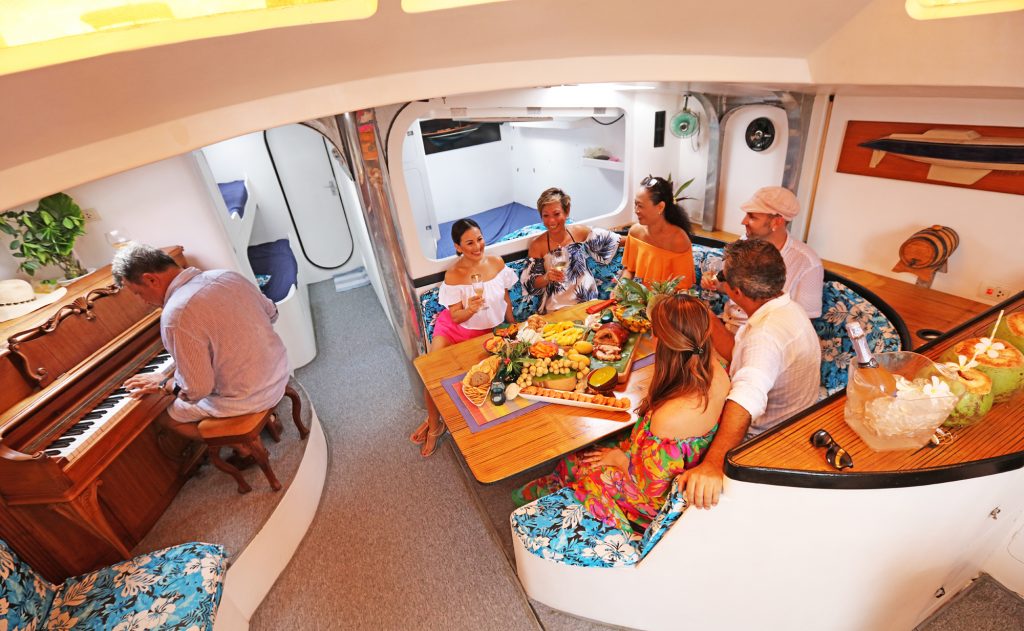 And then it starts to pour. No matter, though—as the rain pounds against the deck, the party finds its way down below. A bottle of wine is opened, and then another, while a second pot of pate is transferred on a plate. Our captain waits until the waves calm before he brings us back ashore.
(This story has already been published in the printed edition of Zee Lifestyle Magazine's November 2016 issue as one of the Entertaining Features on pages 82-85.)
Experience authentic Korean Barbeque at Da-In Restaurant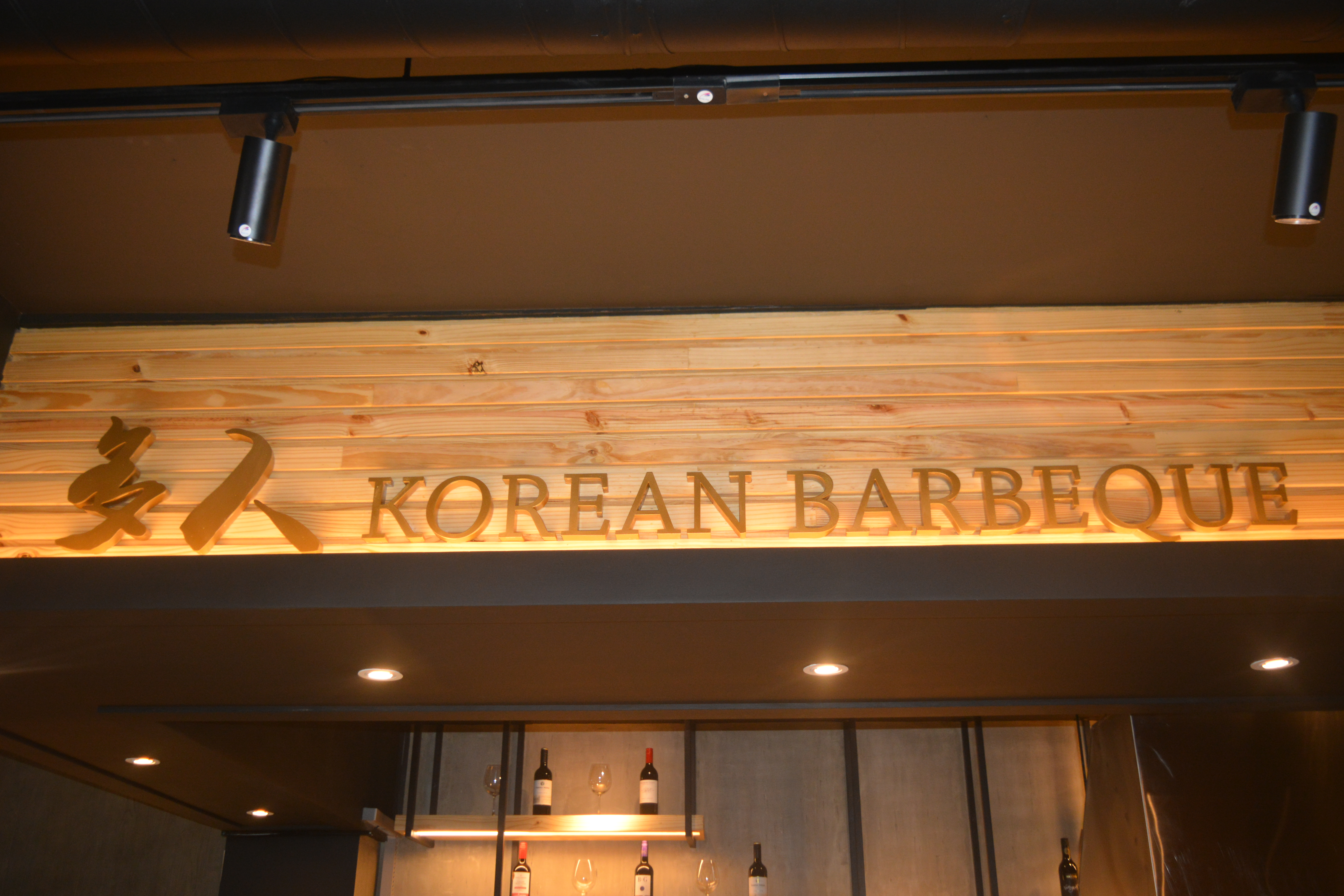 Filipinos are crazy for Korean barbecue. As such, there are a lot of places that are offering Korean barbecue. But Da-In restaurant isn't just one of those restaurants.
Located in Salinas Drive in Lahug, Cebu, Da-in restaurant is a joint project between the Creative Cuisine Group and Da-Won restaurant. With state-of-the-art grilling stations in each table and various Korean cuisines ready to be served, Da-In would surely sate your Korean barbecue cravings without any hassle.
Visit Da-In restaurant today!